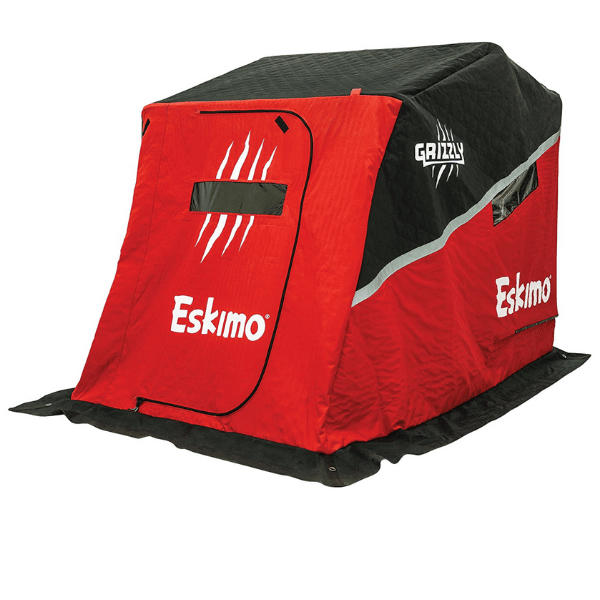 The best 2 person ice fishing shanty shelter provides both enough room and insulation to make ice fishing comfortable for both you and your ice fishing buddy.
In this article, we go through the best ice fishing shanty for 2 people including the overall best ice fishing shelter for 2 people, the best 2-person hub-style ice fishing shelter, and the best cheap 2 person ice fishing shelter.
Selecting a 2 Person Ice Fishing Shelter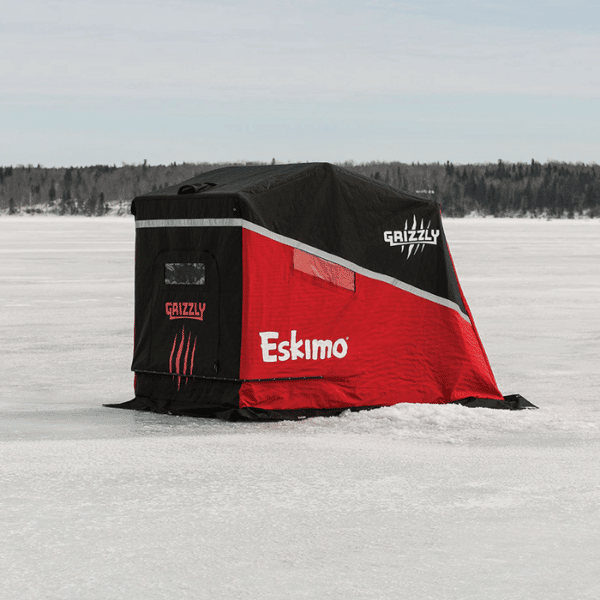 When it comes to buying an ice fishing shelter, you may want to get a 2 person ice fishing shelter instead of a one-person ice fishing shelter just in case you like to bring someone with you ice fishing from time to time. It also provides a lot more space.
Now, a 2 person ice fishing shelter will be bigger than a one-person ice shanty, so you will want to make sure you have a van or a truck to haul the 2 person ice fishing shelter to the lakefront.
You will have a ton more room for hauling out an ice auger, an ice fishing bucket, several rods, tip-ups, and any other gear you may want to bring with you. If you are bringing out an ice shanty, you are probably planning to spend a good amount of the day ice fishing. A 2 person ice fishing shelter will give you the space you need to bring a bunch of stuff out onto the ice to make that time as enjoyable as possible.
Below is a summary of the three best 2 person ice fishing shelter options that I have experienced, then I dive into each option a little bit more.
Click the View Product to see current pricing and options.
Click the Read More to jump to our review of the product.
*Special Note – This article contains affiliate links, which means we may receive a commission to support my writing if you click a link and purchase anything at no extra cost to you. Thank you in advance for your support of my passion. Cheers!
Best 2 Person Ice Fishing Shelters
Overall Best 2 Person Ice Fishing Shelter
Best 2 Person Ice Fishing Hub Shelter
Best Cheap 2 Person Pop-Up Ice Fishing Shanty
2-Person Ice Fishing Shelter Review
Ice fishing is often done from a sled, which means the Eskimo Eskape 2600 Ice Fishing Shelter is one of the best options when you have a high-end sled. It is considered the best-insulated flip-up 2 -person ice fishing shelter and with a portable design, you don't need to spend hours setting up the unit before fishing.
This flip-over ice fishing shelter ensures that you can set it up in the middle of nowhere by just flipping it over being covered by a thick insulated shield from the elements. The shelter has 80 gram insulated fabric construction. The Eskimo brand is known for creating durable options that are weatherproof and wind-resistant.
Pros:
Weatherproof
Wind-resistant
Flip-over tent design
---
While the Frabill HQ 200 Hub Shelters are designed for up to 3 people, it is often more comfortable for two people to use. Due to the pop-up design, it is considered the best value 2-person pop-up ice fishing shelter, which means you don't need to spend hours setting it up. The internal space is ideal for three people to comfortably fish.
The unit is lightweight at only 23-pounds, but it features a 300-denier fabric construction, which means it is wind-resistant for basic weather conditions; you don't need to worry about the water seeping through. Unfortunately, the roof is not made to hold a lot of snow and the ice will eventually seep through if it is not removed.
Pros:
Durable design for wind protection
Easy setup
Pop-up design
Lightweight
Cons:
Not ideal for severe conditions
---
We don't often look at the visibility of the shelter when things like durability and insulation are more important. However, the PEXMOR Ice Fishing Shelter features a black design, which means you can see it from afar if you are walking around. Due to the price, it is the Best Cheap 2 Person Ice Fishing Shelter for beginners.
However, the affordable price should not let you think that it is not durable. The 300-denier construction is perfect for wind resistance. However, it can lead to water seeping through some of the seams. We would recommend the tent to beginners strapped to a budget and couples that enjoy spending time together on the ice.
Pros:
Easy setup
High visibility structure
Durable 300-denier construction
Affordable
Cons:
Not completely waterproof