Tactical
10 Best Tactical Dog Harness Vests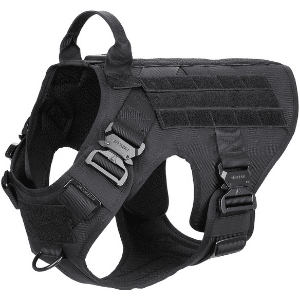 Tactical dog vests are useful for keeping the dog warm, having a good solid connection for a leash, and to have a dog carry extra equipment in MOLLE pouches, carriers, and bags.
We compiled a list of the best tactical dog harness vests for your pup.
Selecting The Best Tactical Dog Vest
There are a variety of different tactical dog vests to choose from.
Some are for protection, others control, and a few to carry their own dog tactical gear!
Some people might think this is a little out of the norm, but we personally wanted to get a tactical vest for a few reasons.
Added control for us
Protection for our dog
Temperature control
Below is a summary list of the top 10 best tactical dog harness vest options we went through to buy a tactical vest for a dog with full reviews for each under the summary list.
Click the View Product to see current pricing and options.
Click the Read More to jump to our review of the product.
*Special Note – This article contains affiliate links, which means we may receive a commission to support my writing if you click a link and purchase anything at no extra cost to you. Thank you in advance for your support of my passion. Cheers!
Overall Best Tactical Dog Vest
Best Reflective Tactical Dog Vest
Best Saddle Bag Tactical Dog Vest
Best Military MOLLE Tactical Dog Vest
Best Tactical Dog Vest with Handle
Best MOLLE Tactical Vest with Handle
Best Anti-Choke Tactical Dog Vest
Best Everyday Tactical Dog Vest
Best Tactical Dog Vest Kit
Best Tactical Dog Collar
Best Tactical Dog Vest Reviews
The ICEFANG tactical dog harness vest provides the strength you need to hold on to your strong dog while taking it for a walk.
The ICEFANG tactical vest uses a strong 4x metal buckle that claims to have passed 1000 lbs. load test. With reinforced sewing by Bartack and X on every stress point, you will be pretty sure that it can't tear apart while your dog moves faster than you do.
The vest has three loop panels sewn on the two sides, one loop panel along the back, and one square loop panel on the front chest to add your dog patch for identification.
There are two additional MOLLE on each side of the harness for your dog to carry survival gear during training.
---
This heavy-duty tactical dog harness is made of high-quality 900D Nylon fabrics.
For easy adjustment, this tactical harnes has two shoulder reflective shoulder straps and two chest straps for perfect fitness and complete mobility. It comes with just 2 quick-release buckles that allow you to put on and take off the vest easily.
The vest is compatible with MOLLE pouches for survival gears. Auroth dog harness guarantees total satisfaction and you can call them for a replacement if there is any manufacturer defect.
---
The OneTigris tactical dog harness was created to be a saddle style russack bag.
The tactical vest has stainless D-rings to hold the leash and reinforced stitching to provide increased durability. It features a padded strap for the neck and a strap that uses adjustable buckles for the chest.
The underside of this tactical dog harness underside has a breathable padded mesh that keeps the body comfortable.
The pouches on the side are great for holding a water bottle and a foldable bowl. It is recommended to keep the weight added into the bags to be no more than 10-12% of the dog's weight.
This harness is perfect for the weekend getaway adventure with your dog.
---
The VIVOI tactical dog harness is all about utility. Made of 1050D Nylon material, this vest provide high durability without being uncomfortable for your dog. To add to the comfort, it is padded with a breathable mesh for airflow.
The harness has reinforced stitching and buckles strong enough to support a dog that fights to run and chase after other animals or pulls constantly on walks.
The body of this tactical harness is set up with 1" molle strips to add survival gear comfortably for the dog, like water and treats!
Apart from the pouch, you will also get 3 detachable molle bags as a bonus for purchase.
---
This OneTigris tactical harness has a simple design yet very durable.
This tactical vest for dogs is made of durable 1000D nylon. It has four quick-release buckles and four top handle for quick control on your dog. With quality stitching, fabric, and buckles you will not find loosened threads or broken buckles when you put this on your dog for a hike or a walk.
You get to choose from two different sizes. The medium size suitable for dogs with a chest size of 20 to 34 inches and a neck size of 16 to 25 inches. The large size is suitable for a chest size of 24 to 28 inches and a neck size of 20 to 29 inches.
---
For dogs that try to pull on the leash, the Hanshengday tactical dog harness vest is one of the best options out there for you and your dog.
This tactical vest is built with a material that gives your dog comfort and airflow for those long-term adventures. The dog harness is adjustable and lightweight and it has MOLLE on both sides for attachment of add-ons.
There are three choices of sizes you can choose from to perfectly fit your dog. This tactical harness for dogs is also available in khaki color and black color and comes with 2 pouches.
---
The Rabbitgoo tactical dog harness is a more simple "everyday" type of dog harness. It made it on the list due to its quality and minimal impact on the dog's natural performance.
This harness is designed with 2 metal leash rings for optional leash attachment. The chest attachment clip that you can use to stop your dog from walking too fast; this is perfect for training dogs.
The harness is breathable with soft padding around its chest and shoulder that makes it comfortable for the dog to wear. It overall has one of the least impact designs compared to other dog harness vests on our list.
Unlike many other tactical vests for dogs, this one does have reflective threads are used for ease of visibility during late walks.
---
The BABYLTRL dog harness is best suitable for a regular walk out with your dog while you keep the pacey creature in your control.
It has two strong D-rings on the front and back. The front clip is for discouraging pulling while the back clip gives you the control to the dog's walk.
The vest has reflective strips around the body for an easier spot during late walks. Its sizes are perfect for dogs that measure 13 inches to 42 inches of chest size.
You can use the sturdy handle to easily grab your dog when it attempts to chase a squirrel or another dog during a walk.
---
The Tri Cloud Sports tactical dog harness vest is an awesome adventure backpack for dogs.
Made with high-quality 1000D nylon, a padded in the neck, and breathable mesh along the harness body make it both durable and comfortable for your dog to wear on long adventures.
The harness has a strap around the armpit area and a padded strap that comfortably lie around the shoulders to prevent your dog from being choked if it has high energy and likes to pull on the leash.
There are MOLLE strip sets on both sides of the harness that are useful for tactical gear attachment.
---
Unlike other tactical dog harnesses, this is just a simple strong collar to keep your pacey dog in control while walking.
The Excellent Elite Spanker tactical dog collar is made of a high-quality 1000D nylon, padded around every point of contact and it is nicely stitched for pull stresses.
It comes in 3 different sizes:
Medium size fits a neck size of 13.5 to 17.5 inches
Large size fits a neck size of 17 to 20.5 inches
Extra-large size fits a neck size of 20 to 24 inches
---