Best Tactical Shovels Review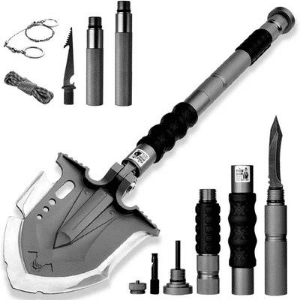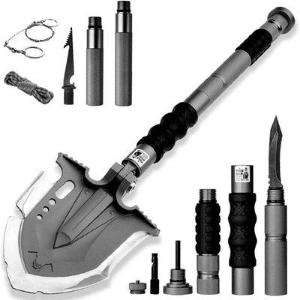 Shovels have come along way from being a simple tool to being a multi-functional tactical shovel that can be one of the best survival gear items you can invest in.
Some of the best tactical shovels are a fairly cheap investment, but some can have up to 23 different uses! This is a must-have multi-tool to have with you during any type of tactical, off-grid, off-road, hiking, or camping adventure.
Below is a summary list of the top 10 best tactical shovel options we reviewed, with full reviews for each under the summary list.
Click the View Product to see current pricing and options.
Click the Read More to jump to our review of the product.
*Special Note – This article contains affiliate links, which means we may receive a commission to support my writing if you click a link and purchase anything at no extra cost to you. Thank you in advance for your support of my passion. Cheers!
Top 10 Best Tactical Shovel Summary
The F-A3 Zune Lotoo tactical shovel has all the qualities you will need in looking for the best tactical shovel whether you are camping or you need to do some emergency digging.
The F-A3 Zune Lotoo shovel has 23 different multipurpose tools which include a tactical knife, fire rod, ax, and an emergency whistle. It can be disassembled into smaller parts and easily re-assembled without hassle.
The shovel head can be adjusted into 6 angles (180o, 30o, 45o, 60o, 115o, and 135o) adding the option to also use this tactical shovel as a hoe, too. Designed with high-quality heat-treated carbon steel, the F-A3 shovel is made with quality material that will allow you to use this shovel for a lifetime.
Pros:
23 multipurpose tools as survival gear
Top quality carbon steel
Assemble / disassemble into smaller parts
Lifetime warranty
Cons:
Shovel parts are heavy considering backpacking
Backpacks are not included; must be ordered separately
The F-A2 Zune Lotoo shovel is designed as a predecessor to the F-A3 style, but you can't deny that you can do just as much with it as well.
This tactical shovel has 20 multi-tool added in its pack, including a knife, ax, saw, bottle opener, ruler, and a fire starter. The shovel tip has a triangle concave design, this effectively decreases resistance when digging.
In order to avoid hand injury when using the F-A2 tactical shovel, the handle has a pattern that gives an amount of friction needed to prevent your hands from sliding.
The shovel head can also be adjusted into a 90o angle for trenching.
Pros:
20 multipurpose tactical tools for survival
Supports digital camera attachment
High carbon steel shovel head
Lightweight and durable aircraft aluminum handle
Cons:
Backpack can't accommodate 2020 upgrades
Durable but might be the heaviest item in your tactical backpack
The Zune Lotoo F-A1 is another predecessor to the F-A3 style but there is not much difference between it and the F-A2 style.
There is not much difference in quality between the styles; it is strong, sturdy, and durable for a lifetime digging. Both tactical shovels can also be assembled with the thread screw-in design and doesn't become loose easily to prevent injury while using the shovel.
The F-A1 tactical shovel head has the triangle concave design; to reduce resistance while breaking a block of ice, loosing soil, and grubbing. It can be also be adjusted into 2 angles (180o and 90o) for regular shoveling or using it as a hoe.
The shovel weighs less than the F-A2 and F-A3 style, making it rate a bit better from a portable and long-distance hiking stance.
Pros:
Multifunctional tools for high versatility
Durable, small, and light-weighted
It is foldable for portability
Anti-skid handle design to improve friction with the hands
Cons:
There is a limited angle to which you can adjust the spade
Storage pouch must be purchased separately
Tyger's TG-SV8U3217 Military-grade tactical shovel is a high-quality survival shovel that is made of military grade carbon steel for durability.
This tactical shovel has 16 multifunctional tools including an ax edge, saw edge, ice pick, and a sharp knife. It is very well designed for portability with reasonable in weight reduction properties compared to other tactical shovels.
The handle tube is made of aircraft anodized aluminum grade with an anti-skid pattern for an easy grab.  The shovel head can be easily adjusted into 180 and 90o for grubbing and gardening.
This is a true contender for being the best tactical shovel available at a very reasonable price against Zune Lotoo's line up of premier tactical shovels.
Pros:
16 tools for different uses
Durable, as well as light and compact
Strong case for storage included
1-year warranty for manufacturer defect
Cons:
Limited shovel head adjustment angle
The iunio Survival Tool Kit matches any outdoor jobs like camping, gardening, cutting, and hunting with its high-quality component.
Iunio's survival gear is built to be simple for the user to assemble to the adjustable handle for whichever task you need to complete. It comes with multi-tools to convert the shovel into an ax, ice pick, or a trekking pole.
The kit comes with a variety of extension tubes that can allow you to tune the tactical shovel into different length as long as it is long enough for any situation or restriction.
Included is a molle pouch that can be used to conveniently carry the tools and each head has its own sheath to protect the tools.
Pros:
High-quality molle bag for storage and movement
Extension tubes to increase the length for specific needs
Durable and light-weighted
iunio has a responsive customer service
Cons:
Kit does come with a knife or screwdriver edge
More expensive than other tactical shovels, although it is a kit with other separate tools
The Rhino USA tactical shovel is the perfect choice if you need a compact and portable shovel that can also be used as a pickaxe for camping, gardening, and off-roading.
The shovel head has sharp and rugged saw teeth on one of its edges that are perfect for cutting. It can be adjusted into 90o to convert it into a hoe and to use the pickaxe. 
This tactical shovel extends up to a full-length of 23 inches and folds down to 9 inches by 6 inches for easy carry/storage.
The shovel does not have multipurpose tools like other products, but it is perfect for its purpose of being a lightweight, portable emergency tactical shovel. The carrying case is also included for protected storage.
Pros:
Small, compact, and light-weighted for portability
Low price for its quality and to have a backup emergency shovel
Money refund policy if satisfaction is not enough
Carrying case included
Cons:
No tools for attachment like competitors
No instruction on how to fold and lock the shovel
FiveJoy Shovel is another kind of compact shovel to use anytime when you are in an emergency like getting your car tires out of deep snow or mud, or digging some holes and cutting some wood for a fire.
This is a sturdy and durable tactical shovel made out of high-quality carbon steel and aircraft-grade aluminum. The shovel is lightweight, making it ideal to be added to your emergency first-aid survival gear if you are an outdoor enthusiast.
The head of the shovel has a sharp ax blade, serrated saw edge, hammer, and paracord for multipurpose versatility. The spade end of the tool can be used 30°, 85° or 180° angle as hook, hoe, or shovel. Ready-to-cut blades and simple design for easy folding to fit into your backpack when you go hiking or camping.
Pros:
16 multipurpose tools for versatility
Military-grade material for quality
Durable, compact, and portable design
Molle bag for packing included
Cons:
Small sized body makes it not advisable to be used on hard ground
It is short and does not have an option for extra length
The iunio folding tactical shovel is a basic, durable, and reliable tactical shovel option for every emergency you might find yourself in when exploring the outdoors, camping, spending time off-grid, or off-roading.
It is compact with the ability to adjust from compact to near full-size, depending on your need. The iunio comes with a waist bag, which is perfect to carry this shovel around your waist while hiking or hunting.
The spade can be adjusted to 45° for hooking or more chopping, 90° for gardening / hoeing, and 180° for digging / trenching. The shovel blade and handle are made of high-carbon steel which is high-strength and wear-resistant. The grip on the handle is made of rubber.
What more do you get to enjoy from the iunio tactical shovel? Every part is easily disassembled and replaceable, insuring you can properly maintain this tactical shove anytime.
Pros:
3 extension tubes to increase the length for more leverage
Multifunctional for varieties of outdoor purpose
Anti-skid design on the handle for a convenient grab
Worn-out parts can be replaced without having to buy a whole new one
Great quality at a very affordable price
Cons:
There is no product warranty provided
Can be heavy wearing it around the waist in the provided pack for long durations of time
This tactical shovel is another total multifunctional shovel for any outdoor event ranging from hunting, camping, and hiking. It is also a great tactical shovel tool set for ice breaking and woodcutting.
The shovel spade is made of military-grade carbon steel that is wear-resistant. The handle and extension bars are also made of aircraft-grade aluminum alloy for lightweight and high intensity.
The shovel has tools for the functions of shovel board, axe, hoe, hexagonal wrench, saw, and lots more. With a lower price tag than other similar models on our list of top 10 best tactical shovels, it is a perfect gift for campers, hunters, fishermen, and survivalists.
Pros:
Responsive customer service for complaints
Military-grade carbon steel and aluminum alloy for durability
Compact and portable for its quality
Multipurpose tools for a variety of purpose
Cons:
It is heavy for its size
Can be bulky for hiking long distances
When you need a really small yet rugged tactical shovel, the SOG folding tactical shovel comes in play.
This shovel is mostly designed with portability in mind. It is just a bit bigger than your hand when folded up!
The shovel's spade can be folded, and the handle can be folded, making it very small to pack comfortably in your backpack. It is super durable – made of high-quality carbon steel for lifetime use.
Pros:
Good quality for its low price
Compact and portable for a backpack
Responsive customer support for replacement and complaints
Cons:
No optional tool for another purpose unlike competitors
Very small, which can make large tasks a real chore