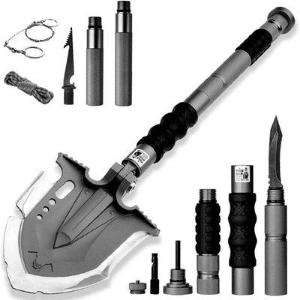 The best tactical shovels have come a long way from being a simple tool to being a multi-functional tactical shovel that can be one of the best survival gear items you can invest in.
In this guide, we review the 7 best tactical shovels on the market today – each with their own unique advantages.
Selecting the Best Tactical Shovels
Some of the best tactical shovels are a fairly cheap investment, but some can have up to 23 different uses! This is a must-have multi-tool to have with you during any type of tactical, off-grid, off-road, hiking, or camping adventure.
Below is a summary list of the top 7 best tactical shovel options we reviewed, with full reviews for each under the summary list.
Click the View Product to see current pricing and options.
Click the Read More to jump to our review of the product.
*Special Note – This article contains affiliate links, which means we may receive a commission to support my writing if you click a link and purchase anything at no extra cost to you. Thank you in advance for your support of my passion. Cheers!
Best Overall Tactical Shovel
Best Tactical Shovel Alternative
Best Tactical Shovel Under $100
Best Tactical Shovel Kit
Best Folding Tactical Shovel
Best Cheap Tactical Shovel Kit
Best Cheap Folding Tactical Shovel
Best Tactical Shovel Reviews
The F-A3 Zune Lotoo tactical shovel has all the qualities you will need in looking for the best tactical shovel whether you are camping or you need to do some emergency digging.
The F-A3 Zune Lotoo shovel has 23 different multipurpose tools which include a tactical knife, fire rod, ax, and an emergency whistle. It can be disassembled into smaller parts and easily re-assembled without hassle.
The shovel head can be adjusted into 6 angles (180o, 30o, 45o, 60o, 115o, and 135o) adding the option to also use this tactical shovel as a hoe, too. Designed with high-quality heat-treated carbon steel, the F-A3 shovel is made with quality material that will allow you to use this shovel for a lifetime.
---
The F-A2 Zune Lotoo shovel is designed as a predecessor to the F-A3 style, but you can't deny that you can do just as much with it as well.
This tactical shovel has 20 multi-tool added in its pack, including a knife, ax, saw, bottle opener, ruler, and a fire starter. The shovel tip has a triangle concave design, this effectively decreases resistance when digging.
In order to avoid hand injury when using the F-A2 tactical shovel, the handle has a pattern that gives an amount of friction needed to prevent your hands from sliding.
The shovel head can also be adjusted to a 90o angle for trenching.
---
Tyger's TG-SV8U3217 Military-grade tactical shovel is a high-quality survival shovel that is made of military-grade carbon steel for durability.
This tactical shovel has 16 multifunctional tools including an ax edge, saw edge, ice pick, and a sharp knife. It is very well designed for portability with reasonable in weight reduction properties compared to other tactical shovels.
The handle tube is made of aircraft anodized aluminum grade with an anti-skid pattern for an easy grab. The shovel head can be easily adjusted into 180 and 90o for grubbing and gardening.
This is a true contender for being the best tactical shovel available at a very reasonable price against Zune Lotoo's lineup of premier tactical shovels.
---
The iunio Survival Tool Kit matches any outdoor jobs like camping, gardening, cutting, and hunting with its high-quality component.
Iunio's survival gear is built to be simple for the user to assemble to the adjustable handle for whichever task you need to complete. It comes with multi-tools to convert the shovel into an ax, ice pick, or trekking pole.
The kit comes with a variety of extension tubes that can allow you to tune the tactical shovel into different lengths as long as it is long enough for any situation or restriction.
Included is a molle pouch that can be used to conveniently carry the tools and each head has its own sheath to protect the tools.
---
The Rhino USA tactical shovel is the perfect choice if you need a compact and portable shovel that can also be used as a pickaxe for camping, gardening, and off-roading.
The shovel head has sharp and rugged saw teeth on one of its edges that are perfect for cutting. It can be adjusted into 90o to convert it into a hoe and to use the pickaxe.
This tactical shovel extends up to a full length of 23 inches and folds down to 9 inches by 6 inches for easy carry/storage.
The shovel does not have multipurpose tools like other products, but it is perfect for its purpose of being a lightweight, portable emergency tactical shovel. The carrying case is also included for protected storage.
---
This tactical shovel is another total multifunctional shovel for any outdoor event ranging from hunting, camping, and hiking. It is also a great tactical shovel toolset for icebreaking and woodcutting.
The shovel spade is made of military-grade carbon steel that is wear-resistant. The handle and extension bars are also made of aircraft-grade aluminum alloy for lightweight and high intensity.
The shovel has tools for the functions of shovel board, axe, hoe, hexagonal wrench, saw, and lots more. With a lower price tag than other similar models on our list of top 10 best tactical shovels, it is a perfect gift for campers, hunters, fishermen, and survivalists.
---
When you need a really small yet rugged tactical shovel, the SOG folding tactical shovel comes in play.
This shovel is mostly designed with portability in mind. It is just a bit bigger than your hand when folded up!
The shovel's spade can be folded, and the handle can be folded, making it very small to pack comfortably in your backpack. It is super durable – made of high-quality carbon steel for lifetime use.