Tactical
5 Best Tactical Sling Bags & Backpacks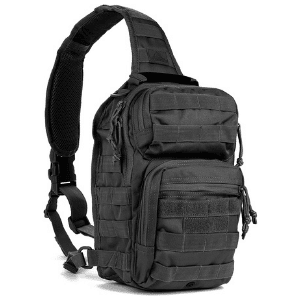 A tactical sling bag or tactical sling backpack is a great option as a day pack, bugout bag, or even as a hiking backpack.
This review goes through the 5 best tactical sling bag backpacks of different sizes from a small tactical sling bag to a full-size sling backpack.
The Best Tactical Sling Bag Backpack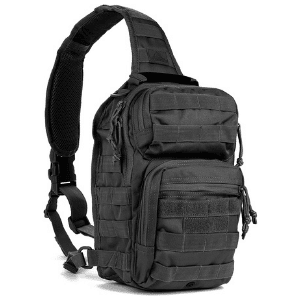 Tactical sling backpacks cross the front of your body from one shoulder down to your waist on the other side of your body, then up your back on the same diagonal.
A sling tactical bag style provides a few ergonomic benefits compared to standard two-strap backpacks due to it crossing the body and putting less pulling tension stress on your shoulders. As a result, the bag uses the natural strength of your body to support the bag on an opposite angle than your body normally bends (forward and backward), creating a stronger natural resistance from your body's structure.
So we set out to review the 5 best tactical sling bags that stood out in a few different categories:
Best Small Tactical Sling Bag
Best Large Tactical Sling Bag
Best Small Tactical Sling Backpack
Best EDC Tactical Sling Backpack
Best Large Tactical Sling Backpack
Below is a summary of the three products, then I dive into each of these tactical sling bag and backpack options a little bit more.
Click the View Product to see current pricing and options.
Click the Read More to jump to our review of the product.
*Special Note – This article contains affiliate links, which means we may receive a commission to support my writing if you click a link and purchase anything at no extra cost to you. Thank you in advance for your support of my passion. Cheers!
Best Tactical Sling Bag and Backpack Options
Best Small Tactical Sling Bag
Best Large Tactical Sling Bag
Best EDC Tactical Sling Backpack
Best Small Tactical Sling Backpack
Best Large Tactical Sling Backpack
Best Tactical Sling Bag Reviews
The 5.11 Push Pack tactical sling bag is an ideal sling bag for everyday carry or short-duration tactical adventures.
The 5.11 Push Pack is a 6-liter sling bag that features a spacious main compartment, two expandable compartments at both sides, MOLLE and Slickstick slots on the sides, and a TacTec compatible pocket at the back of the bag.
The padded shoulder strap and breathable foam padding reduce heat and make it comfortable to carry for longer durations and reduce heat.
If you are looking for a tactical sling bag for every day concealed carry and easy access to a sidearm, with enough storage for your everyday needs without getting fatigued carrying around a big bag – this would be the ideal tactical sling bag for you.
Pros:
Roomy sling bag for its small size
Quality workmanship and durable materials
Quick to access to CCW sidearm
MOLLE and Velcro for attachments
Cons:
Great day pack tactical sling bag, but not ideal if you are looking to carry a large number of items/equipment
---
The 5.11 Rush Moab 6 heavy-duty sling bag is made of the 1050D nylon material that is both durable and water-resistant.
This tactical sling bad has 11 liters of capacity, which is about 11X the size of the smaller 5.11 Push Pack tactical sling bag. The Moab 6 is also fully ambidextrous for use by left-handed or right-handed people.
5.11 put a focus on CCW utility and tactical adventures by packing this backpack full of the core required tactical features. This includes a hidden pocket in the back for a sidearm, a communication pocket for a phone or radio on the shoulder, a fleece-lined glasses pocket, a 1.5-liter hydration bladder pocket, and a large interior capacity.
The entire bag is made for ultimate organization and large storage capacity, making the Moab 6 perfect for either everyday use and/or operational needs.
Pros:
Durable and water-resistant
MOLLE panel system throughout
All necessary pockets
Great price
Cons:
Might be too bulky for a minimalist
---
The BraveHawk tactical sling bag is the perfect tactical sling backpack size for everyday carry.
The main compartment can fit your iPad, smartphone, power bank, chargers, and other items for everyday carry or tactical adventures.
There is even a spot for a power bank to be connected so you can plug in USB devices from an exterior USB port built into the bag.
Pros:
Professional build and durable fabric
Quality zipper and buckle
Reinforced stitching
Left or right-hand use
MOLLE system
Power bank ready / USB port built in
Cons:
MOLLE straps could be made wider
No inner Velcro to attach pouches
---
The Red Rock Rover tactical sling backpack is a rugged 600D polyester backpack equipped with PVC lining, hard metallic zippers, loops, and D-rings.
Knowing this backpack's 9-liter capacity tactical sling backpack size is perfect for regular adventures and even everyday carry for some, Red Rock designed it with durability in mind.
The backpack has three compartments with inner pockets and a sleeve on the back panel that is perfect for a small sidearm. The shoulder strap is padded, adjustable, and has an ambidextrous design that allows both left-handed and right-handed people to use it.
It comes with a full MOLLE system on the exterior for adding additional survival gear and pouches. This tactical sling backpack also comes in the most color options.
Pros:
Sturdy design and rugged material
Lots of compartments and pockets
Ambidextrous design
Good for concealed carry
Available in several colors
---
The 5.11 RUSH MOAB 10 tactical sling backpack is the most customizable sling backpack made of premium 1050D nylon fabric to last a long time.
This is the largest sling backpack at 18 liters of capacity. It is loaded with pockets including:
Hidden sidearm pocket
Phone/radio pocket on the shoulder
Fleece-lined pocket to store glasses,
1.5-liter hydration bladder pocket
Interior computer, tablet, and/or accessory large compartment
The 1050D nylon fabric is water-resistant and has tough wear resistance and the exterior has a full MOLLE loop system. This allows you to easily attach additional storage and tactical accessories all over the back and shoulders.
Pros:
Durable and water-resistant
Largest capacity
Many pockets for organization
Full MOLLE system
Reasonably priced for its quality
Cons:
May be too large for everyday carry as it is better used as an emergency bugout bag