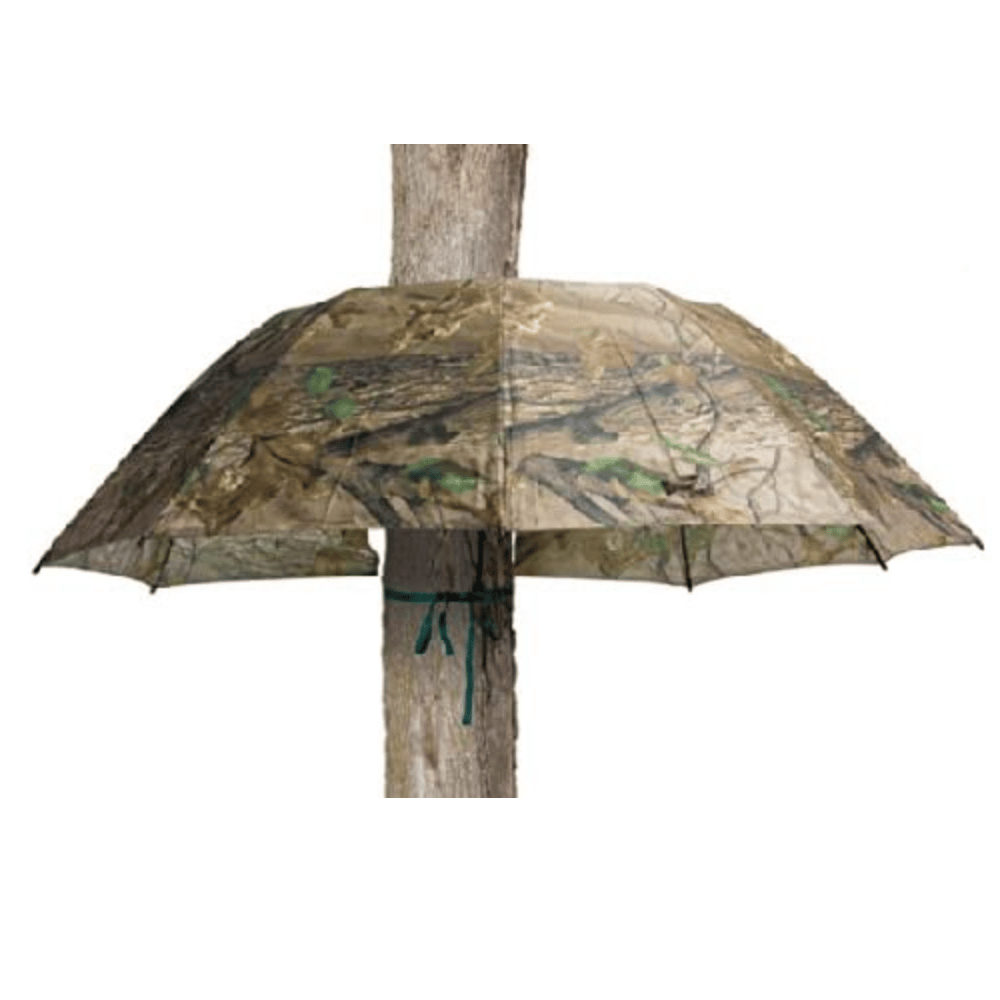 We decided to do a camo tree stand umbrella review to find the best tree stand umbrella for hunting to block rain and sun. Let's jump right into the best 3 tree stand umbrellas.
The Best Hunting Tree Stand Umbrella
A tree stands umbrella is a much better option specifically for protection from rain than a hunting camo poncho for a few reasons.
Not having any noise from the poncho
An umbrella provides shade when the sun comes out
Keep ALL gear dry if set up well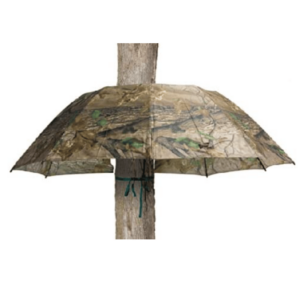 I have always bought waterproof hunting gear, but it is not great when the rain comes pouring down and you have to pull out the poncho you have stuffed somewhere in your hunting backpack.
So I set out to find the best tree stand umbrella for a few different situations, including a single person or two-person tree stand umbrella. I also found a budget single-person tree stand umbrella under $20.
Below is a summary of the three best tree stand umbrella options, then I dive into each option a little bit more.
Click the View Product to see current pricing and options.
Click the Read More to jump to our review of the product.
*Special Note – This article contains affiliate links, which means we may receive a commission to support my writing if you click a link and purchase anything at no extra cost to you. Thank you in advance for your support of my passion. Cheers!
Overall Best Tree Stand Umbrella
Best Two Person Tree Stand Umbrella
Best Pop-Up Tree Stand Umbrella
Hunting Tree Stand Umbrella Reviews
The Allen Company camo tree stand umbrella is the best option for single-person hunting stands from a cost and quality perspective.
First, this is the lowest-priced tree stand umbrella we reviewed. Even though it is a budget-friendly option, it doesn't sacrifice quality or size.
The Allen hunting tree stand umbrella has the Real Tree Edge camo pattern that helps this tree stand umbrella camouflage into the woods very well. This umbrella also has the largest area of coverage out of the single-person tree stand umbrellas with a 57″ wide reach.
You might be wondering, what is the catch? Set up might be as easy as the pop-up model that is a bit more expensive, but that is really the only feature of this tree stand umbrella that I didn't like.
Pros:
57″ wide coverage area
Cheapest cost
Real Tree Edge camo pattern
Cons:
Can be difficult to set up
---
If you are setting up a two-person tree stand for hunting, you will need a larger tree stand umbrella than the previously reviewed Allen Company tree stand umbrella.
The Ameristep two-person tree stand umbrella is one of the widest tree stand umbrellas that is capable of covering larger tree stands.
As a company, Ameristep has been making hunting camouflage for over 20 years, so they are very experienced in the industry of making camo blinds, coverings, and other equipment.
They selected a Mossy Oak camo pattern and built this tree stand umbrella with a very rigid frame. They also provide extra tie-down straps to ensure it is securely mounted.
Pros:
Covers 2 hunters
Mossy Oak camo tree stand umbrella pattern
Rigid construction
Cons:
Higher cost for covering two hunters compared to the single person umbrella from Allen Company
---
The final option we wanted to include is the Allen Company camo pop-up tree stand umbrella.
This pop-up hunting tree stand umbrella makes it much easier and faster to set up, but you pay for it in almost double the cost.
This hunting tree stand umbrella has a 57″ wide span and a slightly deeper umbrella to hide under. This is the same as the first one featured, but with the ability to easily pull this down like a regular umbrella is really a nice feature.
Pros:
Easy to put up/takedown
Easy to transport
Deeper umbrella
Cons:
Costs a bit more compared to our #1 option for only the added easier pop-up feature