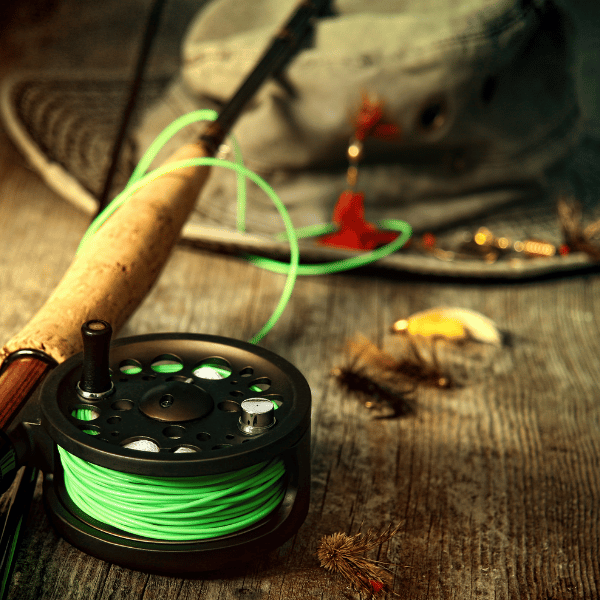 This is our complete guide to the 15 best fly fishing gear essentials for beginners to start their journey.
Fly fishing is a great way to get out and enjoy nature. You can spend all afternoon casting a line, not catch a thing, and still enjoy the fresh air and wildlife. But given the choice, you'd probably like to catch some fish!
To do that, you're going to need the right equipment. Here are 15 fly fishing gear essentials that no beginner should go without.
*Special Note – This article contains affiliate links, which means we may receive a commission to support my writing if you click a link and purchase anything at no extra cost to you. Thank you in advance for your support of my passion. Cheers!
Fly Fishing Rod
A good rod is the heart and soul of any fly fishing kit, and your first consideration should be the material. Unless you're trying to spend a small fortune on an old-school bamboo rod, your best choice is going to be graphite. Graphite rods are lighter and more flexible than fiberglass and cost only a few dollars more.
Besides the material, you also need to look at the weight of the rod. In this case, the weight refers not to how much the rod weighs, but to the weight of line it will handle. For example, a 5-weight rod is rated to cast a 5-weight line. There are additional characteristics, such as specific bend properties, but these are more advanced concerns.
The third thing you should be looking at as a beginner is the length of the rod. A longer rod makes it easier to keep your line out of the water and generates more speed. However, a shorter rod is better for fishing in tighter spaces. If you're on a tree-lined stream, for instance, a shorter rod will be less likely to get your line tangled.
Best Beginner Fly Fishing Rod
Fly Fishing Reel
Fly fishing rods often come without a reel, which means you'll need to buy one separately. Don't underestimate the importance of your reel! This is the part that supports a lot of the strain as you're hauling in a fish.
For this reason, you'll want to avoid cheap plastic reels. Look for an aluminum reel with either a spring-and-prawl or disc-drag system. If you're fishing in freshwater, choose a single retrieve reel, since they're easiest to use. If you're fishing in saltwater, you'll want to look at an automatic or multiplying retrieve reel. But that's beyond the scope of this article.
Best Beginner Fly Fishing Reel
Fly Fishing Flies
Fly fishing flies fall into three broad categories: nymphs, dry flies, and streamers. Nymphs are made to look like baby flies that live on top of the water. Dry flies are made to look like younger adult flies; they're called "dry flies" because flies at this stage are coming out of the water and drying their wings.
Streamers don't actually look like flies at all. They're made to look like minnows, crayfish, sowbugs, and other small baitfish. Basically, they're the fly fishing equivalent of a traditional lure. Streamers are a great choice when fishing an unfamiliar stream, or when you're not sure what the fish are biting.
Best Fly Fishing Fly Kit
Fly Fishing Leader
Fly fishing flies fall into three broad categories: nymphs, dry flies, and streamers. Nymphs are made
A fly fishing cast depends on thick, heavy line in order to work. But this heavy line is impossible to conceal, and can easily spook the fish. A leader is a tapered line that connects the main line to the tippet. It's clear all the way down, but it's fatter where it attaches to the main line than it is at the end.
A good leader allows the line to unfurl smoothly at the end of the cast, without jerking or snapping. Leader lengths can vary depending on your needs, anywhere from about six to 15 feet, but nine feet is about average.
Best Pre-Tied Fly Fishing Leaders
Fly Fishing Tippet
The tippet is an even thinner piece of line that connects the leader to the fly.
It is clear like the leader, so it won't spook the fish. Tippets are sold in various thicknesses, with the thickness measured in "X". However, fatter tippets have a smaller X number, not larger, so a 1X tippet is fatter than a 2X tippet and so on. For trout fishing, 5X is most people's preferred standard.
To make things even more confusing, people will often refer to the entire leader and tippet assembly as a "leader". If this trips you up, just remember: the tippet is the tip of the leader.
Best Fly Fishing Tippet
Fly Fishing Vest
At its most basic, a fly fishing vest is simply a vest with a bunch of zippered pockets. This way, you can carry clippers, extra tippets, extra flies, and other commonly-used controls. You might think that more pockets is always better, but more storage can just be a temptation to carry stuff you don't need. Look for a vest that meets your needs, and no more.
It is best to get a PFD fly fishing vest, also referred to as a life jacket vest, for the added safety just-in-case the current is very strong or you take a wrong step or trip.
Finally, look for a vest that's comfortable. Sometimes, it's easy to get caught up in fancy features, and forget that you're actually going to be wearing it all day!
Best Fly Fishing Vest
Fly Fishing Sling Pack
A fly fishing sling vest, usually called a "sling pack," is designed to combine the benefits of a vest and a backpack. Like a vest, it's meant to carry your supplies where they're easily reachable. And like a backpack, it's designed to have a larger capacity.
A sling pack is typically around the size of an oversized lunchbox and is carried on a sling at your side — hence the name. Look for one with a comfortable strap that won't dig into your shoulder.
Best Fly Fishing Sling Pack
FishPond Submersible Thunderhead Sling Backpack
Fly Fishing Net
A fly fishing net is an essential tool for safely and humanely handling your catch. It minimizes physical contact and makes it easier to remove the hook. It also allows you to keep the fish in the water as much as possible, a must if you're doing catch-and-release fishing.
Whatever you do, make sure your fishing net floats. You don't want it sinking to the bottom if you lose hold of it. Also, look for one with a lanyard, so you won't lose hold of it.
Best Fly Fishing Net
Fly Fishing Backpack
If you're driving up to your fishing site, a vest, sling pack, or chest pack will be just fine. However, if you're walking a long way to your fishing site, you might want a change of clothes or some extra food. In that case, the added capacity of a backpack can be a major benefit.
Even if you're not carrying extra gear, a backpack distributes weight more evenly than other carrying methods. This is essential if you're walking for a long period.
Best Fly Fishing Backpack
Fly Fishing Chest Pack
A fly fishing chest pack is just what it sounds like: a pack you wear on your chest. This position keeps your gear close at hand, so it's easy to access when you get in the water.
The chest pack also carries a bit more than a vest. That said, the positioning makes you front-heavy, and can be uncomfortable for all-day wear.
Best Fly Fishing Chest Pack
Fly Fishing Boots
A good pair of wading boots is essential for fly fishing. These boots — or shoes, or sandals — are designed to drain quickly, so you aren't slogging around with wet feet all day.
Rubber-soled boots are the standard, although some anglers prefer felt-bottomed shoes for better traction on wet rocks. However, felt-bottomed shoes will also wear out quickly, and don't grip as well on dry surfaces.
Best Fly Fishing Boots
Fly Fishing Boat or Float Tube
When most people think of fly fishing, they think of wading. But a boat can help you cover more water more quickly. You can also reach areas that aren't accessible by foot, where the fish are under less pressure.
Look for a boat that's stable enough to cast from, as well as roomy enough for your gear and for any fish you catch. Also, think about what kind of water you'll need to traverse. If you plan on navigating whitewater rapids, make sure your boat is rated for them.
Another good option for beginner fly fishing is to have an inflatable fishing float tube. A fly fishing float works similar to a boat in giving more space for more gear, yet allows you to control where you go by walking through the water where possible. This also can help prevent dangerous situations from occurring when wading in the river or when trying to fish while controlling a boat.
Best Fly Fishing Boat
Fly Fishing Gloves
In warm weather, there's really no reason to wear gloves for fly fishing. Most people prefer a bare hand. But if you're fishing in cold weather, gloves are a must.
Fly fishing gloves should be water-resistant or made from wool so they'll stay warm when they're wet. A fingerless design is also ideal. This will keep your hands warm while leaving your fingertips free for a better grip.
Best Fly Fishing Gloves
Fly Fishing Hat
When you think of fly fishing, you probably picture someone in a traditional wide-brim fishing hat. This is more than a mere affectation. A wide-brim hat will keep the sun off your face, preventing sunburn and keeping you cool.
That said, a wide-brim hat isn't always going to be your best choice. In cold weather, a traditional wool stocking cap — or any warm hat — will be a better option.
Best Fly Fishing Hat