The best fly fishing bag comes down to how much gear it can carry, what the purpose of the bag is, and how much it costs.
In this article, we go through 10 best fly fishing bags currently available which include a fly fishing gear bag, fly fishing travel bag, duffle bag, sling pack, chest pack, and more.
The Best Fly Fishing Bags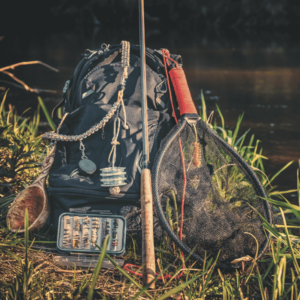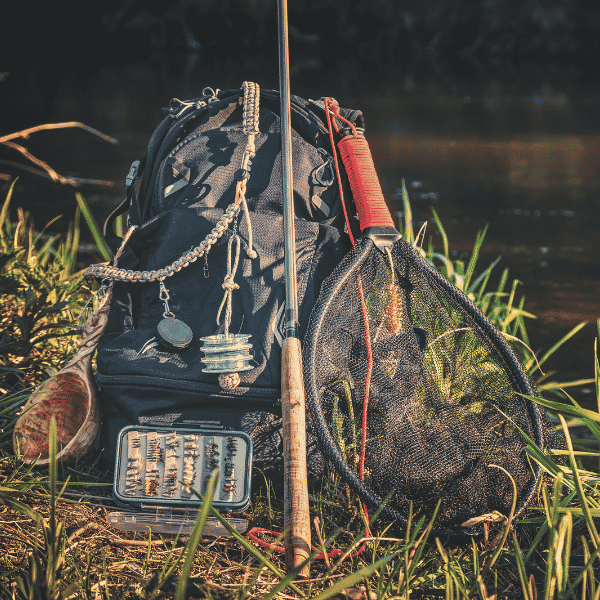 When it comes to selecting a fly fishing bag, you first have to decide what utility the bag will provide.
For this article, I went through and selected the best fly fishing bags that I would buy (or have bought) for different uses.
Below is a summary of the fly fishing glove options, then I dive into each of these options a little bit more.
Click the View Product to see current pricing and options.
Click the Read More to jump to our review of the product.
*Special Note – This article contains affiliate links, which means we may receive a commission to support my writing if you click a link and purchase anything at no extra cost to you. Thank you in advance for your support of my passion. Cheers!
The OGIO Rig 9800 gear bag is one of the most useful bags that you can choose for fly-fishing. We consider it to be the best fly fishing gear bag due to the large design. It is made from 100% polyester and has the power to wick away moisture. The bag features an internal capacity of 7500 cubic inches for internal storage.
On the inside, there are numerous compartments that one can make use of for all their personal belongings. Additionally, the outside is great for gear that you will quickly need to access. There are added wheels on the bag, which make it much easier to carry. Unfortunately, it is one of the heavier options you can buy.
Things I Like:
Large internal storage
100% polyester
Wicks away moisture
Includes wheels
A fly-fishing backpack is one of the best options when it comes to carrying some of your gear. The System G fly fishing backpack is the best fly fishing backpack day bag that you can choose for all your gear. The bag is made from plastic. However, the plastic is all recyclable plastic that has been used to keep the bag eco-friendly.
The plastic has been coated with TPU and the TPU will keep the water from penetrating. Due to the design, the bag is completely waterproof and will ensure that you have solid protection for all your gear. It can hold up to 7 different tackle boxes that will give you plenty of bait for your expeditions.
Things I Like:
TPU coated
Made from recyclable plastic
Holds up to 7 tackle boxes
Holds personal gear
While you are fly fishing, you might need fast access to your fishing bag. The Piscifun fishing tackle shoulder bag is the best fly fishing shoulder bag and serves the same purpose as a sling that will shoot around your shoulders. The bag is made from 1000D nylon fabrics that will make it durable while allowing the weather to be resisted.
It is not one of the biggest bags and for the internal capacity; you would only have a small amount of space. However, space should be more than enough to store all the relevant gear you are taking along. It serves as a multi-functional tackle bag and it is also considered to be one of the most affordable options when compared to the others.
Things I Like:
Decent internal storage
Sling bag design
Multiple compartments
Lightweight
Affordable
You might have noticed that the sling bag is one of the best options for fly-fishing. The sling bag makes it very easy for you to use the bag and to use it over your shoulder. If you are looking for the best fly fishing sling bag, you might want to consider the  YVLEEN sling fishing tackle bag for all the different baits and tackle.
The bag is made from 1000D nylon fabric, which makes it one of the most durable options available for most people. It might not be waterproof, but the bag is completely water-resistant. The bag is made for those that carry a lot of accessories. It features an additional waist strap, which means it does not sling around when moving.
Things I Like:
Durable nylon
Water-resistance
Solid waste strap
Holds numerous accessories
Things I Don't Like:
Can be uncomfortable to reach gear on your back
The wader bag is one of the easiest to access while you are moving and it will keep all your personal belongings protected. We have found the Allen company Beaverhead fishing waders bag to be the best fly fishing wader bag. It is made from durable polyester and features a water-absorbent EVA bottom for durability.
Additionally, you can use the bag for wet and dry storage. On the inside of the bag, there is a tarpaulin divider, which makes it possible for you to divide the dry and the wet gear. Since the bag is waterproof, you have the opportunity to store some of your personal belongings. There are heavy-duty molders to keep everything secure in the bag.
Things I Like:
Solid EVA bottom
Waterproof design
Stores wet and dry gear
Affordable design
If you are fishing from a boat, it is often better to have a durable bag that can be sturdy as the boat is moving. The KastKing fishing tackle bags are designed to give you plenty of storage space on the boat. It is the best fly fishing boat bag that has been fitted with a total of 20 storage pockets for all your specific gear and tackle.
The bag is made from 420D ripstop nylon and as you have noticed, nylon might not be the best material for water, but it is extremely durable. The plastic film around the sides of the bag makes it impervious to water. It has tons of different compartments and the NEO-Grip feature will keep the bike from sliding off your shoulders.
Things I Like:
20 storage pockets
Durable 420D nylon
Waterproof
NEO-Grip to make it slip-resistant
While many people enjoy fishing in the same locations, we like spreading out these events and taking on different locations. The Allen company cottonwood fly fishing travel rod & gear bag is one of the bags for traveling and also considered the best fly fishing travel bag with solid nylon construction and additional cotton design.
The bag is made by a reputable company, which ensures you have durability and it will give you a good warranty. This is not the standard fly-fishing bag that you will use for bait and gear. Additionally, the bag can carry up to 4 rods that will be folded and easily transported to the location you are fishing or want to fish.
Things I Like:
Holds 4 fishing rods
Durable nylon
Water-resistant
Multiple compartments
While I prefer carrying a bag on the shoulders or my back, many people love carrying it in their hands. The Okeechobee fats fisherman deluxe tackle bag is the best fly fishing duffel bag, which makes it one that you will need to carry in your hands. The bag is made from durable nylon construction and will ensure overall durability for the user.
On the inside, there are numerous storage compartments and you can store up to 8 small tackle boxes inside. Much like the other options, the bags are water-resistant and can dry out rapidly if they get wet. Overall, it is one of the most durable bags on the market today with multiple useful purposes for the angler.
Things I Like:
Nylon construction
Can hold up to 8 tackle boxes
Water-resistant
Affordable
Easy to carry
Things I Don't Like:
Not to be carried on the back
Aside from carrying some of your tackle and bait, you will need to use the Allnice durable canvas rod & reel fishing bag if you have to carry some of your rods. These rods can be daunting to carry, but the best cheap fly fishing gear travel bag will allow you to carry some of your bait or tackle and the professional rods you will be using.
The bag that we have selected is designed to allow you to store all your gear and personal belongings on the inside of the bag. However, the outside is reserved for storing some of the fishing rods. The manufacturer and many photos have stated that you can carry up to 5 fishing rods to ensure you have all the rods you might need.
Things I Like:
Carries 5 fishing rods
Large internal storage
Budget option
Water-resistant
The best fly fishing chest bag gives you direct access to all of your personal belongings and equipment you might need while fly fishing. We have selected the Umpqua Overlook 500 ZS2 chest pack kit, which is made from durable nylon materials. It features solid cords for additional durability and has a storage capacity of 500 cubic inches.
There are numerous pockets that one can use for storing some of the personal belongings. The ambidextrous design ensures that you can use it and place all your belongings on either side. Due to the weatherproof protection, it is a great option when you are venturing into locations that are full of water and bad weather.
The bag might be slightly more expensive than some of the others. However, the Umpqua Overlook 500 ZS2 chest pack kit is perfect for not only beginners in the fishing industry, but many experts can also use the bag for fly-fishing purposes.
Things I Like:
500 cubic inches
Weatherproof
Durable construction
Ambidextrous design