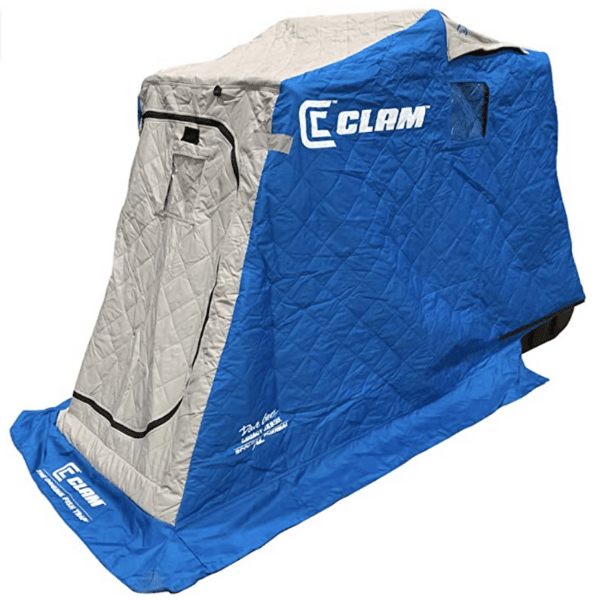 Many people find the best flip-over ice fishing shelter to be the most convenient ice fishing shelter on the market today.
With them being so convenient, flip-over ice fishing shelters have become the most popular ice fishing shelter type for many people who religiously go ice fishing every year.
In this article, I go through the best flip over ice fishing shelter, best 1 person flip over ice fishing shelters, cheap flip over ice fishing shelter, and the overall best flip over ice fishing shelter options that I found while searching for an easy way to set up camp when I go out ice fishing.
Selecting a Flip-Over Ice Fishing Shelter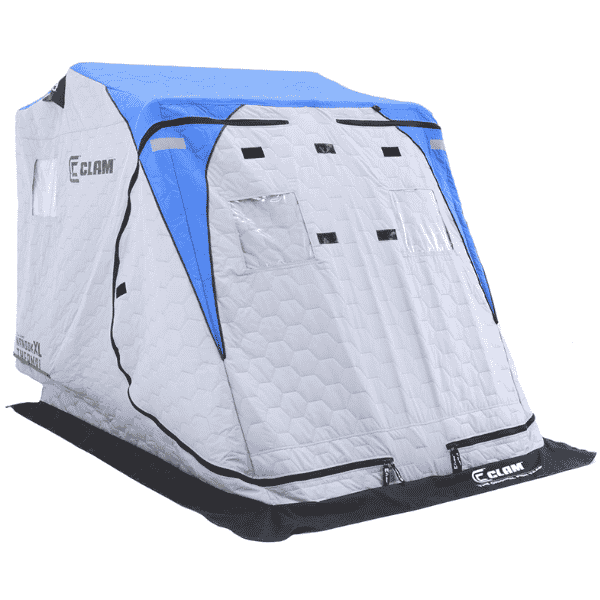 The convenience of a flip-over ice fishing shelter is inherent to their design which makes it easy to get out on the ice, flip over the ice shelter, and get to fishing. But the benefits go beyond being easy to set up.
Every flip-over ice fishing shelter is built onto a sled. Most of the time, the sled will also have a built-in seat, whether it be a swivel seat or a simple bench. Having a flip-over ice fishing shelter with a sled allows you to pile in all your gear at your truck and simply pulling it out behind you.
Together, the sled and easy flip-over ice fishing shelter make it easy to move around the ice to different spots if your normal spots aren't hitting. This agility to pick up and move within minutes and set up in a new spot within minutes can make all the difference of whether you go home with or without any fish.
Below is a summary of the five best flip-over ice fishing shelter options, then I dive into each option a little bit more.
Click the View Product to see current pricing and options.
Click the Read More to jump to our review of the product.
*Special Note – This article contains affiliate links, which means we may receive a commission to support my writing if you click a link and purchase anything at no extra cost to you. Thank you in advance for your support of my passion. Cheers!
Best Flip Over Ice Fishing Shelters
Best 1 Person Extreme Cold Weather
Best 1 Person Extra Wide Flip-Over Ice Fishing Shelter
Best Cheap 1 Person Flip Over Ice Fishing Shelter
Overall Best 2 Person Flip Over Ice Fishing Shelter
Best Extra Large 2 Person Flip Over Ice Fishing Shelter
Flip-Over Ice Fishing Shelter Review
The best 1 person extreme cold weather flip over ice fishing shelter will certainly be one of the top options to consider. The best one-man flip-over ice shelter is the Clam Scout XL due to its usability and cold weather resistance.
The unit will only take a couple of minutes to set up and has a comfortable built-in chair that might push you to want to trek out to a further, but better fishing spot knowing you have a comfortable chair to relax in.
The thermal, insulated material is very thick, almost like a quilt. When paired with a good ice fishing shelter heater, along with some good drinks and munchies, you could easily spend hours on the ice fishing alone.
Pros:
Very easy to use
Durable construction
Thermal insulation
Lightweight and portable
Cons:
Does not have a lot of storage space
---
The Eskimo Wide Inferno is the best 1 person extra-wide flip-over ice fishing shelter that is ideal when you carry a lot of gear, while also being able to cover two holes in the ice.
Made from 600-denier fabric, it is guaranteed to keep you warm while you are busy fishing. There is an extra-long flap on the bottom of the side that flips down and meets the ice, which provides more than enough space to pile up some snow to secure it to the ice.
As mentioned, the internal storage is much larger than some of the competitors. The built-in chair also has a swivel feature, allowing you to easily turn to grab the gear in the sled behind you.
Pros:
Weather-resistant
600-denier fabric
Large internal space
Durable chair
---
Clam might be the most impressive flip over tent manufacturer, but the Frabill recon 100 flip over shelter is the best cheap 1 person flip-over ice fishing shelter.
Frabill has all the basic features you would need for ice fishing, including a durable chair. The chair is suitable for heavier individuals, as well.
One of the features that have drawn us to the unit is internal storage. A padded trunk is perfect for the storage of your valuable items.
Additionally, you can flip the tent over yourself in just a couple of minutes and it is lightweight. It is by far one of the best options when you are looking to save funds and weight.
Pros:
Portable and lightweight
Great for one person
Durable chair
Padded trunk
Cons:
Lacks durability to last more than a few years, unless extremely cautious
---
You cannot look at the top flip over ice fishing shanty without including Eskimo as one of the top brands.
The overall best 2-person ice fishing flip-over shelter will have enough space and keep you warm while fishing. The Eskimo sierra series portable ice fishing flip-style shelter is great for two people to fish and keep warm.
It is made from 600-denier fabric, which has been proven to be not only durable but also keeps the wind at bay.
There is a good amount of space in the sled for you and your friend's gear and is very lightweight compared to other two-person ice fishing shanties on the market today.
Pros:
Reliable brand
Ideal for 2 people
600-denier construction
Padded and wind-resistant
---
Last but certainly not least, we have another top option for two people that love fishing together.
The best extra large 2-person flip ice fishing shelter is one of the useful options, but it is not only great for two people but also features decent internal storage. The option we are talking about is the Clam Nanook XL thermal tent for high-end users.
It might be one of the larger and heavier options, but the durability of the tent will ensure that the unit will be built to remain usable for a very long time.
The best feature of this unit is that there are two separate doors, one for each person in this two-person flip-over ice shanty. If you have ever been in a two-person ice shanty like this, you know it can be a tricky move to try to get out of one like the previously mentioned Eskimo. The way the two separate doors of this Clam ice fishing shanty are designed prevents you from even climbing over your own ice fishing hole and gear, making an easy exit and entrance back into the ice shanty.
Pros:
Large internal storage
Padded for wind-resistance
2 separate doors
Quality & durable construction
Cons:
Expensive option
The better materials used for durability means heavier overall unit compared to other 2-person models