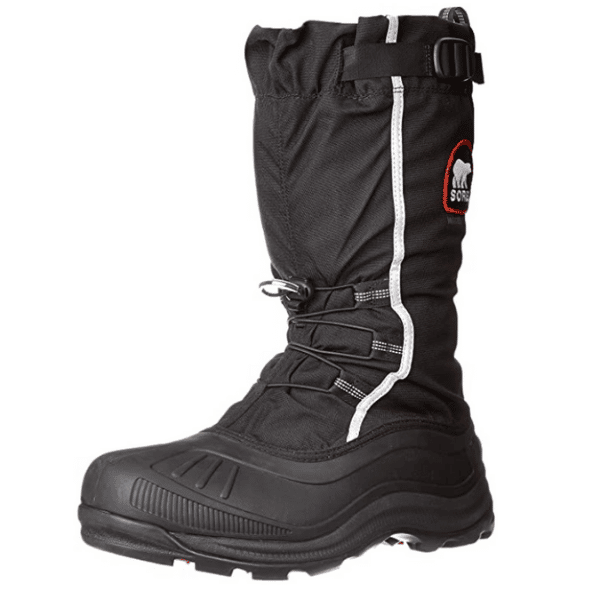 Ice fishing boots can make or break a day out on the ice, so it is important you are investing your money into the best ice fishing boots.
I recently set out in search of buying all-new ice fishing gear. In this process, I weeded through all of the ice fishing boots out there to figure out the insulation types of ice fishing boots, boot waterproof technologies, and the abilities of each type of boot in different weather conditions.
This is a complete guide of the 7 best ice fishing boots I found through my research to cover the different conditions you may experience out on the ice where you will be ice fishing most often.
Selecting the Best Ice Fishing Boots
The best ice fishing boots are waterproof and provide adequate insulation for a range of temperatures, usually in 200g insulation for 0 – 36° F and 600g for -60 to 10° F.
Below is a summary of the seven best ice fishing boot options, then I dive into each option a little bit more.
Click the View Product to see current pricing and options.
Click the Read More to jump to our review of the product.
*Special Note – This article contains affiliate links, which means we may receive a commission to support my writing if you click a link and purchase anything at no extra cost to you. Thank you in advance for your support of my passion. Cheers!
Best Overall Ice Fishing Boots
Warmest Ice Fishing Boots
Best Extreme Cold Weather Ice Fishing Boots
Best Muck Boots for Ice Fishing
Best Baffin Boots for Ice Fishing
Best Low-Cost Warm Ice Fishing Boots
Best Ice Fishing Boots for Beginners
Best Ice Fishing Boots Review
Ice fishing boots need to be durable and capable of taking on different adverse terrains. The Sorel Alpha Pac XT is one of the best overall ice fishing boots on the market today. The boot is made from polyurethane and synthetic leather, which allows it to remain durable and the heat reflective lining can keep your feet warm at a temperature of -60 degrees Fahrenheit. These are capable of being worn for any cold temperature below freezing.
An EVA midsole is great for comfort and while it has properties that will keep your feet warm, the main goal is to make it comfortable to walk on. EVA has been known to mold to the shape of your feet, which means that you have a comfortable walking area.
Reflective safety stripes will ensure that you are noticed in the snow, which is very important if you will be ice fishing at night. Not all ice fishing boots have these.
---
If you are looking for the best insulation, the warmest ice fishing boots will be a great option to consider. We have selected the Sorel Glacier XT for its comfortable design and extremely warm insulation.
The boot is made from synthetic materials, with a textile overlay that will ensure your feet remain warm and protected.
Much like the other top ice-fishing boots, a reflective lining around the side of the boot means that everyone will be visible regardless of the visibility. According to the manufacturer, these boots are not only warm on the inside, but the upper is wind-resistant. You won't need to worry about wind entering from the upper area.
---
You might have noticed that ice fishing is becoming ever more dangerous with the drop in temperatures. To combat this, you will need the best extreme cold weather ice-fishing boots to keep you warm. The Baffin Impact boots are made from 100% nylon and they will wick away almost any moisture on the outside.
On the inside, it has double B-Tek insulation and double aluminum insole, which can keep your feet warm in temperatures as low as -140° F (-100° C). The buckles on the outside help provide support while securing all of this warmth harnessing technology tight to your legs.
Additionally, we have noticed that the boot is much wider than some of their counterparts, which means you have ample room inside. The large toe box will also offer more comfort for the user.
---
Muck boots are typically used in swampy areas, but occasionally, you will find the best Muck boots for ice fishing that can be used for hunting boots, as well.
If you are in the snow and you love these boots, the Muck Boot Arctic Pro Snow Boot is one of the best options to consider. It is constructed from rubber and neoprene and will come up to the knee area with ease.
The boot has a wide opening, but the opening is conjunct to the size of the feet of the individual. This means that you will find the opening fits tight to your leg. However, it is comfortable and should keep the cold on the outside of your legs. We love the lugged rubber outer sole, which is designed to give you comfort and traction.
---
The Baffin Wolf is probably the best Baffin boots for ice fishing and offers a large interior and exterior design. It is constructed from nylon as the main material, but the addition of leather means that the boots have some more durability and heat retention.
With an arch that measures 11-inches from the shaft, the boot is significantly larger than some of the others, aside from the Muck boots. The boots will cover the entire lower area of your legs.
However, Baffin boots run slightly larger when compared to some of the others. Look for one or at least half a size smaller.
---
Just because you are tied to a budget, does not mean that your feet have to be cold. The Kamik Icebreaker Cold Weather Boot is the best low-cost warm ice fishing boots and has been constructed from rubber.
They are similar to Muck boots in terms of design. However, they stretch a bit more and have limited features.
An outer sole has been attached to the shoe and it is constructed from lug rubber. The outer sole features solid construction and according to the manufacturer, it can also clean itself.
On the inside, the boot is insulated to be quite warm, but we don't recommend extreme conditions. It is a great option for the winter months in the snow.
---
Last but certainly not least, we have the best cheap ice-fishing boots for beginners and those who need something in a hurry, but don't want to spend too much money. The Kamik Greenbay 4 Cold-Weather Boots is made from 600D nylon, but it features a 13-inch protective section from the shaft to the arch, which will protect your legs and keep you safe.
For the outer sole, you have synthetic rubber and while it might not have the same durability as lug rubber, it is softer. The softer rubber means more traction. However, it will also wear out much faster and need replacing.
I should mention that the toe box is very comfortable and will keep your feet warm for long days in the snow. They are definitely warm enough to have good value for the money and will remain this way as long as the rubber bottom lasts.