The best fly fishing hemostat forcep pliers allow you to unhook fish and help with tying on flies. Good fly fishing pliers can last a lifetime if you buy a quality item.
Best Fly Fishing Hemostat Pliers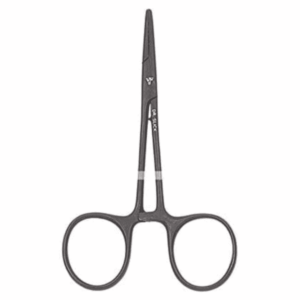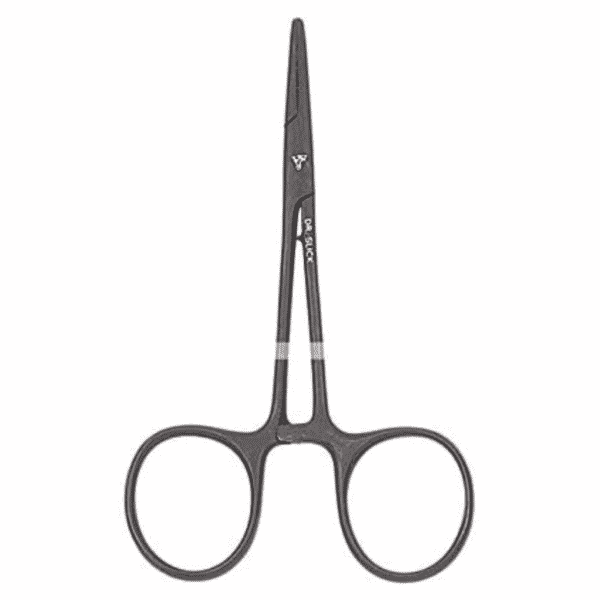 There are two types of fly fishing hemostat pliers, curved or straight hemostats.
The benefit of straight fly fishing hemostat pliers is the ability grab and control the item grabbed more predictably. The downside is needing to move your hand more if needing to twist the pliers.
The benefit of curved fly fishing hemostat pliers is the greater movement the end of the pliers makes with just a small twist of the item grabbed. This can be more beneficial when unhooking a fly out of a fish's mouth. However, curved hemostat pliers aren't as easy to maneuver for more intricate jobs where straight hemostat pliers are ideal.
Below is a summary of the five best fly fishing hemostat pliers, including both curved and straight options. Then I dive into each option a little bit more.
Click the View Product to see current pricing and options.
Click the Read More to jump to our review of the product.
*Special Note – This article contains affiliate links, which means we may receive a commission to support my writing if you click a link and purchase anything at no extra cost to you. Thank you in advance for your support of my passion. Cheers!
Best Fly Fishing Forcep Pliers
The SAMSFX fly fishing hemostat & accessory tool combo is one of the best combo tools one can use for setting up their fly fishing hooks and spinners. It is considered the best overall fly fishing hemostat forcep tool kit and features 7.3-inch clamps to help you reach quite far down the cord. There are numerous other accessories included as well.
However, the tool is not the only special thing about the product and since you can spend a lot of funds buying these tools separately, it is a great buy to have them all in a single kit. The tools are ambidextrous and EVA has been used for the handles. The EVA will make the handles easier to operate and reduce the strain on your hands.
Things I Like:
Complete kit
Ambidextrous design
7.3-inch clamps
Affordable
When thinking of pliers, it is much better to have straight pliers as they are easier to operate than the curved alternatives. We have selected Dr. Slick 6″ black straight hemostat pliers as the best straight fly fishing hemostat forceps pliers and they feature a 6-inch design, which should be more than enough for most people to use.
These pliers are in solid black and they have been coated to make them more durable. When metal is constantly exposed to water, rust might begin to set in. However, Dr. Slick 6″ black straight hemostat pliers are also affordable to buy. Unfortunately, they are not ambidextrous and better for right-handed use.
Things I Like:
6-inch length
Durable coating
Straight design
Easy to use
Next, we have the SAMSFX curved hemostat pliers, which is considered the best curved fly fishing hemostat forcep pliers and they have a design that will curve away from the point of use. For many people, this makes it much easier to control the pliers when they are working with delicate objects, it is still around 6-inches in total length.
The pliers have also been coated with gold-colored metal and this helps to prevent any rust from potentially setting in. While it might be an effective forceps plier for many people, we prefer the straight options. It should be great for experts and will be ambidextrous for use with both hands when needed.
Things I Like:
Affordable
6-inch design
Metal plated
Curved design
Things I Don't Like:
Not a fan of the curved design
There is not much one can say when looking at the MABIS kelly 5.5″ straight fishing forceps. They are pretty similar to most of the others and features a straight design, with a length of around 5.5-inches in total. One of the main reasons for including them on the list is the fact that they are the best cheap straight fly fishing hemostat forceps.
Much like the other top options, they are ambidextrous, allowing you to operate them with both hands. However, the grip sections seem to be quite small and this might make them tricky to operate. Many of the elderly might like them due to the small components. However, you can also use them for a variety of different purposes.
Things I Like:
Budget pliers
5.5-inches
Ambidextrous
Ideal for small components
Straight design
Last but certainly not least, we have the Briggs Precision Kelly 5.5" curved fishing forceps, and these are the best cheap curved hemostat forceps with a length of around 5.5-inches. The forceps are lightweight, with an ambidextrous design. These curves will bend to the outside to allow you clear vision when using them.
They are made from durable metal and the metal features a rust-resistant design. However, they are inspired by tweezers and can also be used as such. Most household tweezers can also be used as forceps in fly-fishing. However, the Briggs Precision Kelly 5.5" curved fishing forceps are considered one big tweezer.
Things I Like:
Easy to use
Rust resistant
Ideal for poor vision
Versatile