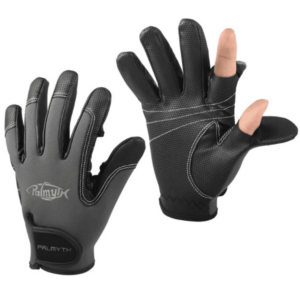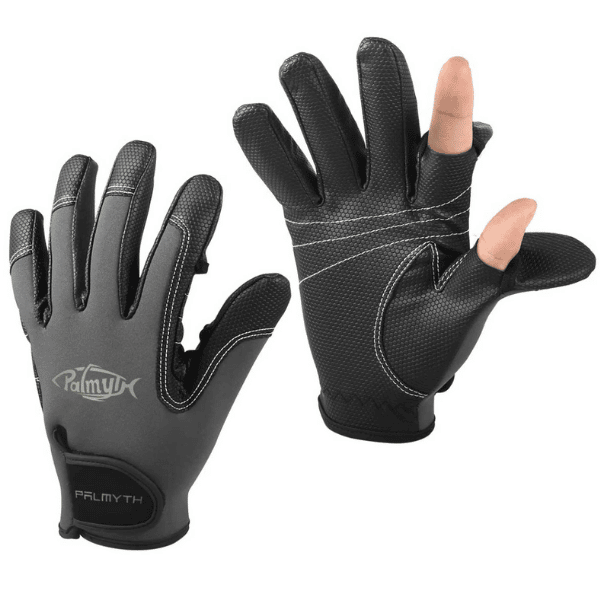 Finding the best fly fishing gloves for your specific fishing situation can be one of the most important items to have for both protection of your hands and increase your fly cast and fish catching abilities.
This makes finding the best fly fishing gloves for the specific situation you will be fly fishing is very important.
In this article, we go through 10 different pairs of gloves that can be used for waterproof fly fishing gloves, cold weather fly fishing gloves, summer fly fishing gloves with UV protection to prevent sunburn and many more.
The Best Fly Fishing Gloves
I went through and figured out 10 different fly fishing gloves that would be best for different scenarios and situations.
Below is a summary of the fly fishing glove options, then I dive into each of these options a little bit more.
Click the View Product to see current pricing and options.
Click the Read More to jump to our review of the product.
*Special Note – This article contains affiliate links, which means we may receive a commission to support my writing if you click a link and purchase anything at no extra cost to you. Thank you in advance for your support of my passion. Cheers!
If you are looking for the overall best fly fishing gloves you need to give the KastKing Sol Armis UPF50+ UV protection fly fishing gloves to ensure your hands are protected. These are not full gloves and you will notice that the finger has been carefully cut off. It is made from polyester for durability and spandex to make it stretch.
The gloves are unique and they feature SPF-50 protection. The gloves a camo design, which means they will blend into nature. However, the gloves are versatile and can be used for a variety of different purposes. We should also mention that the gloves have a breathable design and you will have optimal ventilation.
Things I Like:
Polyester construction
Spandex makes it stretch
Ventilated design
SPF-50 protection
Versatile
Having a full finger glove will keep every part of your hands protected and the Palmyth neoprene fly fishing gloves are the best full finger fly fishing gloves. These gloves have been constructed from neoprene, which also allows the gloves to stretch. They have an ergonomic design, which means the gloves will easily fit over your hands.
The artificial leather used for the palm section will give you additional grip. The additional grip means the rods will never slip out of your hands. We like the cut-off fingers and these fingers have a touchscreen feature for your mobile device. It is also a versatile glove that can be used for a variety of outdoor tasks.
Things I Like:
Artificial leather grip
Cut-off fingers
Touchscreen compatible
Ergonomic design
Having the KastKing Gil Raker UPF50+ UV sun blocking fly fishing gloves is the fly fishing gloves with the best frip. The gloves are made from a combination of polyester and spandex, which makes the gloves stretch over your hands and gives you an ergonomic fit. The gloves have a UPF-50 rating and will ensure that you don't get a sunburn.
All of the KastKing gloves have the same theme and while these gloves have a camo design, they are also breathable. With these gloves, you should be able to use them throughout the day have additional breathability. Overall, these gloves will ensure that gear does not slip out of your hands and ensure that you remain protected.
Things I Like:
Breathable design
UPF-50 protection
Ergonomic design
Reliable brand
The finger protector anti-slip fly fishing gloves is one of the most unique sets of gloves on the market today. It has a very unique design and is considered the best anti-slip finger fly fishing gloves on the market today. These gloves are made from spandex and they protect a small section of your hands that are used to control the fishing rod.
The gloves are very affordable and they will ensure that every part of your fingers is securely protected. Unfortunately, the gloves do not cover the entire hand. The downside is that if the rod slips into your hands, it might completely slip out of your hands. These gloves have a budget price due to only covering 2 fingers.
Things I Like:
Ergonomic fit
Anti-slip protection
Budget price
3 options to choose from
Things I Don't Like:
Doesn't cover the entire hand
Once again, we have the KastKing brand, which has been heavily featured with some great properties for the user. The KastKing mountain mist cold weather fly fishing gloves are the best cold-weather fly fishing gloves and they will ensure your hands remain warm. The gloves are constructed from neoprene for functionality and microfibers for the grip.
One of the best features is the 3 of the fingers have caps that can be removed. You might not think it necessary to have a feature like this. However, smartphones have a touchscreen. Now, you can use these gloves to access the touchscreen feature on your phone. We highly recommend them even if they are expensive.
Things I Like:
Touchscreen compatible
Neoprene design
Microfiber grip design
Removable fingers
Fly fishing is not always used during the summer and when you use some of these summer gloves, you might find that they are not warm enough. The Palmyth waterproof 3M Thinsulate insulated fly fishing gloves are the best winter fly fishing gloves and they have been constructed from a 4-layered softshell material and features Thinsulate for heat retention.
A TPU membrane has been added to the middle of the gloves and the membrane will ensure that you retain grip when using the gloves as well. However, the gloves tend to keep your hands warm during cold conditions. Unfortunately, they are thick, which means the gloves can be hard to use if operating intricate pieces of gear.
Things I Like:
Thick insulation
Durable design 4-layers softshell materials
TPU membrane
Affordable
Things I Don't Like:
Not ideal for operating intricate gear
Many people prefer to have mittens instead of using gloves when it comes to keeping their hands protected. The Palmyth Thinsulate 3M fly fishing mittens is the best cold-weather fly fishing mittens and they are designed to protect your hands. These gloves also feature a softshell design, but the inside is slightly harder.
One of the main features is that you can simply remove the tips of the mittens and this will give you access with your hands to operate different devices if needed. Much like the previous gloves, Thinsulate has been incorporated to ensure you have insulation. Unfortunately, the gloves are quite heavy to use over the long-term.
Things I Like:
Complete cover
Durable design
Removable mittens
Thinsulate materials
One of the most affordable gloves on the market today is the SF fly fishing puncture proof gloves. The best puncture proof fly fishing gloves are designed to give you durability and mostly to keep your hands protected. These gloves have a latex design and while you might not like latex, it will keep the gloves functional.
Unfortunately, you will only have one glove that can be used. These gloves are not as heavy and they are lightweight. It is one of the basic options to consider and for the price; many people would love to have one of these gloves. While you are dealing with hooks, you might find that the gloves will keep your hands protected.
Things I Like:
Latex design
Puncture proof
Very functional

 

Affordable design
UV protection is something that people often forget about and you will need to ensure that you have a decent amount of protection to ensure you are safe. The Buff unisex solar glove is made from latex materials and it features a design that will keep your hands protected from potential UV rays. It has a cut-off thumb and index finger for additional grip.
Unfortunately, these are not the best gloves on the market today and you will need to be careful when using them. Fortunately, the gloves can be washed in your washing machine once you are done and this makes it much easier to keep them clean. Yes, these gloves tend to retain a lot of dirt due to the color of the gloves.
Things I Like:
UV protected
Lightweight
Machine washable
Offers a lot of grips
Budget price
The HOT SHOT men's waterproof fishing gloves is the best cheap full finger waterproof fly fishing gloves and it comes with a ton of great features that should make your life easier. These gloves have a microfiber construction and they will comfortably stretch over your hands. The ergonomic design means you can comfortably use them anywhere.
One of the main features is the full fingers that will offer protection in all weather conditions. According to the manufacturer, these gloves are completely waterproof. Additionally, the small leather section on the tip of the fingers makes it easy to use for your mobile devices. These are versatile and affordable gloves for all fishing uses.
Things I Like:
Ergonomic design
Machine washable
Affordable
Mobile phone compatible