A good leather quiver to hold arrows for hunting provides a convenient way to carry arrows on your back, hip, or side.
In this article, I go through the best leather back quiver, best leather hip quiver, and best leather side quiver options that I found while searching for a better way to carry more arrows.
Best Leather Quiver for Arrows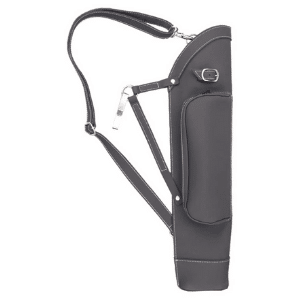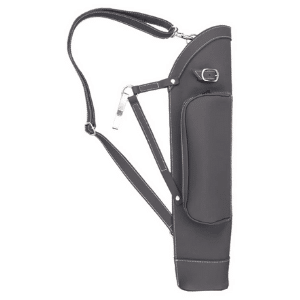 When it comes to bow hunting, a quiver to hold extra arrows could be the difference between shooting a deer or not. A quiver also helps at the range by carrying more arrows and having a place to hold them as you collect them.
A leather quiver is a good choice since leather can last years, decades, and even generations if the quiver is built well.
When I set out to buy a quiver, there are 5 types of leather quivers that I focused on, including the:
Best leather hip quiver
Best leather bow quiver
Best leather back quiver
Best tactical leather quiver
Best traditional back quiver
Below is a summary of the five best leather quiver options, then I dive into each option a little bit more.
Click the View Product to see current pricing and options.
Click the Read More to jump to our review of the product.
*Special Note – This article contains affiliate links, which means we may receive a commission to support my writing if you click a link and purchase anything at no extra cost to you. Thank you in advance for your support of my passion. Cheers!
Best Leather Quiver for Archery & Hunting
The Carol side/hip leather quiver is perfect if you are looking for a side leather quiver to hold arrows.
The quality leather construction will last through the elements for years, and even longer if you wear it for archery at the range.
The quiver is 20″ long with a main arrow compartment that is divided and a side zipper pouch for additional items. There is a metal clip for attaching it to a belt.
Two D-rings on the side of the leather hip quiver allow for attaching pouches, a water bottle, a flashlight, or other items.
Things I Like:
Quality material

Perfect side leather quiver

Dual compartments
Side pouch & rings to attach other items
Great price
Things I Don't Like:
Pictures make it look a little darker in color than the actual color
If you are looking for a leather quiver to attach to a bow, the Carol leather bow quiver is a great choice.
The Carol bow quiver is made of buffalo leather and is 20 inches in length. The quiver has a capacity for 8 arrows that lock into the bottom oval leather piece. The arrow tips are fed into the top of the leather quiver, where a foam casing with 8 holes protects the arrows and securely holds them in place.
Two brown velcro straps are riveted to the main shaft of the leather bow quiver to secure it to any compound or recurve bow.
Things I Like:
Top-notch construction

Quality buffalo tanned leather
Holds 8 arrows securely and separately
Attach to almost any bow
Things I Don't Like:
Price is higher than back or hip leather quivers due to the intricate design, but there is an added convenience of attaching it to your bow.
The Dostyle leather back quiver is a large capacity arrow quiver with the ability to hold 24 – 40 arrows with field tips.
This is a handmade custom leather back quiver made of cow leather. It has a traditional style with a single main compartment and straps to go over the shoulder and around the waist to secure it to your back.
The Dostyle back leather quiver is able to switch to be used for either left or right-handed shooters.
Things I Like:
100% handmade
Large capacity
Sturdy black leather
Can be used as a hip quiver
Things I Don't Like:
Does not secure them, so they can fall out if you drop the bag or lean over too far
The Kratarc leather quiver is a very sturdy tactical quiver with a decent capacity and the ability to be used as either a back or hip quiver.
This tactical leather quiver is a little over 21″ long and has a large main arrow compartment that is separated to keep different arrows apart. The interior of the leather quiver is suede, where the exterior is smooth poly-coated leather for extra durability.
The quiver has a large exterior pocket, one of the largest of the leather quivers we reviewed.
Things I Like:
Sturdy tactical leather construction
Hip or back mounting
Separated main arrow compartment
Best design
Great price
Things I Don't Like:
Could use a third strap like other back quicker to secure it in place more and prevent rotation
The Carol traditional leather quiver is a very traditional arrow quiver that is a little shorter than other leather quivers on this list. It also has a more simple design.
This traditional leather quiver can hold up to 25 arrows. It has a single barrel main compartment made of hardened leather.
It is the perfect simple quiver to use for the range.
Things I Like:
Quality materials & construction
Classic traditional design
Hip or back mount
Cheapest price
Things I Don't Like:
No other pockets
Small capacity
Not be the best option to take into the woods for bow hunting – better for the range.