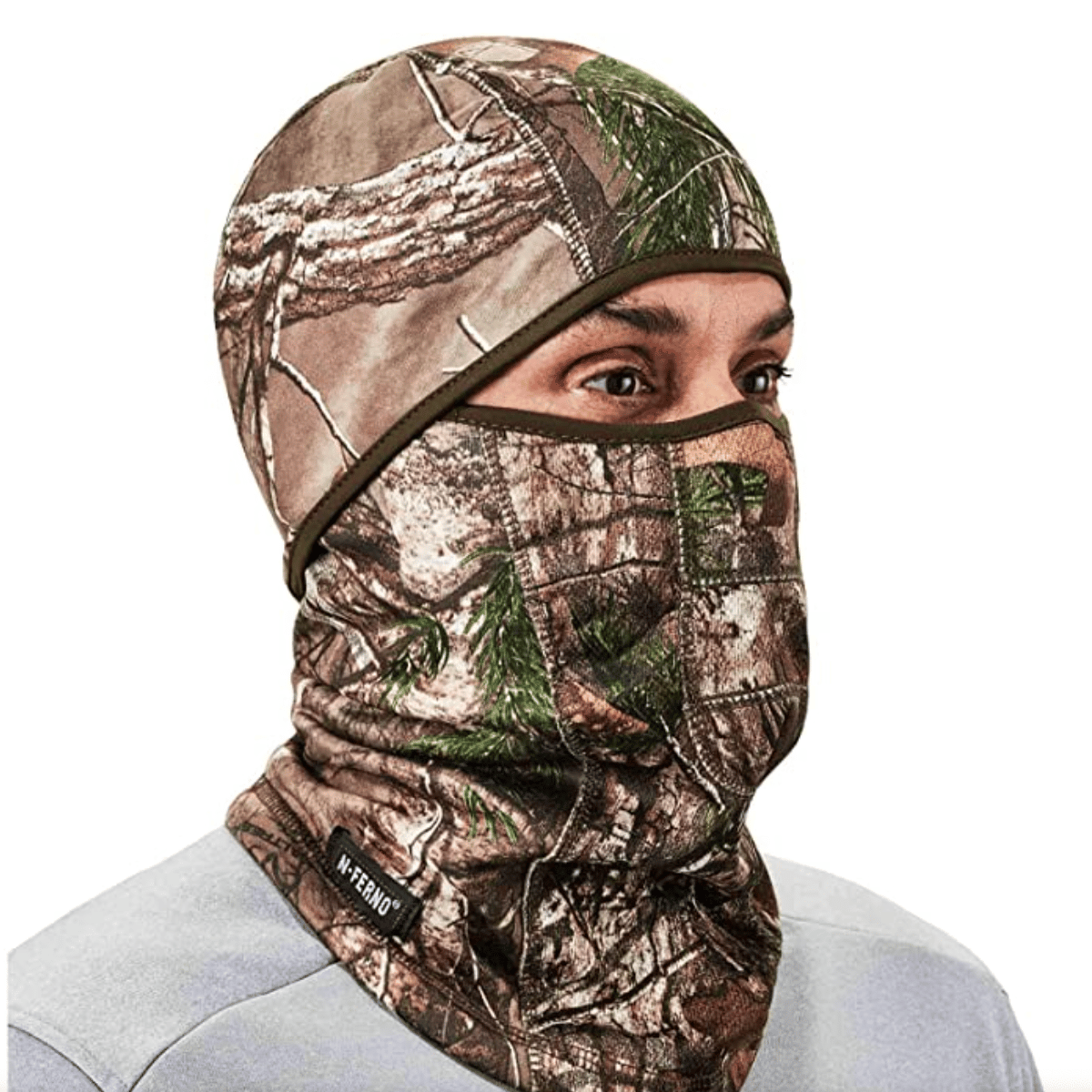 A hunting balaclava face mask is a very budget-friendly, cheap way to keep your face and head warm while hunting.
We go through the best hunting balaclava for cold weather, extremely cold weather, and to use as a base layer in various weather conditions.
Best Hunting Balaclava Face Mask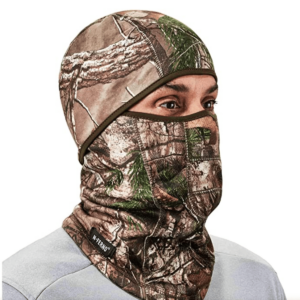 A hunting camo balaclava face mask can make a big difference in your ability to stay alert and focus when you are in the tree stand or behind the blind.
When the wind picks up and you have been sitting still for a few hours, your face can easily begin to freeze. You might not feel it right away.
Later on or the next day, your face will be red, windburned, and potentially chapped.
So I set out to find the best hunting balaclava face mask.
There are 3 types of hunting balaclavas that I focused on, including the:
Best hunting balaclava for cold weather
Best thick fleece hunting camo balaclava for extreme cold weather
Best base layer hunting balaclava for all weather conditions
Below is a summary of the three best hunting balaclava options, then I dive into each option a little bit more.
Click the View Product to see current pricing and options.
Click the Read More to jump to our review of the product.
*Special Note – This article contains affiliate links, which means we may receive a commission to support my writing if you click a link and purchase anything at no extra cost to you. Thank you in advance for your support of my passion. Cheers!
Best Camo Balaclava Face Mask for Hunting
Best Hunting Balaclava For Cold Weather
Best Hunting Balaclava for Extreme Cold Weather
Best Base Layer Hunting Balaclava
Hunting Balaclava Face Mask Reviews
The Ergodyne N-Ferno is the best hunting balaclava face mask for cold weather as it is a stretchable, medium-think fleece balaclava.
The nice thing about this mask is the entire mask is camouflage and not too thick of material. This allows you to wear this balaclava face mask as either a base layer under a hunting hat or simply wear this by itself.
What is nice about this is one is the front also has fairly good breathability to prevent the mouth from getting too moist from your breathing.
Pros:
Full, quality camo
Medium-thick fleece
Moisture-wicking
Warm in cold weather
Blocks wind
Good mouth breathability
Cons:
Not thick enough to wear by itself in extreme cold weather
---
When hunting in extremely cold weather, a hunting balaclava face mask is a must! This thick fleece camo balaclava face mask for extreme cold weather will be your best option for those harsh, cold, and windy days.
This is a thick, loose-fitting camo balaclava that is worn as a primary layer. It easily allows you to also put up your jacket hood over it, for extra wind protection and warmth.
This hunting balaclava is long enough to tuck into your jacket, which will help heat from inside your jacket rise up and into the balaclava to warm your face and head.
The elastic straps on the side also help tighten the face hole to close up the opening more for extra protection.
If you are hunting in an area where the weather can get nasty (like it does here in Wisconsin for me), you'll want one of these thick fleece hunting balaclava face masks.
It is small enough to fold up and stuff in a pocket and this thicker balaclava hunting mask will be invaluable when the weather shifts when you are out in the woods.
Pros:
Thick camo fleece balaclava
Very warm in extreme cold
Long neck to stay tucked in
Face elastic to close tighter
Cons:
Meant for extreme cold, so too warm to wear in mild temperatures.
---
The Achiou balaclava is a thin 88% Polyester /12% Spandex base layer hunting balaclava that provides an initial warm, breathable layer that is also moisture-wicking.
When worn under a hat and jacket, this base layer balaclava provides an extra layer of warmth, blocks wind, and helps direct heat from your upper body to your neck, face, and head.
With a cheaper price tag and several different color options to choose from, it is a great lightweight hunting balaclava base layer to have on for any hunting season and weather condition.
Pros:
Thin base layer
Windbreaker
Breathable
Moisture-wicking
Cheap, budget-friendly option
Good as a primary layer in mild conditions
Cons:
Only good for cold or extreme cold weather conditions as a base layer