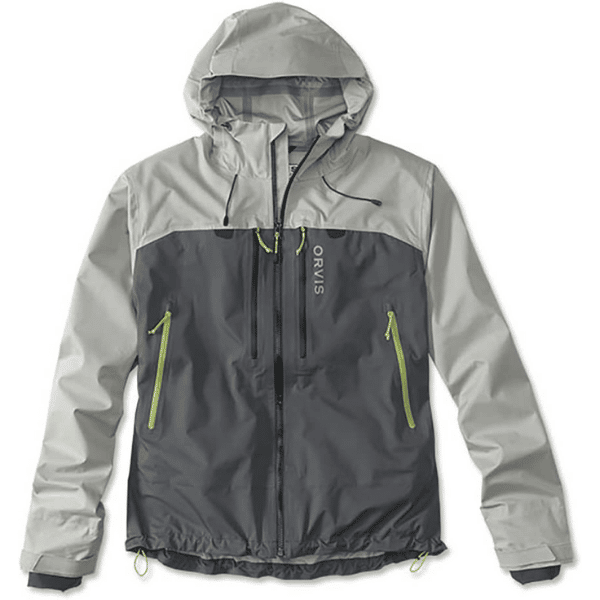 The best fly fishing wading jackets work to protect from the sun, while also protecting from harsh elements such as crashing cold waters from the river, rain, or cold weather while you are wading in rivers or shallows of bays, lakes, or oceans.
In this guide, we go through the 5 best fly fishing wading jackets based on cost and uses in different environments.
Selecting the Best Wading Jacket for Fly Fishing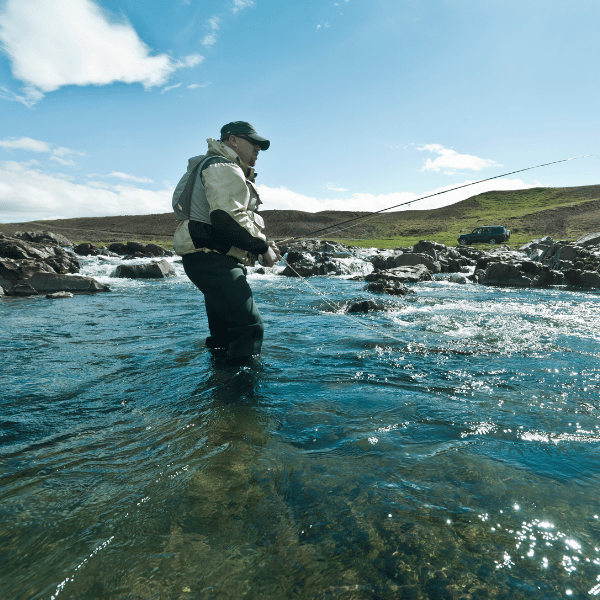 Selecting the best fly fishing wading jacket depends on what environmental conditions you will be in when fly fishing.
In this guide, we focused on the best wading jackets for fly fishing that protect you from the sun, keep you dry, are breathable in warm weather, and keep you warm in cold weather.
Below is a summary of the 5 best fly fishing wading jacket options, then I dive into each option a little bit more.
Click the View Product to see current pricing and options.
Click the Read More to jump to our review of the product.
*Special Note – This article contains affiliate links, which means we may receive a commission to support my writing if you click a link and purchase anything at no extra cost to you. Thank you in advance for your support of my passion. Cheers!
Best Fly Fishing Wading Jacket Reviews
Overall Best Fly Fishing Wading Jacket
Best Lightweight Fly Fishing Wading Jacket
Best Fly Fishing Rain Coat
Best Waterproof Fly Fishing Wading Jacket
Best Cheap Fly Fishing Rain Jacket
Best Fly Fishing Wading Jacket Reviews
Orvis is the brand you will be looking for when you want high-end outdoor clothing and the Orvis men's pro wading jacket is the overall best fly fishing wading jacket. It is made from polyester and polyurethane, which features an internal membrane that will wick away moisture. However, moisture should not penetrate the materials.
It has an impressive waterproof rating of 20,000mm, which means you can spend a lot of time outdoors in the rain. The jacket can also be used in the wet swamps. While it is not designed to keep you warm, it has all the elements to ensure you stay dry. There are a few internal pockets as well for all your personal belongings and tech equipment.
Pros:
20,000mm waterproof rating
Wicks away moisture with ease
Large design
Reasonably priced
---
Sticking to the Orvis brand, we have the Orvis men's ultralight wading jacket, which features 3 layers of protection against the elements and water. It is a stylish jacket with numerous pockets that will ensure you can wade through treacherous terrains. The jacket includes YKK Aquagaurd zippers to ensure your belongings remain dry.
In terms of the size, the jacket is highly recommended for the value and the quality features. Numerous elements make it a versatile jacket. It will keep you protected from wet weather and have some resistance to the cold. We would recommend it as the best lightweight fly fishing wading jacket on the market today.
Pros:
Waterproof
True to size
Protects against cold weather
Lightweight
---
If you want something basic but stylish, you might be better off with the Simms challenger waterproof fishing raincoat. It is considered the best fly fishing raincoat and features Toray fabric. The fabric will keep the water out and ensure that you remain dry. Internally, it can also wick away most of the moisture to keep you dry.
Some flaps cover all the pockets and when used with the zippers, it should keep any wet weather from entering. It might not be as expensive as the Orvis brand, but it has some of the same features. If you don't need a jacket and you want something larger, the Simms challenger waterproof fishing raincoat is a great option.
Pros:
Oversized
Lightweight
Toray fabric
Internal storage pockets
Affordable
Cons:
Sizing is slightly too big
---
The Simms freestone waterproof fly fishing wading jacket is very similar to the previous one we have selected and it features a state-of-the-art design, which is made from Toray fabric. The jacket has similar properties to the previous option and we consider it the best waterproof fly fishing wading jacket one could find.
There are numerous storage pockets for all your personal belongings, but the jacket has so many other features that will make it useful. The internal membrane features a soft layer of cushioning and this will help you in cold weather conditions. Overall, it should be effective for cold weather conditions to ensure you stay warm.
---
Last but certainly not least, we have one of the mainstream jackets on the market today. The Columbia men's Glennaker lake rain jacket is made from 100% nylon and will ensure that you have all the versatility you need. It is the best cheap fly fishing rain jacket that money can buy, which makes it great for beginners.
It might not have all the different pockets and high-end zippers that many of the other jackets have, but the design is stylish. Aside from using it as a fly-fishing jacket, it can be used every day in wet weather conditions. The jacket and the manufacturer claim that it is waterproof. However, we have notices that it does absorb some water.
Pros:
Stylish design
Lightweight
Affordable Versatile for everyday use
Water-resistant
Cons:
Not waterproof
Lacks all the storage pockets