3 Best Hunting Dog Stands
A hunting dog stand for duck hunting can keep your dog drier, while also giving your dog better visibility and keeping it from scaring away the flock.
The Best Dog Stand for Duck Hunting
A dog stand will give your dog the edge to make sure it has longer endurance, better visibility to ducks, and be ready to lock on.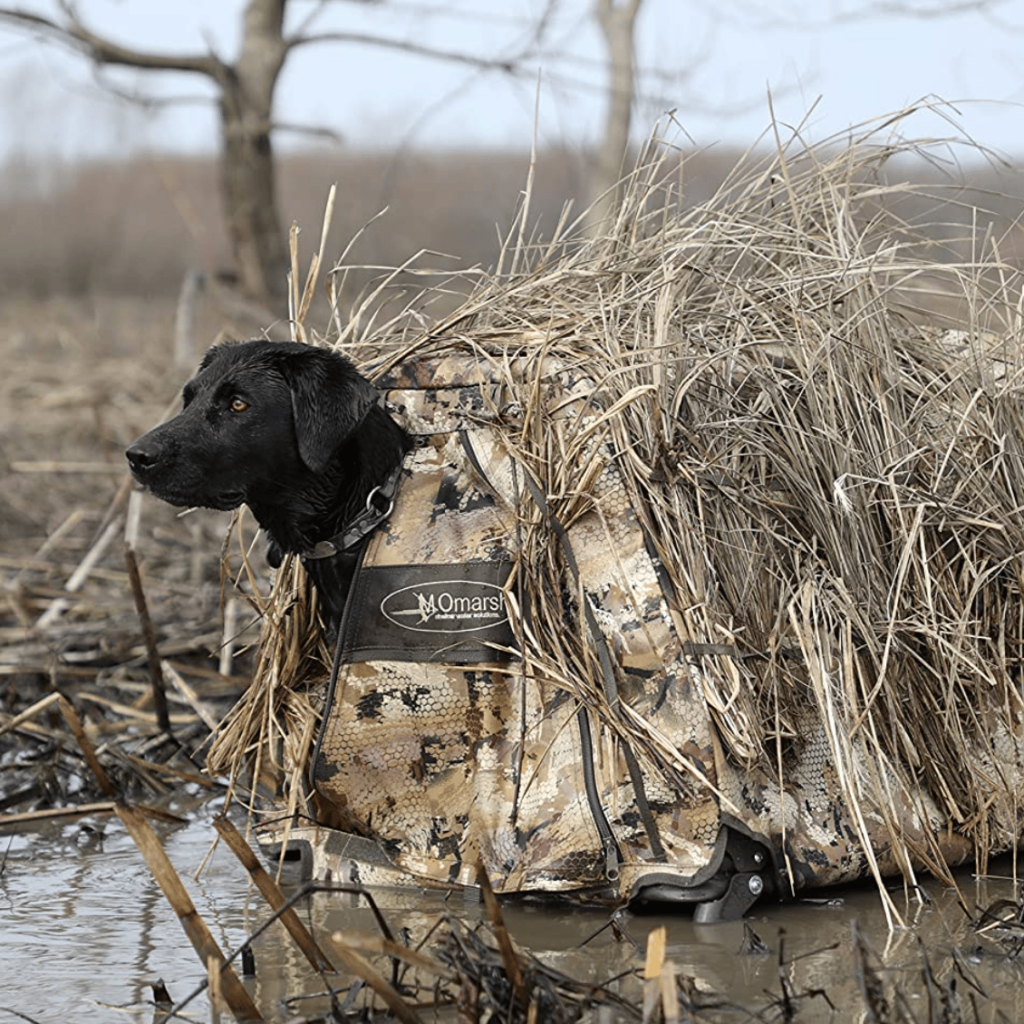 A dog stand will give your dog the edge to make sure it has longer endurance, better visibility to ducks, and be ready to lock on.
Not having a hunting dog stand for duck hunting when in or around water either keeps your dog in the water or has you finding spots where you can keep your dog out of the water. This obviously limits either your time in hunting or your locations.
So we set out to find the best duck hunting dog stand.
Below is a summary of the three best hunting dog stand options, then I dive into each option a little bit more.
Click the View Product to see current pricing and options.
Click the Read More to jump to our review of the product.
*Special Note – This article contains affiliate links, which means we may receive a commission to support my writing if you click a link and purchase anything at no extra cost to you. Thank you in advance for your support of my passion. Cheers!
Best Hunting Dog Stand
Overall Best Hunting Dog Stand
Best Dry Land / Low Water Dog Stand
Best Marsh Hunting Dog Stand
Hunting Dog Stand Reviews
The Momarsh Invisi-lab hunting dog stand with a blind is the perfect dog stand for duck hunting, goose hunting, hunting other waterfowl, or training your dog.
This hunting dog stand blind is designed by Momarsh to keep your dog safer, dryer, and more comfortable. With the ability to extend the legs from 24″ up to 34″, the stand can withstand water levels of up to 30″. The platformed feet on the legs of the stand are particularly nice for stabilization and mounting on dryer land, while also not allowing it to sink in too deep in soggy areas.
The platform has an anti-slip design, which helps your dog from losing traction when jumping in and out of the stand, even when wet.
It also helps keep your dog hidden from plain sight. Unlike the other two stands on our list, this is a hunting dog stand with a camouflage blind.
The blind has straps that allow you to stuff brush from the surrounding area into the actual blind. This actually works really well for having a shelter above water, but blending in the shelter to look like just a mound of brush to not spook your targets.
This is definitely the higher-end option. The Momarsh Invisi-lab dog stand for hunting does provide the greatest flexibility, best performance, and most importantly the best comfort and protection for your dog so you can stay out hunting longer.
Pros:
Camo Blind with rings for brushing in
Up to 30″ water depth
Platform feet for stability
Ultimate comfort for the dog
Cons:
With it having all the options included, the price is higher than the others.
---
The ALPS OutdoorZ Timber dog hunting stand is the perfect stang to be mounted to a tree anywhere you may be.
The ALPS OutdoorZ Timber dog stand for hunting has a mesh top allowing to shed water efficiently while your dog is up out of the wetland, brush, or sticks.
This unique dog stand that allows you to mount it wrapped to a tree or other structure at various heights. This allows the stand to accommodate all different size dogs by adjusting it to the optimal height where the dog can jump up onto the stand.
Pros:
Adjustable height
Mesh top for drainage and durability
Dry or wetland use
Lower cost
Cons:
Not easily camouflaged like the dog hunting stand with a blind
---
The ALPS OutdoorZ hunting dog stand has similar features like a mesh platform to drain water and a lightweight design. It does not have a blind, but it does have a few unique features.
The OutdoorZ hunting dog stand is the highest height range of the three tree stands we reviewed. The legs can extend up to 36″, which allows it to be used in 32-34″ water depth.
It also is the only one with spiked legs compared to a platform style foot on the legs. These help dig in and keep the stand in place.
Finally, it is the cheap hunting dog stand for duck hunting or hunting other waterfowl.
Pros:
Budget option
Ability to raise up to the highest height
Drains well
---