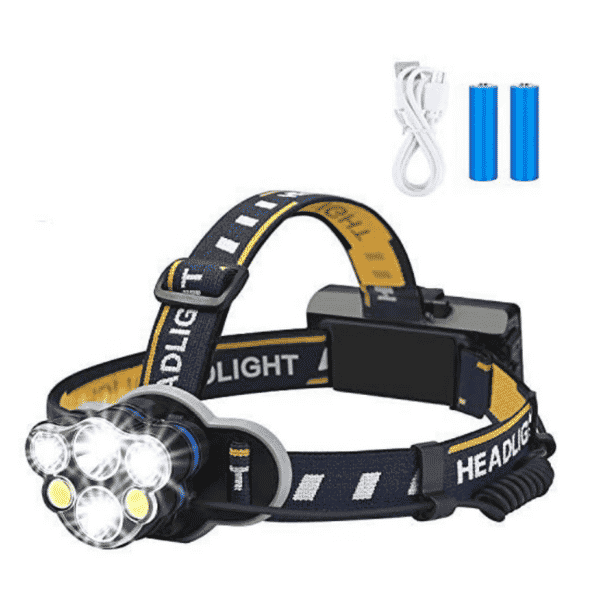 Finding the best headlamp for ice fishing can really be a game-changer once out on the ice.
Whether you are looking for a very bright ice fishing headlamp with several different modes, or a versatile clip-on headlamp for ice fishing – we have tested the best options to select from in this ice fishing headlamp buying guide.
Best Ice Fishing Headlamp for Night Fishing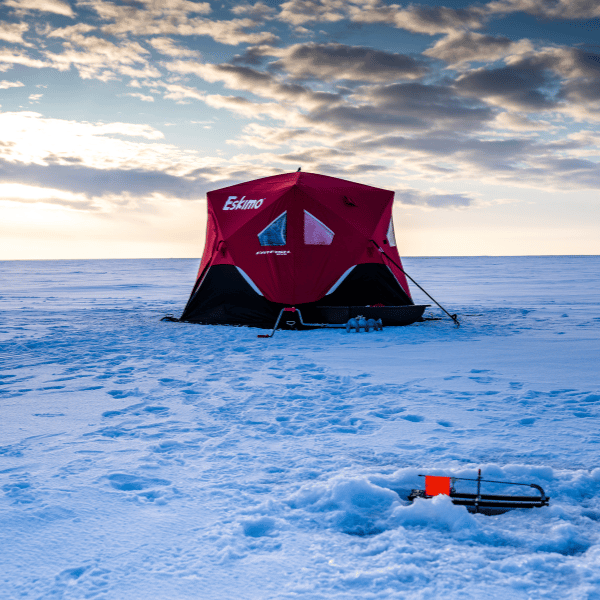 I'll be honest, I wasn't always a fan of headlamps. My step-father would always ask "You got your headlamp?" whenever we were fishing, ice fishing, or even working around the yard at night. I would always just chuckle as I used my favorite flashlight, the Olight Seeker 2 Pro.
My Olight is 3200 lumens and has an intense setting that is as bright as headlights on his new Chevy Silverado, so why is he always asking me about headlamps?
After a ton of research and looking at all the options, I finally caved in and asked for one for Christmas a few years ago – the Elmchee rechargeable 6 LED headlamp. Back then, I thought it might be nice to free up my hand when ice fishing and not always have to lay down the flashlight on the ice propped up to see what I was working on.
Today, although I still like my Olight flashlight, I am a big fan of headlamps and have tried many different types of headlamps from cheap ones I pick up on sale to the expensive ones that just have really good branding.
Below is a summary of the three best ice fishing headlamp options that I have used, then I dive into each option a little bit more.
Click the View Product to see current pricing and options.
Click the Read More to jump to our review of the product.
*Special Note – This article contains affiliate links, which means we may receive a commission to support my writing if you click a link and purchase anything at no extra cost to you. Thank you in advance for your support of my passion. Cheers!
Best Headlamps for Ice Fishing
Overall Best Ice Fishing Headlamp
Best Universal Clip-On Lamp for Ice Fishing
Best Cheap Ice Fishing Headlamp
Best Ice Fishing Headlamp Reviews
If you are looking for the best overall ice fishing headlamp for the money, the Elmchee Rechargeable Headlamp is the best option.
This headlamp features 8 different working modes, which include the strobe and SOS modes. However, the other modes can be used for different outdoor activities including hunting, hiking, and camping.
It features a 1500mAh lithium polymer battery, which gives the unit up to 100,000-hours of useful life for the lights. Depending on the mode that is used, you should get several hours of hours out of each recharge. The battery takes a few hours to recharge when depleted.
Additionally, it has an IPX4 waterproof rating for wet weather conditions, which makes this the best headlamp for ice fishing due to the wet conditions.
Pros:
IPX4 waterproof rating
100,000-hour battery lifetime
Powerful lithium batteries
Also works with 2 AA batteries
---
Smith & Wesson is one of the top weapon brands with top-of-the-range accessories. However, the best universal clip-on ice fishing headlamp is the Smith & Wesson Night Guard Series clip-on headlamp.
This headlamp has a power output of 420-lumens at peak brightness and the battery can last up to 2-hours when using the maximum setting – much longer on the lower settings.
The light has numerous colors for the LED's which means you can have different colors for your lighting needs. This includes a green LED headlamp for ice fishing that has become popular as it can help to attract fish to your location when shining through the ice.
Pros:
Versatile design
Includes numerous LED colors
Long battery life
420-lumen brightness
Head strap included
Cons:
Although 420-lumens is bright for a small headlamp, it is not as bright as some of the other high lumen headlamps for ice fishing
---
The best cheap ice fishing headlamp is the GearLight S500 LED headlamp flashlight. These are sold in packs of two and per unit are a cheap, budget-friendly ice fishing headlamp.
These headlamps have a 500-lumen brightness, which is actually a little brighter than the previously reviewed clip-on headlamp option above. These also have 7 different brightness modes to work with. However, it will give you 3-hours of light when using the highest brightness setting.
Unfortunately, it does not have rechargeable batteries. This can also be a benefit for some as you aren't paying for the rechargeable batteries and the required AAA batteries are not expensive.
You only need to add your batteries when they run out. The unit will use the standard AAA batteries. According to the manufacturer, you can get 45-hours of light when using 3 AAA batteries on the lowest setting of the lamp. I buy these AAA batteries in bulk for less than a quarter a per battery.
With just 3x AAA you can get up to 45 hours of use on the lowest setting, which is very efficient!
Pros:
Includes a head strap
2 for the price of 1
Uses standard AAA batteries
Efficient on batteries / Long battery life
Cons:
Not the best waterproofing, so if dropped in water on the ice they may not last long after – if at all. Just be careful or keep it on your head!