I recently set out to find the best ice fishing bibs to take on an ice fishing trip in northern Wisconsin. In this article, I go through the 7 best ice fishing bib options that I outlined for myself to choose from that should help you figure out the best ice fishing bibs to buy.
Best Ice Fishing Bibs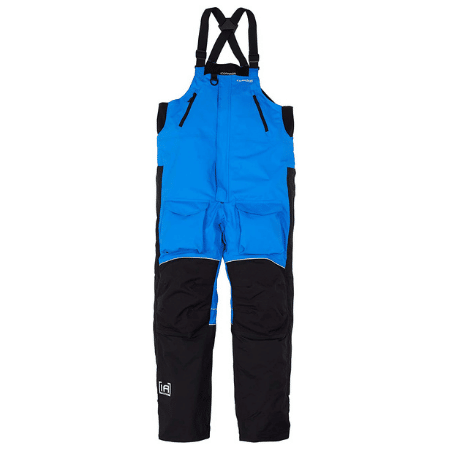 The best ice fishing bibs provide warmth in the coldest temperatures and remain waterproof even when the ice is covered in water on warmer days. They are breathable to regulate body temperature and provide protection when kneeling on the ice. Finally, ice fishing bibs provide pocket storage and D-ring loops for carrying equipment and supplies.
When you get too warm out on the ice, the jacket or the hat is usually the first thing to go. Bibs are almost never removed due to the reasons previously mentioned, making it one of the more important pieces of ice fishing gear you will buy.
Below is a summary of the seven best ice fishing bib options, then I dive into each option a little bit more.
Click the View Product to see current pricing and options.
Click the Read More to jump to our review of the product.
*Special Note – This article contains affiliate links, which means we may receive a commission to support my writing if you click a link and purchase anything at no extra cost to you. Thank you in advance for your support of my passion. Cheers!
Best Bibs for Ice Fishing
To get you started, we have the best overall ice fishing bib and the Striker Ice Climate Bibs are made from 320D Tussor and features a 5000/5000 waterproof rating. Additionally, the outer shell remains breathable, but the 175g Thermadex insulation will offer the most comfort and warmth when you are outdoors.
Sureflote buoyancy is present throughout the design of the bib and it has numerous safety features, which include the safety stripes located around the sides of the bib.
The unit also features numerous storage pockets, including a beverage pocket, but the pockets are waterproof. Those covered by a zipper is great for your personal belongings.
Things I Like:
Removable insulation

 

Waterproof pockets
Sureflote Buoyancy

 

Features numerous storage pockets
Things I Don't Like:
They are an expensive option
If you are looking for ice fishing bibs with the best value, you cannot go wrong with the Frabill I3 insulated ice fishing bibs.
The Frabill I3 is constructed from 300D nylon and features a 230T Taffeta lining with 150G insulation that will keep you warm. The bib is completely weatherproof, but surprisingly breathable when you are inside the unit.
Padding is located on all the hotspots that one might use to sit or crawl. The padding is not only for additional strength, but it also keeps the body parts of the user from direct contact with the ice. This should keep you warm and make it easier to go about doing your job.
Cam lock buckles are also located on the bibs for when needed.
Things I Like:
Sophisticated, but useful design
Breathable interior
Completely weatherproof design
Includes cam lock buckles
Things I Don't Like:
Cannot take off the bib without removing gloves
The best quilt-lined ice fishing bibs are the Carhartt Men's Yukon Arctic Quilt Lined Zip to Waist Biberalls R33.
These bibs are constructed from extremely durable 1000D nylon. The bibs are quilt lined and are extremely comfortable for the inside of your clothing on ice-cold days. The lining is also very efficient at wicking away moisture.
One of the key features that I noticed is the machine wash label. According to Carhartt, you will be able to chuck the bib into your washing machine for a thorough clean.
At just over 4-pounds, it might be heavy, but the features more than makeup for it with the protection and warmth you will receive when wearing it.
Things I Like:
Efficient inner lining
Multiple zippered pockets
Made from 1000D nylon for durability
Wicks away moisture efficiently
Things I Don't Like:
They can be heavy
Can lacks breathability on warmer days due to the heavy quilt lining
If you love ice fishing, you will need the best insulated waterproof ice fishing bibs to keep you protected. The StrikerICE Predator Bib is by far one of the best bibs to consider.
These bibs feature the Termadex insulation and a 5000g breathability-rating combine with a massive waterproof rating of 5000mm for the ice conditions.
Magnetic storm flaps and additional padding on the knees and back area are great for when you need to take a seat. However, it also makes the bib feel bulky and a bit uncomfortable for many beginners.
The biggest downside would be the price, which has this as one of the most expensive options on the market today – but, they are definitely worth it. Over 99% of the reviews give them 5 stars!
Things I Like:
Thermadex inner lining
5000mm waterproof rating
5000g breathability
Heavy and well insulated
The ice can be a tough and daunting environment, which means that you need the toughest ice fishing bibs to keep you safe.
The Clam Men's Ice Armor Edge bibs are made from 1000D-ballistics nylon, which also makes them flexible and comfortable. The bib includes a 300D waterproof outer shell, which ensures that it is durable and protected from weather conditions.
A 2-way flap magnetic storm pocket is located on either side of the chest area, which ensures that all your personal belongings are kept safe. Additionally, the side pockets all feature a fleece lining, which should keep the hands warm.
The bib is slightly more affordable than many of the others we have seen so far.
Things I Like:
Durable 1000D nylon construction
Waterproof and weatherproof pockets
Affordable price
Decent handwarmer pockets
Things I Don't Like:
They are slightly undersized
If you are strapped to a tight budget, the best budget ice fishing bibs will be something you need to consider. The Arctix Men's Tundra Ballistic bib overalls with added visibility are for you if you are a budget buyer.
The bib itself is constructed from 100% polyester. The polyester will swiftly wick away most of the moisture and dry out rapidly.
However, polyester does not have the same capacity as nylon to ensure that you keep warm and remain dry for the most part. This might not be the best material for many ice-fishing experts, yet would be great for the occasional ice fisherman.
The great part about these, though, is the 85-grams of ThermaTech Insulation will keep you very warm on decently cold days.
Things I Like:
85g ThermaTech Insulation
Dries out rapidly
Multiple storage pockets
Affordable price tag
Things I Don't Like:
Lacks the heat retention of nylon
While ice fishing might have been a male-only profession, many women are growing interest in taking on the sport. The best ice-fishing bib for women is the Carhartt Women's Weathered Duck Wildwood Bib Overalls, which are available in all sizes.
Since these are made from 100% cotton, it is one of the warmest options on the market today.
The bib looks stylish and it is affordable for almost every woman to consider. It differs slightly from the men's versions with the inclusion of a larger selection of sizes specifically designed to fit women.
Multiple utility pockets are also scattered along with the bib.
You can't go wrong with your woman wearing Carhartt coveralls for ice fishing, especially if she only heads out on the ice once in a while.
Things I Like:
Lightweight and durable
Warm cotton construction
Ergonomic design for females
Affordable pricing
Things I Don't Like:
Not 100% waterproof, so could not be the best option for those warmer days when the top of the ice may be more wet