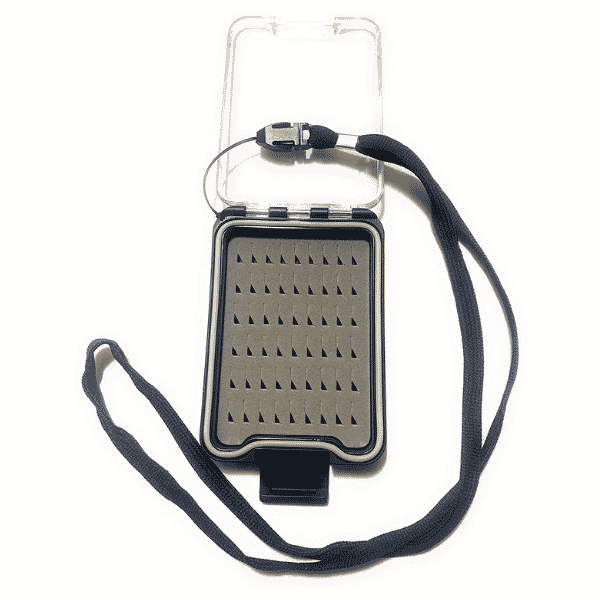 The best fly fishing fly box should organize and protect flies in any situation, whether in the river fly fishing or packed away with the rest of your tackle.
In this guide, we go through the 5 best fly fishing fly box options to help you organize and protect your flies.
Selecting the Fly Box for Fly Fishing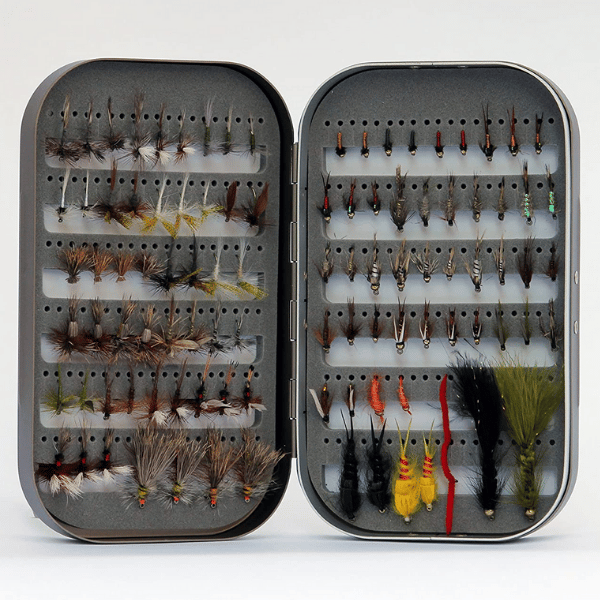 We went through all the available fly fishing fly boxes with 5 criteria in mind including:
Overall Best Fly Fishing Fly Box
Best Fly Fishing Fly Box Kit with Flies
Best Waterproof Fly Fishing Fly Box
Best Small Fly Fishing Fly Box with Lanyard
Best Cheap Fly Fishing Fly Box
Below is a summary of the 5 best fly fishing fly box options, then I dive into each option a little bit more.
Click the View Product to see current pricing and options.
Click the Read More to jump to our review of the product.
*Special Note – This article contains affiliate links, which means we may receive a commission to support my writing if you click a link and purchase anything at no extra cost to you. Thank you in advance for your support of my passion. Cheers!
Best Fly Fishing Fly Box Reviews
Overall Best Fly Fishing Fly Box
Best Fly Fishing Fly Box Kit with Flies
Best Waterproof Fly Fishing Fly Box
Best Small Fly Fishing Fly Box with Lanyard
Best Cheap Fly Fishing Fly Box
Best Fly Fishing Fly Box Reviews
You might need a couple of flies when you are out fishing, especially for different fishing. The overall best fly fishing fly box will make it possible to hold all your flies in one secure location. We have selected the Tacky Original Fly Fishing Fly Box for those that are serious about fly fishing and want the best possible storage for their bait.
There are two versions available and the smaller one can only hold flies at the front. However, it can still hold up to 168 flies. If you choose the double-sided version, you can hold up to 336 different flies, which means you will always be prepared for every situation. The magnetic closure will keep the unit from falling open and everything from falling out.
Pros:
Single and double-sided
Magnetic enclosure
Affordable
Easy to store
---
Finding all the different flies you might need can be a tedious process, which is why we recommend the best fly fishing fly box kit with flies. The Barnsley Fly Box Kit is the perfect option and it has been made from durable aluminum. The box will close and all your flies on the inside will be protected.
The unit features 100 flies that range in size and type and once you have a kit like this, you won't need to buy anything else. Additionally, the box is small, which enables you to comfortably store it in any of your fishing bags. Unfortunately, it is also one of the most expensive options on the market today and you need to be serious about fishing to buy this one.
Pros:
Holds 100 flies
Solid aluminum box
Easy to open and close
Wide variety available
---
In wet conditions, you need the best waterproof fly fishing fly box to ensure that everything on the inside remains dry. We have you covered with the Flies Direct Waterproof Fly Box, which features a state-of-the-art design. It is made from durable aluminum on the outside and a solid enclosure to keep everything locked into place.
The box can hold up to 126 different flies, but this will also depend on the size of the flies you are looking to take along. It has a silicone insert that stretches all along the sides of the unit. The silicone means you can leave it in the water and the unit should keep the insides dry. It is great for fishing in the rain and deeper waters.
Pros:
Durable aluminum case
Solid locking mechanism
Holds 126 flies
Silicone insert
---
The best small fly fishing fly box with a lanyard will not only allow you to carry along your favorite flies but it can be stored around your neck. You don't need to look any farther than the Lazy River Road Outfitters Small Fly Box to ensure you have optimal storage for some of your flies around your neck.
The unit is one of the smaller boxes on the market today. However, it can still hold 54 flies to ensure that you are ready for whatever happens. The box is one of the cheaper options and it does not have any downsides. However, the plastic holding section might loosen over time and your flies could fall out of the box.
---
The MAXIMUMCATCH Maxcatch Two-Sided Waterproof Fly Box might be considered the best cheap fly fishing fly box, but it is by no means the worst. It has some of the best features you could need and the unit is made from durable ABS plastic. On the inside, it features foam padding that will keep all your flies in place.
According to the manufacturer, the latch is secure and the unit is waterproof. While it is not made to be submerged fully in water, it is great for those that need something to be water-resistant. There are 4 different sizes for you to choose from, which means you don't need to buy the largest one if you are not going to use all the features.
Pros:
Available in 4 sizes
Durable ABS plastic construction
Affordable
Soft inner foam padding
Available in numerous colors