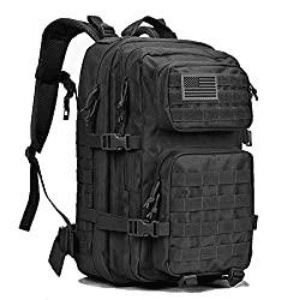 Finding the best tactical backpack might be one of the most important decisions you can make. From hiking to a special operation to carrying hunting or paintball gear, the tactical backpack is a critical piece of equipment.
We review the large selection of tactical backpacks on Amazon to come up with an updated tactical backpack buying guide.
Selecting The Best Tactical Backpack
The best tactical backpack will depend on how you plan on using the backpack. Whether it be for everyday carry or for having a bugout bag, you will want to make sure you select the right size with the right utilities built-in to the tactical backpack.
Below is a summary list of the top 10 best tactical backpack options with full reviews for each under the summary list.
Click the View Product to see current pricing and options.
Click the Read More to jump to our review of the product.
*Special Note – This article contains affiliate links, which means we may receive a commission to support my writing if you click a link and purchase anything at no extra cost to you. Thank you in advance for your support of my passion. Cheers!
Overall Best Tactical Backpack
Best Multi-Storage 3 Day Tactical Backpack
Best EDC MOLLE Tactical Backpack
Best 3 Day Bug Out Bag
Best Large Internal Frame Support Tactical Backpack
Best Extra Large Internal Frame Support Tactical Backpack
Best Adjustable Tactical Backpack
Best 1-2 Day Small Tactical Backpack
Best Small EDC Tactical Backpack
Best Travel MOLLE Tactical Backpack
Best Tactical Backpack Reviews
The REEBOW Gear 3-day MOLLE backpack is the best tactical backpack for really any need, from everyday use to survival. With 40 liters' inner capacity, this pack allows you to get everything in the pouch for hiking, camping, or even prepping for doomsday.
The shoulder straps are padded to give comfort when used for a prolonged time. The interior has a polyester lining to help this backpack resist water for a reasonable amount of time to protect your belongings inside from getting water damage in rougher terrain.
The zippers are made of thick metals and are sewn on with heavy-duty thread to ensure this MOLLE tactical backpack will last for a long time. The backpack also has a good amount of pockets to securely store all your gear.
---
The CVLIFE 3 day MOLLEE backpack is made of 600D oxford fabric. This fabric is known for being water-resistant and durable to last a long time in harsh environments.
Its inner capacity ranges from 50 liters to 60 liters. This is big enough for all the necessary items you might need in a backpack for hiking, hunting, camping, and even packing a 3-day survival kit for the next natural disaster or pandemic.
The MOLLE setup of this backpack allows you to comfortably carry add-ons like outdoor gear, tactical pouches, and even a tactical sleeping bag. It has a main compartment, two detachable side pockets, and one detachable tactical bag that can be used to store accessories separately.
The CVLIFE tactical backpack is perfect for use as an emergency kit bag, range bag, camping rucksack, paintball pack, airsoft gun bag, or a hiking backpack.
---
The Mardingtop tactical backpack boasts reliability for outdoor enthusiasts looking to have a backpack for their camping or hiking activities.
A unique feature of this tactical backpack is a hydration compartment that holds a 2.5-liter bladder to have a supply of water with you on the adventure.
The backpack comes in a 25L, 28L, or 35L inner capacity, depending on what specific size you want.
The structure of the backpack is designed for maximum comfort with its padded shoulder straps and waist belt to help secure the backpack to your body. The straps are designed to help reduce pain from the load and circulate air along your back.
The Mardingto tactical backpack provides one front pocket for items needing quick access. There is one zipped pocket with a built-in mesh pocket to hold multiple smaller items.
The main compartment consists of the hydration bladder compartment and 2 side pockets. These are perfect for holding accessories you don't want to get lost in the bigger area of the main compartment.
---
The 24BattlePack 3-day bug-out bag provides great value at a low price.
First off, the company is owned by a soldier. He promises to only produce things he can use himself for combat.
He designed this backpack to be durable enough for war with a padded shoulder and breathable mesh for comfort.
The backpack has a universal CCW holster for a handgun and even a padded laptop storage area that will hold a laptop up to a 17-inch laptop. The compartments are insulated and well set up for proper arrangement.
Finally, there is a compartment for a hydration bladder and built-in holes for the tubes to give you fluid for hydration on the go.
---
The TETON Sports Scout 3400 tactical backpack is built for your comfort while you go camping, hiking, or mountaineering.
This tactical backpack has a padded back panel and shoulder straps that make it breathable for your comfort even when it is loaded. Its inner capacity is 55 liters – capable of taking in about the things you will need for a 2 to 4-day trip.
The backpack is loaded with compartments, multi-directional compression straps, and pockets for strategic packing.
---
The TENTON Sports Explorer 4000 is bigger compared to the 3400 internal frame tactical backpack we discussed above.
The Explorer 4000 provides a 65-liter internal capacity. This extra space compared to the Scout 3400 allows you to pack more items to extend your trip up to 5 days!
This backpack has all of the features you always see on the more expensive backpacks, but without the high price tag.
The compartments are strategically placed for organization and easy access. Smaller objects can conveniently be packed and accessed throughout this tactical backpack without a hassle. The backpack also has an integrated waterproof cover to keep the entire bag protected from rain or snow.
---
When all you need is a standard-size tactical backpack with ultimate durability, the Orca tactical backpack may be your best bet.
This tactical backpack boasts 40 liters of inner storage. The right amount of space for everything you need to keep in all your things intact on an adventure for 1 – 3 days.
The entire backpack is made of military-grade 600D polyester material. This material is known for its ability to withstand stress from all terrains, from the rocky mountains of Yellowstone to the desert dunes of Arizona.
The backpack is sewn with double-stitching at all points of stress and high-quality zippers to make sure it remains durable under these various extreme conditions.
---
The 34-liter Orca Tactical backpack is another option you need to consider when you really need a small-sized backpack for longer-distance adventures over a shorter period of time.
The shoulder straps on this tactical backpack are well padded for the 1 – 2 day load this pack can hold. The backside has a mesh design for the circulation of air while being worn to improve circulation to help prevent excessive sweating and fatigue.
This particular Orca tactical backpack holds up to 1.5 liters of water in the fluid bladder for hydration on the go.
All the stress area of the bag is double stitched for strength.
This backpack is perfect for patrol, 1 to 2-day hiking, hunting, survival, school, or camping.
---
This Direct Action 20-liter tactical backpack is a good choice for an everyday use backpack for work, school, paintball, airsoft, and short day trips.
This tactical backpack is made of high-grade Codura 500D fabrics for durability and high water resistance.
The bag features 2 zippered compartments. The large compartment has a padded laptop sleeve and an accessory pocket. The smaller compartment features spaces for accessories and documents.
On the outside of the pack are three pockets. Two of the pockets are elastic which are good for water bottles or other bottled items. The other pocket on the front is great for easy accessibility for smaller items.
This is a patented design and one of the best small tactical backpacks for everyday use.
---
When embarking on a long journey, it is very important to have that durable, large, yet comfy backpack to carry all of your stuff, yet not wear down your body.
The CREATOR tactical backpack is the best large-capacity tactical backpack for traveling.
This tactical travel pack has 70 to 85 liters of inner storage capacity. It is water-resistant, dustproof, will not fade, and made to last for countless adventures.
The two sides and one front compartment have MOLLE set up for you to attach tactical pouches and a tactical survival kit.
For the price, you can't beat this large tactical backpack. It delivers across the board on quality and ability to carry and protect a larger capacity of items.
---