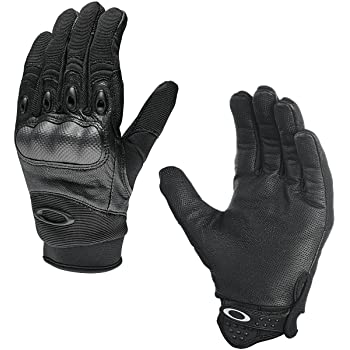 We compiled a list of the best tactical gloves after reviewing 50+ top-rated tactical gloves options.
There are MANY choices of tactical gloves for airsoft, paintball, military or police official use, parkour, calisthenics, hunting, and other needs. We decided to review the best of the best tactical gloves to find which pair of gloves are truly the best for various applications.
First, we want to cover what they can be used for and how to select the best tactical gloves for your needs.
What Are Tactical Gloves For?
Tactical gloves are used in highly active situations or tactical sports. This includes activities and sports such as paintball, airsoft, shooting practice, or working in a variety of hands-on labor-intensive situations. Some even use them for riding motorcycles, ATVs, or using other outdoor equipment.
Depending on the situations and activities you plan to use tactical gloves in, you will want to look for different features. We'll go over the different features offered in tactical gloves next.
What To Look For In Tactical Gloves?
The main features to look for in tactical gloves are:
Full Finger or Fingerless
Soft Knuckle or Hard Knuckle
Non-insulated or Insulated
Touch Screen Capability
Abrasion Resistance
Adjustable Wrist
Palm and Finger Padding
Breathability
Tactical Glove Fitment Tips
Finger Fitment is Priority
When selecting the tactical gloves, you want to not focus on the width so much as you want to focus on making sure your fingers fill each slot of the gloves. Tactical gloves are meant to feel like an enhancement for your hand for added grip and protection. If the fingers are loose, the gloves will actually reduce or eliminate any of the benefits the gloves are supposed to give.
Go Tighter If Needed
Tactical gloves should fit tight and snug to get the most benefits out of wearing them. If there are loose areas in the gloves purchased, the best thing to do is exchange them for the next size smaller. They may feel comfortable at first, but the gloves will form with use to your hand. In time, they will feel even more comfortable than the larger-sized glove almost like they were custom made.
Adjustable Materials Are Better Forming
Although leather is the most common material used, this material will not stretch and adjust to your hand as well as synthetic knit-based materials. With fitment being a high-priority that will determine how well the gloves enhance your abilities, finding gloves that use stretchy, adjustable materials along with high protection materials in high impact and wearing areas will be the best types of gloves for fitment.
The Best Tactical Glove Options
Below is a summary list of the top 10 best tactical glove options with full reviews for each under the summary list.
Click the View Product to see current pricing and options.
Click the Read More to jump to our review of the product.
*Special Note – This article contains affiliate links, which means we may receive a commission to support my writing if you click a link and purchase anything at no extra cost to you. Thank you in advance for your support of my passion. Cheers!
10 Best Tactical Gloves Summary
Overall Best Tactical Gloves
Best Winter Tactical Gloves
Best Military Tactical Gloves
Best Fingerless Tactical Gloves
Best High Abrasion Tactical Gloves
Best Rubber Top Tactical Gloves
Best Carbon Fiber Knuckle Tactical Gloves
Best Synthetic Leather Tactical Gloves
Best Coyote Tactical Gloves
Best Cold Weather Tactical Gloves
Best Tactical Glove Reviews
Every product has its purpose, the Oakley men's glove is designed for outdoor activities, factory protection, and raw tactical activities like paintball or softball.
This is your all-around tactical glove. The Oakley tactical gloves do not look as aggressive as others you will see on this list. Yet, most people in the military or hunters have preferred to use this glove due to its comfort and performance.
These gloves are pretty simple and focused on performance where it counts. They are made of high-grade leather and durable synthetics that give flexibility and high longevity. There are padded mesh areas and rubber exhaust ports that allow for airflow making them breathable to prevent palm sweat.
The knuckles are protective to absorb high impacts. Oakley is known for its quality, high-performance outdoor gear. These gloves are highly rated for a variety of outdoor uses, including tactical operations, for good reason.
---
The OZERO waterproof cold weather tactical gloves are one of the best gloves you could spend a few bucks on for maximum satisfaction for severe cold weather.
These OZERO tactical gloves have become known in the market as being the go-to winter, cold weather tactical gloves due to being able to perform in -30℉ weather.
The outer body is composed of an artificial suede-leather shell with polyester-TR cotton lining. There is a 2mm thick membrane that is both breathable and waterproof to protect your hands in cold weather. They will also remain very secure on your hands due to the knitted cuffs and bands on the wrists for a perfect snug fit.
---
The WTACTFUL military tactical gloves are built for professional tactical military operations.
The palms and fingertips are made of high-grade leather for grip and protection with the added benefit of being made compatible with touchscreen devices. The gloves are thoroughly double-stitched sewn adding to their longevity under any condition you throw at them.
These tactical gloves have reinforced molded knuckle pads to absorb impacts and maximize protection. The gloves are also very breathable with padded mesh and air vents on the back for efficient airflow.
---
The FREETOO tactical fingerless gloves are the go-to fingerless gloves for tactical purposes requiring palm and knuckle protection with the added benefit of the direct touch feel of your fingers to the object.
Activities that the FREETOO tactical fingerless gloves are perfect for include CrossFit, calisthenics, parkour, and potentially paintball or airsoft.
The fabric and the reinforced seams of these gloves provide reliability and longevity even under consistent hard use. The palm surface is composed of synthetic double-layer leather with antiskid grids for added grip to pair with your natural strength.
They are also slightly added for anti-fatigue benefits, while not padded too much to impair your touch senses.
---
Using high abrasion synthetic suede, 5.11 tactical gloves became known as an all-around option for everything from tactical events to everyday working conditions for mechanics and metal workers.
The idea behind 5.11 tactical gloves was to provide an ultimate high abrasion protection glove without sacrificing usability. They have a simple, yet effective design.
Three fingers on each glove have ring-cut microfiber strips for added grip extra grip. These gloves also have notched index and thumb gussets that increase the glove's flexibility and create a better fit.
---
The Covert M-Pact Mechanix tactical gloves are arguably the best tactical gloves.
These gloves are composed of durable synthetic leather that adds friction to strengthen grip for more precise control. Mechanix uses thermoplastic rubber as a knuckle guard. This rubber compound helps to protect your skin and bone upon impact, while also preventing objects from cutting and scraping your hands.
The palms of the gloves have the D3O padding system that absorbs impact energy. This significantly decreases vibrations or hard impacts from passing through to your hands.
These have been tested in pretty much any environment you can think of by a company known for creating durable gloves. The Covert M-Pact tactical gloves are perfect for outdoor enthusiasts, military professionals, patrol officers, and everyday working men.
---
The FREETOO tactical gloves provide guaranteed maximum protection against cuts, heat, cold, and burns.
High-quality leather is used to make the gloves strong, durable, and resistant to vibration. Due to the leather material, the glove is water-resistant and it is the ideal glove for you if you want to get your hands away from moisture.
The knuckles are overlaid with thermoplastic rubber panels and PVC padding for maximum resistance to impacts. The fingers have strategically placed elastic mesh fabric allowing for ultimate comfort and flexibility, without sacrificing protection.
Finally, the glove is breathable and absorbs sweating well, creating a unique hand drying synergy.
---
The ergonomically built Ironclad tactical gloves are made of durable synthetic leather and a flexible neoprene shell for maximum snug fit comfort.
The knuckles protect against impact and abrasion, making them perfect for tactical operations. It is breathable and will absorb sweat easily on the terry cloth located at the back of your thumb when wiping your forehead. This also helps with cleaning goggles or glasses.
---
A trusted brand in the military, survival, and tactical gear industry, Mechanix Wear is a leader in hand protection gloves. The Coyote M-Pact tactical gloves are one of their elite gloves.
These gloves are padded, breathable, flexible, and very lightweight.
The thermoplastic rubber knuckle guard protects your knuckles from impacts and is high-abrasion resistant. These gloves are selected as the Special Forces go-to, mainly for desert and mountainous environment operations due to the color. The color integration of the coyote tan improves its effectiveness with the user's uniform to conceal the wearer during operation.
---
The cold winter won't stop you from loving the outdoors with the M-Tac cold weather-insulated winter tactical gloves.
These gloves are made of 100% polyester that helps the palms remain warm in the coldest of colds and it adds to the glove's lifespan. The exterior of the gloves protects the hand from moisture and dries quickly.
The index finger has an overlay that enables the glove to be touchscreen compatible so you can use your smartphone without having to take off the gloves. The wrist area uses elastic bands that provide a snug fit for additional comfort and keeps these tactical winter gloves securely on your hands.
These gloves are lightweight, warm, and all-around comfortable to wear.