There are several different crossbow quivers that you can buy, with each type having different options and styles.
In this article, I go through the 7 best crossbow quiver options including the best universal 3, 4, and 5 bolt crossbow quivers, tactical hip crossbow arrow quivers, and a pistol crossbow bolt quiver.
Best Crossbow Quiver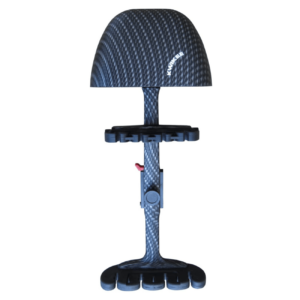 I first got into crossbows when my father got really into crossbow hunting. His arthritis started to prevent him from being able to draw a compound bow, which is when he received a license for crossbow hunting. This was back when you needed a special license in Wisconsin to hunt with a crossbow due to a medical condition, which is no longer the case.
Now that I have been able to crossbow hunt with him, one of the first things I did was researched the best crossbow to buy and a quiver for my arrows.
During my research, I found out the best crossbow quiver comes down to the following criteria:
Type of activity: target practice or hunting
Type of crossbow: full-size or pistol
Number of arrows or bolts to carry
Type of crossbow quiver: bow-mount or hip
In this article, I detail the 7 best crossbow quiver options, including:
Best target tip tactical crossbow hip quiver
Best broad tip tactical crossbow hip quiver
Best pistol crossbow bolt quiver
Best 3 arrow crossbow mount quiver
Best 4 arrow crossbow mount quiver
Best 5 arrow crossbow mount quiver
Best cheap universal crossbow quiver
Below is a summary of the seven best crossbow quiver options, then I dive into each option a little bit more.
Click the View Product to see current pricing and options.
Click the Read More to jump to our review of the product.
*Special Note – This article contains affiliate links, which means we may receive a commission to support my writing if you click a link and purchase anything at no extra cost to you. Thank you in advance for your support of my passion. Cheers!
Best Crossbow Quiver for Archery & Hunting
The KRATARC Archery lightweight crossbow hip quiver is considered the Best Target Tip Tactical Crossbow Hip Quiver. It boasts a 600D polyester construction and features a divided strap, which is claimed to be wear-proof and comfortably holds all your arrows. The Molle system design means you have additional storage space for other accessories.
As mentioned, the inside of the quiver will divide all the arrows, allowing each arrow to have its own slot. The slot system ensures that the arrows remain durable and scratch-resistant. It is only 4.16-ounces, which makes it lightweight as well. Having a lightweight quiver is beneficial for carrying heavier bows on hunting trips.
Overall, it is a versatile option with tons of durability. The quiver has numerous different designs, including the camo, which makes it fit in nicely with other accessories. 
Things I Like:
Lightweight and durable construction
Features three different pattern designs
Divides each arrow inside the quiver
Does not wear out
Things I Don't Like:
The belt loop seems very narrow
If you are looking for the Best Broad Tip Tactical Crossbow Hip Quiver, you have probably found the right one in the KRATARC Archery 4 tube crossbow hip quiver.
The quiver is also made from durable 600D polyester, which means it has tons of durability aspects. Additionally, it features 4 plastic arrow tubes to keep the arrows out of harm's way.
Instead of using a loop for the belt attachment, the manufacturer has incorporated a comfortable buckle with a quick-release. The buckle simply clips into place for a comfortable carry position on your hip.
With the 18.3-inch size, it means that this is not the biggest quiver, but will comfortably hold at least 4 broad tip arrows.
Things I Like:
Durable 600D polyester construction
Keeps the arrows divided
Small and compact design
Easy to use buckle connection
Things I Don't Like:
Only hold four arrows at max
When it comes to selecting the right quiver, durability is one of the most important aspects of the job. The best pistol crossbow bolt quiver in our opinion is the CHINA AMIER ARCHERY 6 bolt leather pistol crossbow bolt quiver.
As mentioned, it is made from durable horse leather, which has been treated to ensure overall durability.
The quiver can hold up to 6 arrows separately and keep them from bumping into one another.
Additionally, the setup allows the user to attach it to the back pocket of your jean. This means that you don't need to have a special belt for the design. Even with the leather, it is just under 4-ounces, making it durable and lightweight.
Things I Like:
Only weighs 3.99-ounces
Attaches to the back of your jeans pockets
Securely holds up to 6 arrows
Durable and treated leather construction
Things I Don't Like:
Leather is not completely waterproof
While you might not always want your arrows connected to the crossbow, the best 3 arrow crossbow mount quiver for those that does is the TenPoint 3-Arrow instant detach crossbow quiver.
It shows you just how comfortable it can be to carry the arrows on the crossbow. Additionally, it can be quickly detached when you need to take it apart.
The unit is lightweight at only 4.75-ounces and can separately hold 3 different arrows to keep them out of the way and safe.
Two mounting brackets are included in the package, which will give you versatility by allowing the user to mount it vertically or horizontally. With stoppers at the front, you can carry the crossbow in any position and the arrows will not fall out.
Things I Like:
Mounts directly to the crossbow
Easy to detach
Securely holds the 3 arrows
Only weighs 3.75-ounces
Things I Don't Like:
Takes some time to effectively mount to the crossbow
If you want the best 4 arrow crossbow mount quiver, you can look no farther than the reliable Kwikee Kwiver quick detach 4 arrow crossbow quiver.
The unit is made from traditional leather and features a 17-inch quiver design that should comfortably hold four of your arrows. Yes, there are separate slots that will keep each arrow safe.
The quiver features a 36-inch adjustable strap that will work best when you throw it around your shoulder and carry it in the same fashion as your college bag.
Things I Like:
Features durable leather construction
Holds all the arrows separately
Long 36-inch adjustable

 

shoulder strap
Weatherproof
Things I Don't Like:
Bulky and often in the way when sneaking around
In many cases, we need to look at the best 5 arrow crossbow mount quiver and the Trophy Ridge adjustable 5 arrow crossbow quiver is the perfect option.
It is made from molded plastic, but when you mount it to the crossbow it is very lightweight. As mentioned, the quiver can hold up to 5 arrows for your crossbow.
When you need to remove the quiver, it is very functional and you don't need to simply use it when mounted. The quick-release bracket allows you to take it off the bow.
However, the hook on the quiver will allow you to store it in a tree or have it hanging from any durable hook. 
Things I Like:
It holds 5 arrows
Mounts directly to the bow
Can be clipped to a branch
Lightweight construction
Things I Don't Like:
Mounting the initial bracket can be timely
The KRATARC Archery Crossbow Hip Quiver can be seen as a jack of all trades crossbow quiver and is rated as the best cheap universal crossbow quiver.
It features durable polyester construction and will hold almost all your arrows. However, it does not have sophisticated slots that will keep the arrows from bumping into one another.
A standard infinity clip is included on the edge of the carry strap, which allows the user to comfortably mount it to the belt or even clothing when hunting.
One of the best features is the weatherproof design and different patterns that one can find for this quiver. It is a great investment for almost any crossbow hunter for the price.
Things I Like:
Universal crossbow quiver
Affordable price
Weatherproof Oxford material
Mounts to your belt in seconds
Things I Don't Like:
No separate slots for arrows