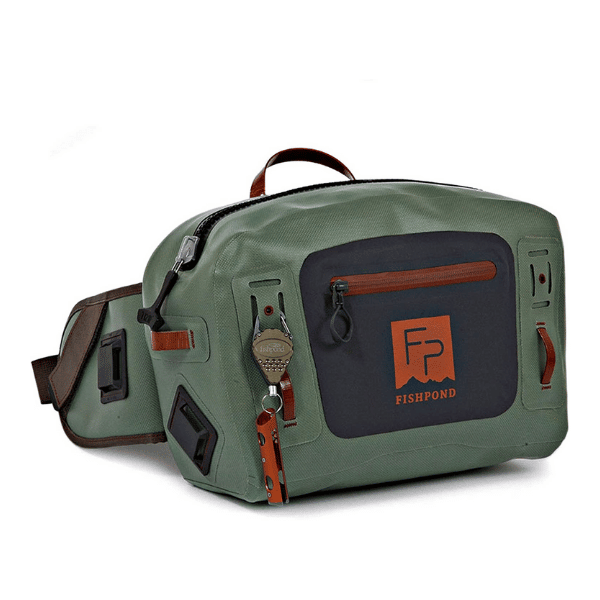 The best fly fishing hip pack will help carry gear out into the river, while also keeping all the fly fishing gear and tools dry even in the deepest water.
Selecting the Best Fly Fishing Hip Pack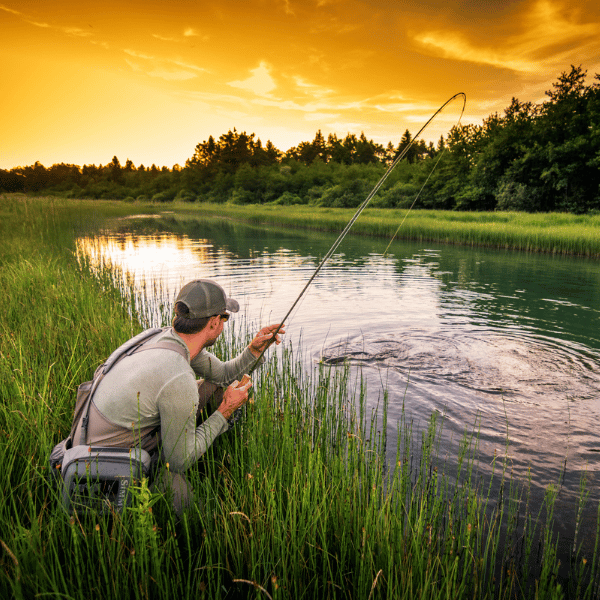 When it comes to selecting a hip pack for fly fishing, the best fly fishing hip pack first depends on its ability to resist water from damaging all of your gear.
There are three levels of water protection when it comes to hip packs. From least to most protective, hip packs are either water-resistant, waterproof, or submersible. In general, the more protective, the higher the cost.
The second thing the best hip pack for fly fishing depends on the amount of gear that it can hold. Each person will have a different preference, whether it is a one-pocket open pack or a pack with multiple pockets meant for specific items.
Below is a summary of the 5 best fly fishing hip pack options, then I dive into each option a little bit more.
Click the View Product to see current pricing and options.
Click the Read More to jump to our review of the product.
*Special Note – This article contains affiliate links, which means we may receive a commission to support my writing if you click a link and purchase anything at no extra cost to you. Thank you in advance for your support of my passion. Cheers!
Best Fly Fishing Hip Pack Reviews
Overall Best Fly Fishing Hip Pack
Best Waterproof Fly Fishing Hip Pack
Best Water Resistant Fly Fishing Hip Pack
Best Lightweight Fly Fishing Hip Pack
Best Cheap Fly Fishing Hip Pack
Best Fly Fishing Hip Bag Reviews
The overall best fly fishing hip pack is designed to give you freedom of movement while storing all your personal belongings. We have selected the Fishpond Gunnison guide pack, which has been constructed from durable synthetic materials. It features a solid molded front compartment that will be great for all your personal belongings.
It features one large interior stash pocket for all your small fly-fishing gear and it will ensure that you can store all your gear. The pack has numerous storage opportunities, which means you can even store your drink. While the pack is not completely waterproof, it should resist the weather conditions and the wet weather.
Pros:
Durable construction
Ergonomic design
Plenty of internal storage
Enough space for accessories
Weatherproof
---
Since you might need to spend a lot of time near water, you should consider the best waterproof fly fishing hip pack. The Fishpond thunderhead submersible lumbar pack is made from cyclopond nylon, which gives you a lot of durability. Additionally, the pack features a TPU coating, which ensures that it will remain durable at all times.
The TIZIP Zipper is one of the best on the market today and the zipper will keep all your personal belongings safe. According to the manufacturer, the zipper can be fully submerged which will make it possible to fish in deeper waters. The pack will be perfect for storing some of your high-end gear, including your fishing cameras.
One of the main features is the tool attachment that you might need to use. The tool attachment means you can have quick access to all your tools to ensure you can use them when needed. It is one of the best options currently on the market.
Pros:
Fully waterproof
High-end zippers
Multifunctional design
Reliable brand
---
The Simms freestone fishing hip pack is one of the top options on the market today. It should be the best water-resistant fly-fishing hip pack and it is made from high-quality nylon materials. The bag is stylish and it has a capacity of 12-liters. There are numerous storage pockets and all of them have been covered in zippers to ensure everything stays dry.
As you might have guessed, it is one of the more basic options on the market today and features an ergonomic design. The bag has a strap that will fit around your shoulders comfortably and the padding will reduce the strain on your shoulders as well. We would recommend it for the value of the bag and the quality.
Pros:
Includes a fishing net storage
12 liter capacity
Water-resistant zippers
Durable construction
Reasonably priced
---
The best lightweight fly-fishing hip pack is the VIXYN fly fishing waist pack. It is made from solid nylon and instead of having to fit around your shoulder; the waist design means you can carry it around your waist with ease. IT is water-resistant and features 10 storage pockets that all range in size and type.
There are numerous accessories that you can also rely on and these accessories will make it possible to store all the most important features of your fishing gear. The tackle and the bait should be very easy to store. We should mention that the bag intends to keep it as light as possible, which means it might not be the most durable.
---
You don't always need to buy the most expensive option when you are looking for a fly fishing hip pack. Oftentimes, the best cheap fly fishing hip pack will do all the work for you and we have selected the Piscifun fishing bag as the right bag for those looking to save some money. It is a useful option and extremely durable.
The bag is lightweight and while it does not have any special padding, it is large enough for your tackle boxes and some of the top extras you might be carrying along. The bag is useful for more than fly-fishing and many people choose to use it for different purposes. We would recommend it for the budget price and the great value that it offers to all users.
Pros:
Affordable
Versatile
Decent durability
Plenty of space for accessories
Cons:
Lacks durability
Not for specialists