Tactical
7 Best Tactical Christmas Gifts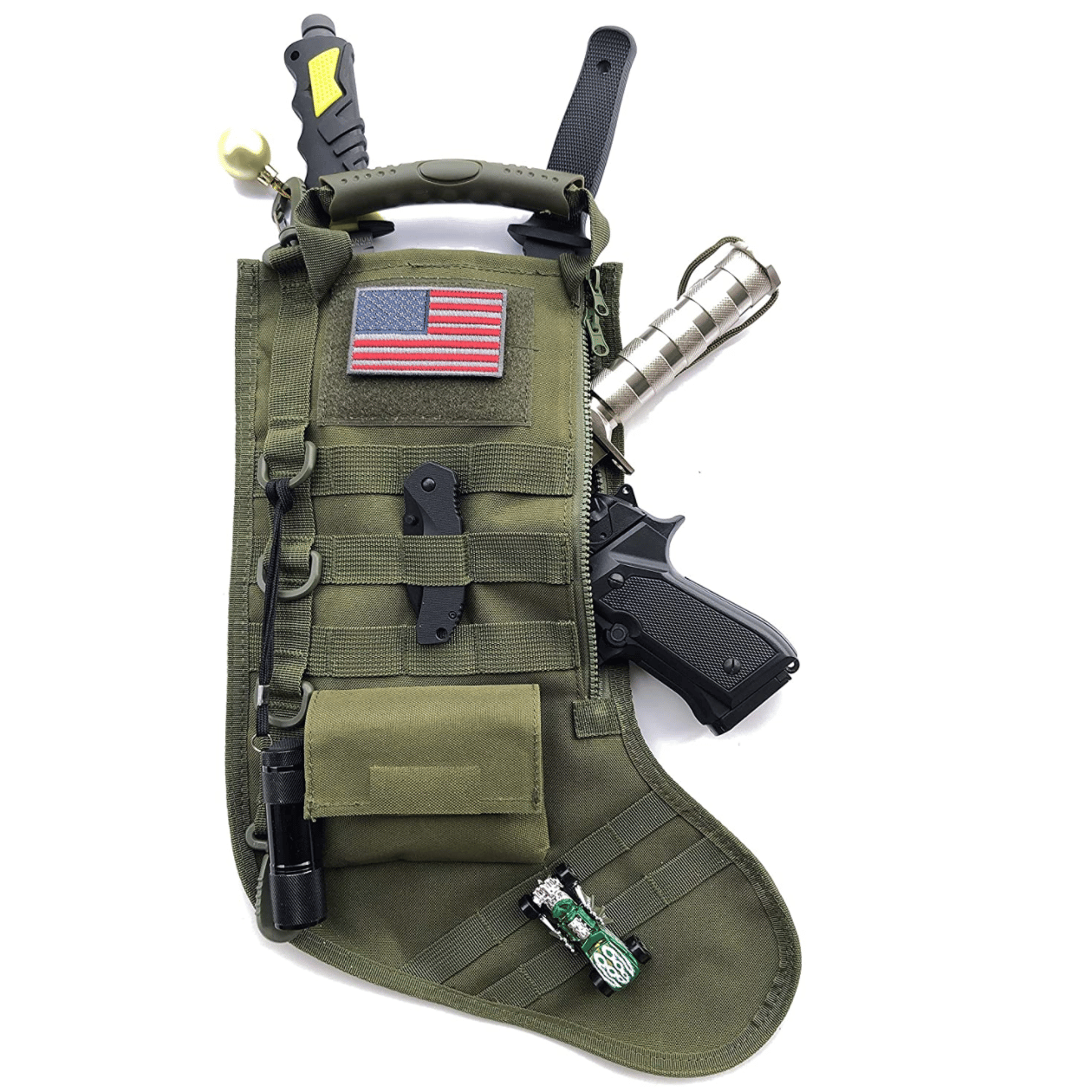 The best tactical Christmas gifts include a stuffed tactical Christmas stocking with gear, a military tactical Santa figurine ornament, and other tactical Christmas stocking stuffers like a 50 cal shot glass set, whisky bullet ice cubes, and tactical beer koozie vests.
Selecting The Best Cheap Ice Fishing Shelter
If you are looking for the best tactical Christmas gift ideas to buy for your husband, dad, or friend – this is the tactical Christmas gift guide to follow to bring a smile to his face!
Below is the summary list of the top 7 best tactical Christmas gift ideas to buy for that guy you know who is all about tactical gear, guns, gifts for military men, or that guy who is always preparing for the apocalypse.
Click the View Product to see current pricing and options.
Click the Read More to jump to our review of the product.
*Special Note – This article contains affiliate links, which means we may receive a commission to support my writing if you click a link and purchase anything at no extra cost to you. Thank you in advance for your support of my passion. Cheers!
Overall Best Stuffed Christmas Stocking
Best Tactical Santa Ornament
Funny Tactical Stocking Stuffer
Best Practical Tactical Gift
Best Party Bar Tactical Christmas Gift
Best Tactical Christmas Gift Gadget
Best Tactical Survival Kit Christmas Gift
The Best Tactical Gift Reviews
This is sort of the all-inclusive tactical Christmas gift for a guy who loves the outdoors or for a young man who is interested in hunting, fishing, camping, and off-grid wilderness lifestyle. This kit really comes with a little bit of everything for them.
The tactical Christmas stocking stuffed with 32 different items, ranging from a full fishing tackle gear to make any stick into a fishing pole, to the tactical shovel, flashlight, glow in the dark paracord, compass, tactical scarf that can be used in 7 different ways from a towel to a bag, and more.
This is truly the best tactical Christmas stocking stuffed with everything he may need when bushcraft camping to testing his survival skills, or even in an emergency situation when traveling. Also, it is a done-for-you gift idea, so you don't need to buy all the separate gifts and stuff a tactical Christmas stocking on your own.
---
I know many people are into giving annual Christmas ornaments. I personally received a Christmas ornament almost every Christmas since I was born! Normally, it is best to buy an ornament that fits that person's current interests or lifestyle.
The military tactical Santa ornament is a great tactical Christmas gift idea for anyone who is in the military or into the tactical lifestyle.
This military Santa tactical ornament is 4.25″ in length and has some really cool details.
First, Santa is wearing some tags and a US flag on the arm, two symbols that connect deeply with any person in the military or who was in the military. Santa is wearing his normal uniform, only a really cool puzzle-like camouflage with his name badge on his chest.
This tactical Santa ornament fits the common gift of an ornament at Christmas, only with a tactical and somewhat comical flare for that military or tactical husband, family member, or friend.
---
The tactical beer vest koozies are one of the coolest gifts for those guys who love hunting, are in the police force, or are a part of the military.
Each MOLLE tactical beer vest koozie can fit on 12 oz or 16 oz cans and bottles.
The tactical beer vest koozies work as a decoration and also keeping the beverages cold. These are a perfect tactical Christmas gift to upgrade for those guys who still use old foam beer koozies.
Give them as a standalone gift or use them as a tactical Christmas stocking stuffer!
---
The tactical vest beer koozies above are great for beer lovers, but if you have someone who loves hard liquor, they aren't the best gift.
The whiskey bullet ice cubes are the best tactical Christmas gift for those guys who love hunting, guns, and/or are in the military and love to sip on a cocktail. They also work for people who do not really drink alcohol, as they can be used really in any type of cold drink.
The bullet ice cubes are made of coated stainless steel and are filled with a water-based gel that freezes to make them bullets filled with ice. One or two in a drink will work as regular ice cubes do, but they are reusable!
---
We went through tactical vest beer koozies and whisky bullet ice cubes, but if you really want to add some party to his life – the 50 caliber bullet shell shot glasses are a great add-on gift idea!
Relatively cheap, this set of 50 cal casing shot glasses are perfect for his bar area, especially for when he has guys' night.
Each bullet shell casing shot glass holds up to 2 ounces of liquor. These are sure to impress him and remain a conversation starter for him and his friends.
---
A tactical pen is a small tactical Christmas gift that is both fun and useful.
This might be one of the most practical gifts on the list, as everyone writes. However, a multi-use tactical pen gadget provides a tactical survival enthusiast with a few fun tools.
This particular pen is the best tactical pen Christmas gift with 4 distinct gadgets in one, which include:
Professional Ballpoint Pen
Glass Breaking Tip
Bright LED Tactical Flashlight
Bottle Opener
These uses make it a fairly practical and handy tool in many situations. These uses make this tactical pen, particularly a great tactical Christmas gift for patrol officers, military personal, guys who love outdoor recreation, service repairmen, and even corporate employees.
---
If you are looking to stuff a stocking or a budget tactical Christmas gift, this 12+ tool tactical stocking stuffer kit is a great option.
This tactical stocking stuffer kit comes with 12+ different tools that can be used to survive in almost every situation. The tools included are:
a tactical knife
a pocket bellow
a flint stone scraper to start a fire
a small wire saw
a clip to hold a water bottle
a survival emergency blanket
an LED flashlight
a credit card multi-tool
a multi-use utensil
a fishing bait
a carabiner
a carrying case that is waterproof
This kit really makes it easy for you to fill a stocking for someone with multiple tactical gifts at a very great price.