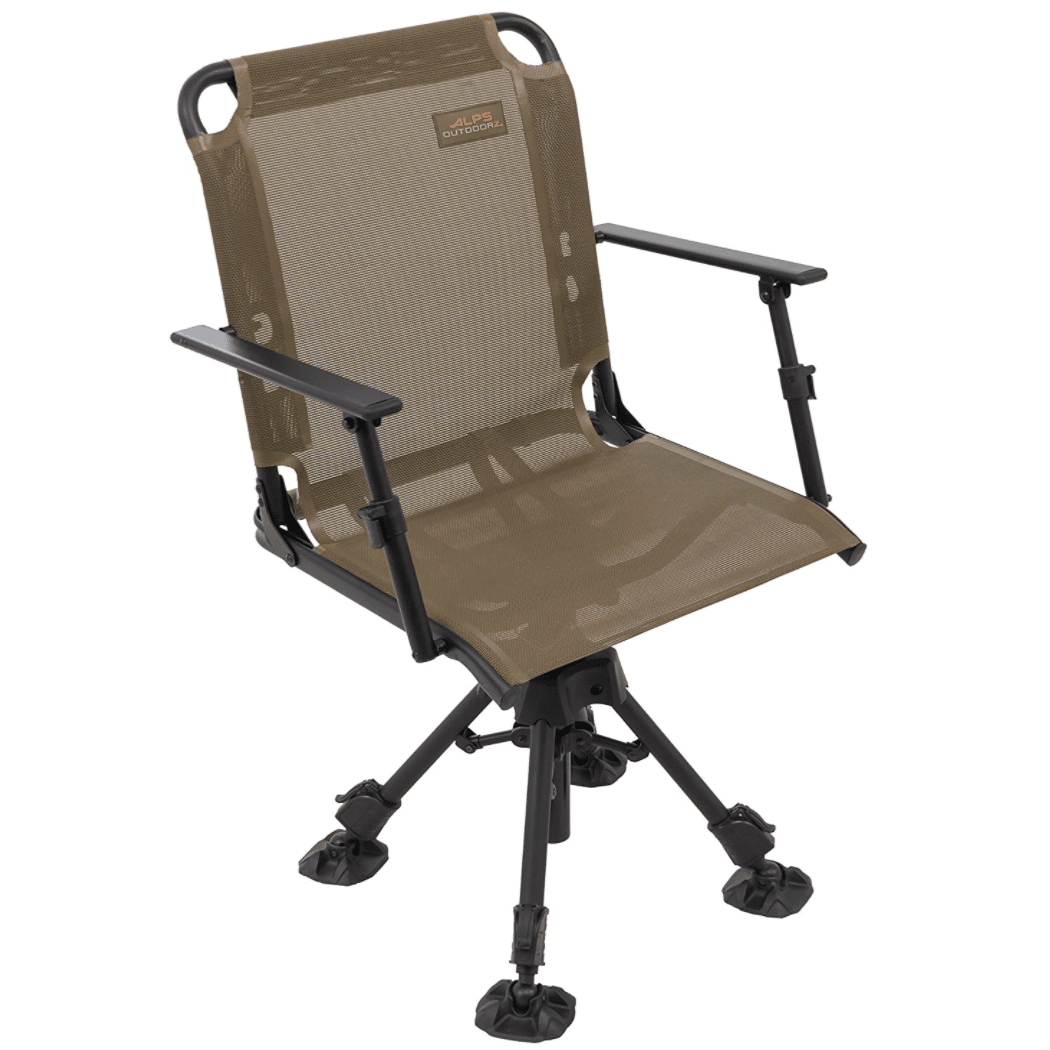 The best swivel hunting chairs provide ultimate comfort with agility to move into action when a deer, turkey, or a flock of waterfowl come into range.
In this article, we review the 5 best swivel hunting chair options.
Selecting the Best Swivel Hunting Chair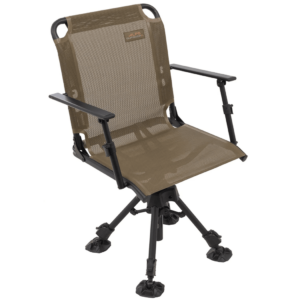 There are many variations of hunting chairs, but a swivel hunting chair provides the most agility and comfort.
You will need a different swivel hunting chair for a blind in your backyard compared to the lightweight swivel hunting chair you would need if you have to walk a long distance to your hunting spot.
I set out to review the 5 best swivel chairs for hunting that are specifically for the various situations you will encounter between deer hunting, turkey hunting, waterfowl hunting, and other big game hunting.
Below is a summary of the five best swivel hunting chair options, then I dive into each option a little bit more.
Click the View Product to see current pricing and options.
Click the Read More to jump to our review of the product.
*Special Note – This article contains affiliate links, which means we may receive a commission to support my writing if you click a link and purchase anything at no extra cost to you. Thank you in advance for your support of my passion. Cheers!
Best Swivel Hunting Chairs
Overall Best Swivel Hunting Blind Chair
Best Adjustable Swivel Hunting Chair with Back Rest
Best Cheap Swivel Hunting Blind Chair
Best Hunting Swivel Stool
Best Tripod Swivel Hunting Chair with Backrest
Swivel Hunting Chair Reviews
There are three reasons why the ALPS OutdoorZ Stealth is the best hunting chair:
Completely adjustable
Swivel to remain agile
Ultimate comfort
This is the best swivel hunting chair with a backrest and armrests that are fully adjustable. This adjustable swivel hunting chair with adjustable legs and adjustable/removable armrests.
The chair swivels 360° to keep you agile to move around your blind or turn smoothly with your gun to follow your target.
There is a wide, mesh backrest support and a seat base that is perfect to be paired up with my favorite hunting seat cushion, the Hunt Comfort Fatboy, that will help you sit in your ALPS Outdoor Stealth swivel hunting blind chair all day.
Pros:
Swivel 360°
All-day comfort
Adjustable legs
Adjustable/removable armrests
275 lb weight capacity
Limited lifetime warranty
Cons:
Most expensive option to get all the features
Weighs 16.9 lbs, so can be heavy for longer hikes to your hunting blind
---
The TIDEWE hunting chair is the best alternative swivel hunting chair with a backrest to the ALPS OutdoorZ Stealth above.
Essentially it is a very similar chair that weighs a few pounds of weight and is a bit lower cost in exchange for losing a few features.
Although this not a swivel hunting chair with armrests, it does have adjustable legs, an adjustable height center post, and a 360-degree swivel.
The TIDEWE swivel hunting chair is a tripod instead of having 4 legs like the ALPS OutdoorZ Stealth and it does not have armrests. It is also 18″ wide, which is 4″ less wide than the ALPS OutdoorZ. This reduces the weight of the TIDEWE hunting chair down to 13 lbs, making it much lighter to carry.
Pros:
Adjustable legs
Adjustable height
360-degree swivel
Limited lifetime warranty
Cons:
13 lbs may still be slightly heavy for long-hauls out to a deep woods hunting spot
---
The Guide Gear swivel hunting chair is an even cheaper alternative to the previous hunting swivel chair with backrests above.
With an added bonus of being a swivel hunting seat with a seat cushion and being even skinner and lighter than the previous two products we reviewed, this is one hunting blind swivel seat option you might just want to buy.
The seat bottom has a 2.25″ built-in seat cushion and is only 15″ wide, allowing it to fit easier behind your small hunting blind.
Even with the seat cushion, it still weighs in at 13 lbs, which is in line with the Browning hunting swivel seat and lighter than the ALPS OutdoorZ Stealth.
At half to one-third the cost of the other two options above, you might just want to get this on order before they are sold out for the season as we have seen this one go on backorder several times.
Pros:
Collapsible with carrying strap
360-degree silent swivel
Built-in 2.25″ seat cushion
Spot for inserting a backrest cushion
Budget-friendly option
Cons:
Sometimes goes on back-order
Normal four-leg chair design can make it awkward on un-level surfaces
---
If you need a versatile, comfortable swivel hunting chair that you can sit all day on behind a blind or move around to different spots for turkey and waterfowl hunting – consider the ALPS OutdoorZ Horizon the swivel hunting stool.
The Horizon stool has a 360-degree swivel, a padded seat cushion, and is still capable of folding up flat like a normal foldable hunting chair.
This ALPS swivel hunting stool comes standard with an under-seat pouch for holding items and a padded shoulder sling for carrying it out into the woods.
The stool weighs only 10.5 lbs, making it lightweight enough to easily carry out to your hunting spot.
Pros:
Round cushioned seat
360-degree swivel
Foldable hunting stool
Padded shoulder sling
Very convenient for carrying
Limited lifetime warranty
Cons:
It is 21″ tall, which can be higher than wanted for many people looking for a lower sitting hunting chair.
---
The ALPS OutdoorZZ Triad is the best lightweight swivel hunting chair.
Weighing only 8 lbs 10 oz, this is the lightest swivel hunting chair that is completely collapsable to fit in the included carrying bag.
The triangular hunting seat allows for the most flexibility while sitting down, allowing you to plant your feet underneath you before taking the shot at your hunt.
The Triad swivel hunting seat adjustable legs allow for setting them to different lengths to ensure your seat is flat and stable.
The backrest provides extra comfort to relax your back compared to other stool type models and the backrest is also removable if you would rather use it as a swivel hunting stool for awhile.
Pros:
Lightweight
Foldable, with carrying case
Triangle set for agility
Adjustable legs
Limited lifetime warranty
Cons:
Can be uncomfortable for long-duration sitting without a seat cushion