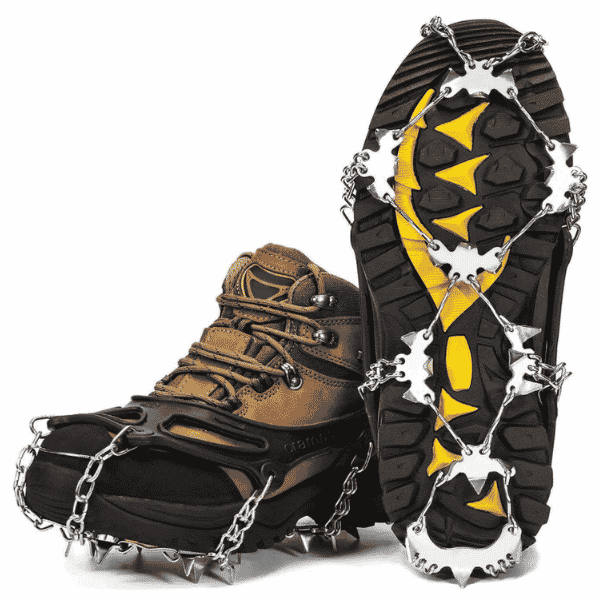 The best ice fishing cleats last more than a few trips out onto the ice, provide traction even with a fresh dusting of snow, and stay on your feet without you having to adjust them all the time.
In this guide, I walk through the 5 best ice fishing cleats for this ice fishing season that I chose to buy everyday ice cleats for boots to use on ice with little to no snow and ice fishing cleats for boots in deep snow.
The Best Ice Fishing Cleats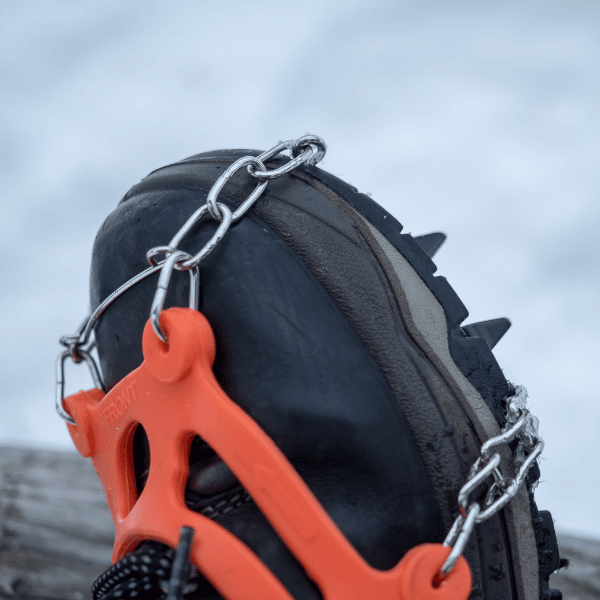 When choosing the best ice fishing cleats, make sure you are selecting the best ice fishing cleats for the conditions you will be ice fishing in.
The best ice fishing cleats include:
Best Overall Ice Fishing Cleats
Glare Ice Chain Ice Fishing Cleats
Everyday Coil Ice Fishing Cleats
Deep Snow Aggressive Ice Fishing Cleats
Cheap Ice Fishing Cleats Alternative
Below is a summary of the five best ice fishing cleats for boots, then I dive into each option a little bit more.
Click the View Product to see current pricing and options.
Click the Read More to jump to our review of the product.
*Special Note – This article contains affiliate links, which means we may receive a commission to support my writing if you click a link and purchase anything at no extra cost to you. Thank you in advance for your support of my passion. Cheers!
Overall Best Ice Fishing Cleats
Most Aggressive Ice Fishing Cleats
Best Ice Fishing Cleats for Glare Ice
Best Coil Ice Fishing Cleats
Best Cheap Ice Fishing Cleats
Best Ice Fishing Cleats Review
Ice fishing can be dangerous, especially when working on some of the frozen lakes around your area. However, the overall best ice fishing cleats are designed to keep you safe and give you a grip when moving about. We have selected the STABILicers ice walk traction cleat, which is made from durable synthetic leather.
The cleats are made from durable aluminum. However, they point in all different directions. According to the manufacturers, whey will provide you with 360-degree traction on the lake. There are numerous sizes and the sizes are true to the fit. These cleats should be ideal in conditions of -45-degrees Fahrenheit.
Pros:
Extreme cold weather protection
360-degree traction
-45-degree Fahrenheit protection
Rugged construction
---
Crampons have been used for many years in extremely slippery conditions. The Wirezoll stainless steel ice cleats are some of the most aggressive ice fishing cleats and these should provide almost complete traction. The unit features 24 different steel pegs, which branch into different directions for 360-degree traction.
The shoes are constructed from durable steel and the steel has been treated to ensure they work in wet conditions. Additionally, these shoes can protect you in weather conditions of -70-degrees Fahrenheit. The crampons have an inclusion of straps, which makes them much easier to set up n different shoes.
Pros:
Affordable price
Durable steel construction
Easy to set up
360-degree traction
-70-degree Fahrenheit protection
---
If you want something different from the traditional crampons, the ICETrekkers diamond grip traction cleats are the best ice fishing cleats for glare ice. It will work in all cold weather conditions, but when you find glare ice, these are some of the best. They are made from steel aircraft cable, which means they are durable.
The design is made to get rid of snow as fast as possible. Instead of the snow building up inside the shoe and the rubber outer sole, it will slowly start to discard the snow as you move. These cleats are available in almost every size. However, they can take a lot of time if you want to set them up correctly and they are expensive.
Pros:
Glare ice traction
Durable aircraft steel construction
Help get rid of snow
Fits most shoes
Cons:
Expensive
Takes time to set up
---
With many of these shoes, you need to take a lot of time when you set up the crampons or cleats on your shoes. However, the Yaktrax cleats for snow and ice is considered the best coil ice fishing cleats, which will keep you from slipping. The main purpose of these cleats is to give you traction and they can simply slip on your shoes.
The main material used for the cleats is rubber, which means they are much easier to slip on than some of the steel alternatives. However, the aluminum pegs are what give you the traction. Much like the others, they are multi-directional, which means that will give you a grip in different directions.
Pros:
360-degree traction
Slip-on design
Durable aluminum pegs
Lightweight
Affordable
Cons:
The rubber lacks durability
---
Last but certainly not least, you don't always need to endure the ice and buy the most expensive options. If you want the Willceal ice cleats, you will find they are the best cheap ice fishing cleats. These cleats also feature a rubber construction for the most part. However, there are small steel studs that will give you traction.
They might be affordable, but these are some of the most useful cleats you can carry along. According to the manufacturer, they will operate in temperatures of -40-degrees Fahrenheit. Additionally, they have slip-on features. The slip-on features make them much easier to remove once you are done and enter solid surfaces with grip.
Pros:
Slip-on feature
-40-degree operating temperature
Lightweight
Very affordable
Solid steel studs
Cons:
Studs are not multidirectional