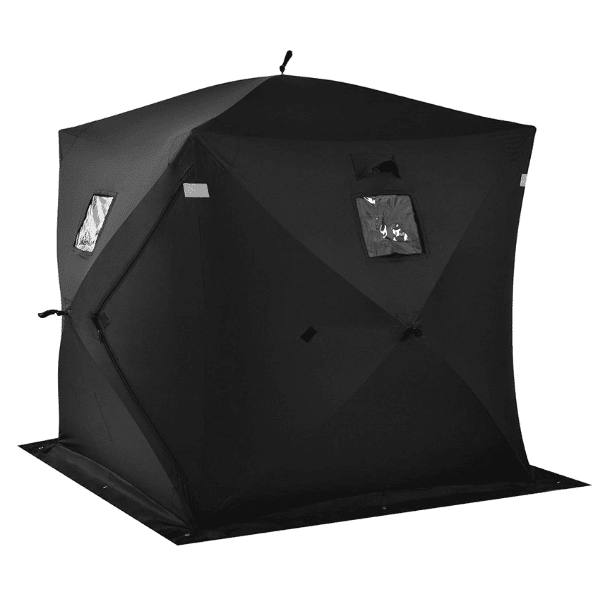 Ice fishing shelters can be expensive, but there are many cheap ice fishing shelters on the market that provide many of the top-end product features.
Since ice fishing is a hobby for me, I personally searched for a low-cost ice fishing shelter. This cheap ice fishing shelter buying guide is based on my personal research when I set out to buy a cheap ice shanty.
Selecting The Best Cheap Ice Fishing Shelter
I went through and found the best value ice fishing shelters for every size from one-person ice fishing shelter to an 8 person hub-style ice fishing shelter with a low-cost focus in mind.
Obviously, when buying a cheap ice fishing shelter you don't want to necessarily get cheap quality. The ice shanty has to last for 3-5 years to make even a low-cost ice fishing shanty worth buying.
Below is a summary of the seven best low-cost ice fishing shelter options, then I dive into each option a little bit more.
Click the View Product to see current pricing and options.
Click the Read More to jump to our review of the product.
*Special Note – This article contains affiliate links, which means we may receive a commission to support my writing if you click a link and purchase anything at no extra cost to you. Thank you in advance for your support of my passion. Cheers!
Overall Best Cheap Ice Fishing Shelter
Best 2-3 Person Cheap Ice Fishing Shelter
Best Cheap 3 Man Ice Shelter
Best 4 Person Cheap Ice Fishing Shelter
Best 6 Person Ice Fishing Tent
Best Low-Cost 8 Person Portable Ice Fishing Shelter
Best High Visibility Cheap Ice Shelter
The Best Cheap Ice Fishing Shelter Reviews
If you are mostly ice fishing on your own, you should consider the Shappell FX100i insulated 1-man flip ice fishing shelter. This is the best cheap one-person ice fishing shanty that still has good insulation to keep you warm.
The FX100i features a solid enclosure and bench seat design that is capable of holding up to 250-pounds of weight capacity.
Once set up, the unit is big enough to hold up to one person and the dimensions are around 44 x 85 x 59-inches in total size, but this can be folded and the unit might be smaller when you are traveling with it.
At 40-pounds, it might be heavy, but also offers you stability and can be pulled like a sleigh. The stability means that the wind will have a harder time blowing it around.
---
If you have friends that enjoy ice fishing, the best 2 person cheap ice fishing shelter should be ideal to keep you warm when you are out on the ice. We have selected the GYMAX ice shelter, which is made from durable Oxford fabric and can withstand temperatures of up to -22° F to keep you warm.
Since it is a pop-up tent, you don't have to spend hours setting it up. The pop-up design means that you will need to open it up and it will be ready for use within minutes.
In total, the overall weight is 22-pounds, which means it is lightweight and as we have mentioned, it is very small when transporting. According to the manufacturer, it can house up to 3-people, but 2 very comfortably.
My Choice: This is the ice shelter I decided to go with since it was relatively cheap, easy to pop up, folds up like a tent, can be carried over my shoulder, and I can have my fiancee Sarah and a friend come along with me from time to time. Also, the black fabric helps absorb the sun and keep it naturally warm, although the lack of insulation can be a downside on extremely cold days.
---
The best 3 person cheap ice fishing shelter is one of the top options for those who like to fish in a small group. The THUNDERBAY Ice Cube 3-man portable ice shelter is the best option for small groups of 3-4 people.
The 300-denier fabric keeps the interior warm while keeping the weather out.
Since the unit is durable but lightweight, the wind might move it. However, the 6 self-tapping ice hooks will ensure that the unit remains stable when fixed to the ground.
I also love the windows that have been blacked out. With the blacked-out windows, you can get in a good nap from time to time if the fish aren't biting during mid-day fishing so you are rested up for when they are ready for dinner around sunset.
---
The Outsunny 4 person portable pop-up ice fishing shelter is by far the best 4-person cheap ice fishing shelter.
The Outsunny features durable construction with 2 separate doors, which means people do not need to trip over one another to enter or exit the unit.
The unit is constructed from 300-denier Oxford materials, which means it will withstand most of the weather conditions. Since it can hold up to 4 people, you will have a ton of space that could be utilized for gear and equipment.
This ice shelter provides really good value for the size, especially with it having an easy pop-up design to get the group ice fishing within minutes.
---
The Thunderbay 6 person insulated ice fishing tent is the best cheap 6 person ice fishing shelter.
The Thunderbay is made from the higher-end 300-denier Oxford materials that should keep the cold weather out. There is a rainfly included to divert some of the snow from the top of the shanty.
The large internal space of 138 x 70-inches is more than enough for 6-people. However, if you have a good amount of gear I would recommend using the tent for up to 4 people.
---
The best 8 person cheap ice fishing shelter is one of the biggest ice shanties that I could find to keep you warm in the icy, cold conditions while ice fishing at a low cost. The Outsunny 8 person waterproof portable pop-up ice fishing shelter is by far one of the top low cost, big ice shelter options.
It features a large design made of 300-denier Oxford with two rooms and should comfortably keep you and your friends safe on the inside. With a large height, there is also enough space for some of your specialized gear.
The pop-up design means the tent will be very easy to set up and you won't have to worry about excessive weight when carrying it around.
---
The best cheap ice fishing shelter with high visibility will ensure that others on the ice will be able to see you out on the ice. This provides security, increases safety, and will ideally prevent others from fishing too close to your spot stealing your fish.
I have selected the Trophy Strike 106706 ice shelter that has a bright orange exterior, the same shade of orange as winter hunting orange clothes.
Much like the other top options, the tent can hold up to 2-people. However, it has tons of space around the overall design. The additional space is great for your gear and the 6 anchors will ensure the tent is firmly fixed to the floor.