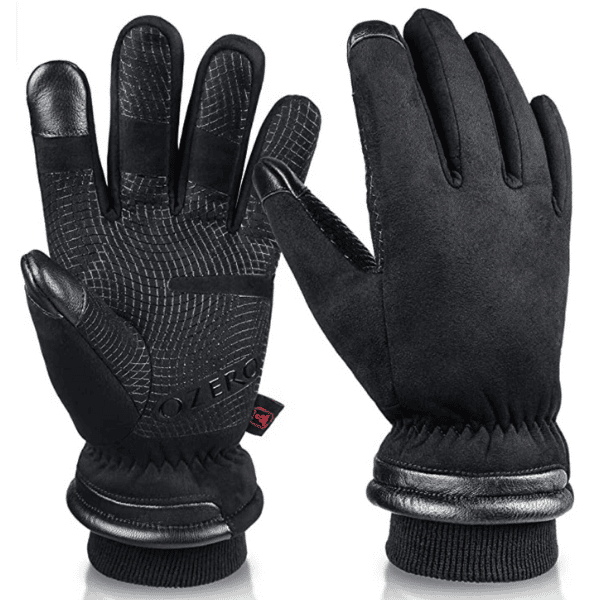 The best pair of ice fishing gloves can also be used for other things, like going to see a hockey game or plowing the snow off the driveway, where your hands need to stay warm in extremely cold weather.
They have to be durable gloves for ice fishing and withstand the different situations they may be worn in during the winter months. Sometimes it is best to buy a few different pair for different climates and situations.
In this article are the seven best ice fishing gloves that I found to keep our hands warm out on the lake this season.
Selecting The Best Ice Fishing Gloves
The best ice fishing gloves allow for mobility and comfort while having the ability to grip the objects you are holding, in any situation. Ice fishing gloves should also be waterproof so they do not absorb water throughout the day out on the lake.
With this in mind, I created a list of different things I wanted to see in the gloves. They had to be waterproof and warm in the weather they were designed for, while also having good grip capabilities no matter how thick they may be.
I wanted to get a pair for both warmer winter weather to carry with me if I didn't really need to wear a thick insulated pair. I then wanted both an insulated pair of everyday ice fishing gloves and a pair of heated ice fishing gloves for extreme cold weather out on the lake at night.
Below is a summary of the seven best ice fishing gloves that fit these criteria, then I dive into each option a little bit more for why they were selected.
Click the View Product to see current pricing and options.
Click the Read More to jump to our review of the product.
*Special Note – This article contains affiliate links, which means we may receive a commission to support my writing if you click a link and purchase anything at no extra cost to you. Thank you in advance for your support of my passion. Cheers!
Overall Best Gloves for Ice Fishing
Best Heated Ice Fishing Gloves
Best Warm Weather Ice Fishing Gloves
Best Waterproof Ice Fishing Gloves
Best Cold Weather Ice Fishing Gloves
Best Extreme Cold Weather Ice Fishing Gloves
Best Cheap Ice Fishing Gloves
Best Ice Fishing Gloves Reviews
Ice fishing gloves should be durable and rugged, which means the overall best gloves for ice fishing should have multiple useful features. The WindRider rugged waterproof winter gloves are made from durable Cordura Nylon and these gloves are completely waterproof while keeping your hands warm in the winter.
One of the main features is touchscreen compatibility, which means you can answer your mobile device when needed. However, they are not ideal for texting. The Gore-Tex is one of the best insulation features, which means you can wear them in some of the coldest weather conditions while using them for ice fishing.
---
If you are in extreme cold weather conditions, you might need a few heated gloves. The best-heated ice fishing gloves are the Shaalek battery heated gloves, which feature a polyester construction. The gloves have a 7.4-volt 5000 mAh battery included, which will offer the user up to 5 different levels of heat to work with.
Once again, the gloves feature a touchscreen-compatible design, which means you can access the basic features on your mobile device. It can keep one warm in conditions in the range of -20-degrees Fahrenheit. However, the 3M Thinsulate insulation is perfect for wicking away moisture as well as keeping you warm.
---
The best warm weather ice fishing gloves are perfect when you are using them through warm conditions. You can use the Palmyth flexible warm weather ice fishing gloves, which feature durable construction. It has a velcro enclosure and the fingertips can be opened or closed when you need to use your hands.
The gloves are water repellant and they are waterproof as well. However, these gloves do not have a touchscreen feature. Unfortunately, you will need to remove the caps on the fingertips if you are to make use of your mobile device. However, they are perfect for cold weather conditions but will help when the sun comes out.
---
Having a waterproof glove is almost all you will need when it comes to cold and wet weather conditions. The best waterproof ice fishing gloves are not specifically designed to keep you warm, but they will keep the water out. We have selected the Glacier Glove ICE BAY fishing glove for its waterproof features.
It features a 2MM fleece neoprene design, which means you have decent insulation. Additionally, these are also some of the more affordable gloves on the market today. The Sharkskin texture looks great and it offers more grip. Due to the additional grip, you can operate some of the different tools you might need for ice fishing.
---
While one is ice fishing, the weather conditions can be treacherous. However, the best cold weather ice fishing gloves are perfect to resist some of the cold weather conditions. The OZERO extreme cold weather ice fishing gloves are made from suede leather materials. However, cotton insulation is perfect for cold weather.
Goatskin has been used for the inside of the gloves and it also works for some of your mobile devices. The silica gel, which has been added to the inside of the gloves, will offer you additional grip and traction when using it. These gloves are easy to use and you can pull them over, or you can take them off as needed.
This is the most purchased glove suggestion on Man Cave Classifieds!
---
In extreme weather conditions, one needs something with extreme protection. The StrikerICE defender glove is one of the most effective for cold weather conditions. We consider it the best extreme cold weather ice fishing gloves. It features 200g 3M Thinsulate, which will keep your hands warm when it comes to the inside.
One of the best features is the pre-curved design, which means the gloves have an ergonomic feeling. Once you have the right size, you will notice that it will bend and move in the same way your hands are moving. The 300-denier nylon will ensure that it lasts you quite a long time and you have a ton of durability.
---
If you are not out on the ice that often, you might find that a budget glove can be useful. The best cheap ice fishing gloves are designed to give you a little bit of protection when you need to use them. We have selected the big worm fishing men's neoprene waterproof ice fishing gloves, which is made completely from neoprene.
These gloves do not have a ton of unique features, but they are heavily textured on the inside of the gloves. The texture will make it possible to grip any of your tools. One of the downsides is the thickness. One cannot easily use gloves when wearing them. Unfortunately, they do not have an ergonomic design.