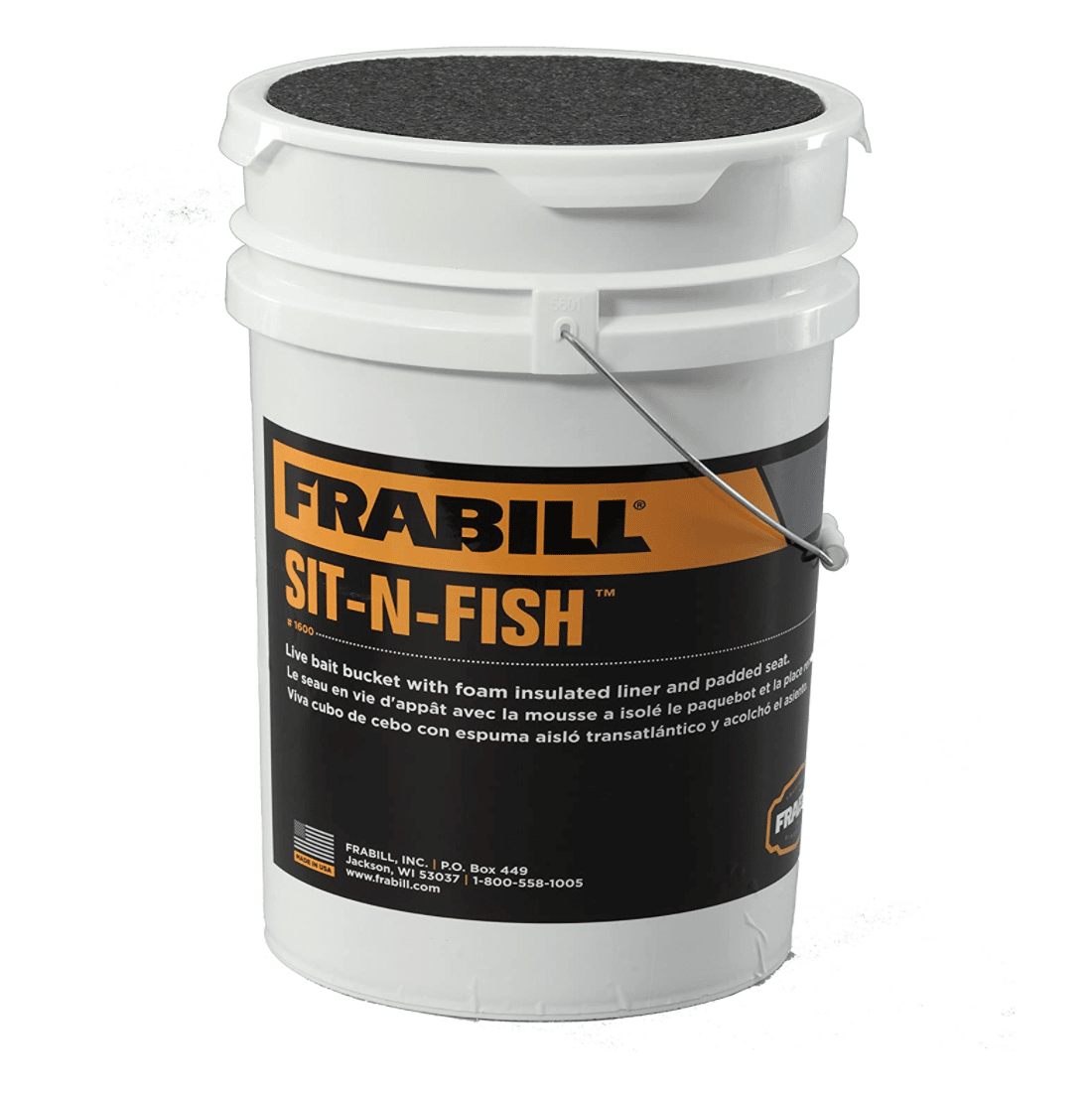 The best ice fishing bucket provides a convenient way to carry more gear and has a spot to carry your fish off the ice inside the bucket. An ice fishing bucket seat can provide an added benefit of having a portable seat to carry around from hole to hole when trying to locate the fish.
In this article, we are discussing the best ice fishing buckets with seats, as well as one foldable ice fishing bucket that is a convenient bucket to have for extra storage even if you already have an ice fishing bucket with a seat.
Best Ice Fishing Buckets
An ice fishing shanty and pulling all that gear out all the time can be a pain if you are just looking to go out on the ice for a few hours after work. That is where an ice fishing bucket's convenient storage and portability come into play.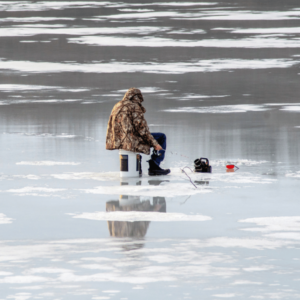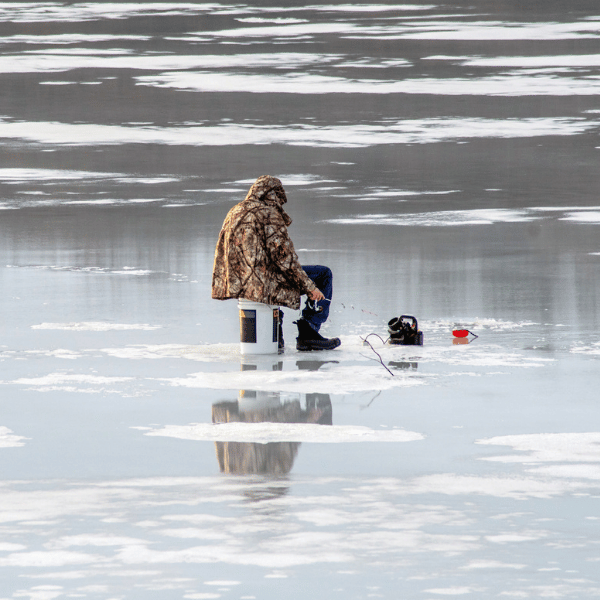 A good ice fishing bucket will not only come with a bucket compartment but also storage pockets and loops to store and hang all your gear to take out onto the ice. That way, whether you want to just take the bucket out on a nice sunny day, you have everything you need with you right there in the ice fishing bucket.
Sometimes you will need an ice shanty for longer days or a larger hub-style ice fishing shanty for having multiple people fish together on the ice. In this case, you can easily throw this into your ice fishing shanty sled and pull it out there without all your gear ending up all over the bottom of the sled.
Below is a summary of the three best ice fishing bucket options that we have tested over the years, then I dive into each option a little bit more.
Click the View Product to see current pricing and options.
Click the Read More to jump to our review of the product.
*Special Note – This article contains affiliate links, which means we may receive a commission to support my writing if you click a link and purchase anything at no extra cost to you. Thank you in advance for your support of my passion. Cheers!
Best Ice Fishing Bucket Backpack with Swivel Seat
Best Ice Fishing Bucket Seat with Backrest
Best Cheap Ice Fishing Bucket with Seat
Bonus: Best Foldable Ice Fishing Bucket
Ice Fishing Bucket Reviews
The Peregrine Venture hunting bucket backpack is actually one of the best ice fishing bucket backpacks.
The best features about this bucket backpack are the number of storage compartments around the bucket, the comfortable padded shoulder pads and back, and the 360-degree swivel seat.
The only downside is the fabric not being 100% waterproof, so it will absorb some water if the ice is melting on a warmer day. I would recommend buying some fabric waterproofing spray to help prevent any water from absorbing into the fabric – which that spray is good to use on almost all ice fishing gear that is not already waterproof.
Pros:
360-degree swivel padded seat
2 large and 1 small storage compartment
2 large water bottle holders
Insulated main bucket
Comfortable shoulder & back padding
---
The best ice fishing bucket chair is arguably one with a backrest, as you sometimes being able to sit back and relax for a minute out on the ice is all you need to last a few more hours. The Wise Outdoors Super Sport ice fishing bucket seat with a backrest is the best ice fishing bucket with a backrest.
Beneath the seat, you have a 10-gallon bucket that should be able to hold a lot of fish and fishing bait. The upper seat will hold up to 350-pounds, which means you can comfortably sit without any issues.
The bucket seat can be heavy to carry, so this option is best if you are pulling out a sled behind you with all your other gear in it, too.
Pros:
Holds 350-pounds
Large 10-gallon capacity
Comfortable seating
The bucket is insulated
Cons:
Heavy option, so best if pulled with a sleigh
---
You will need some form of protection to keep your bait from be freezing by the adverse conditions. The Frabill Sit-N-Fish insulated bait bucket with padded cushioned seat lid is the best-insulated ice fishing bucket.
The bucket is a 6-gallon interior capacity with an inner lining that will keep the bait from exposure to the conditions and keep it insulated.
Since it is one of the largest buckets on the market, you can comfortably carry it and it has a durable construction. It can also be used for storing any other important food that you want to prevent from freezing while spending the day ice fishing.
Pros:
Durable enough for sitting
Large 6-gallon capacity
Insulated lining
Affordable option
Cons:
No bucket organizer included
---
If you are sorted with seating and you want an ice fishing bucket that is portable and easy to carry, you might want to consider the best foldable ice fishing bucket. For the minimalists, we have identified the Mikanuo Foldable Fish Bucket which is made from durable EVA and features an extendable part to enhance the size from 6 to 10-gallons.
The bucket has a wide opening, which means that you can add your organizer and keep all of your personal belongings inside as well. With the insulation, it is one of the top options for ice fishing bait and the versatility means that it will be out of your way. However, we would recommend it for all outdoor activities and the occasional use as a cooler.
Pros:
Doubles as a cooler
Can be extended in size
Great for storing your bait
Small and portable when not in use
Cons:
Does not double down as a seat