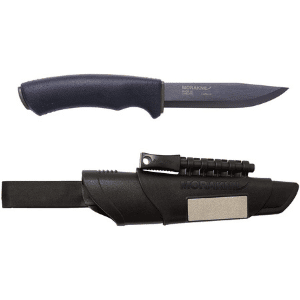 Having the best bushcraft knife is important for bushcraft camping. Actually, the bushcraft camping knife is one of the most important tools overall for survival, right up there in importance next to fire-starters.
Although this is an important tool, you think it would be easy to figure out what knife to get. Yet, there are literally hundreds of options at various different price ranges.
Since everyone's budget is different, I wanted to review my choices for the best bushcraft knives based on different budgets including:
The Overall Best Bushcraft Knife For The Money
The Best Bushcraft Knife Under $100
A Cheap Bushcraft Knife Option (With Good Quality)
Selecting the Best Bushcraft Knife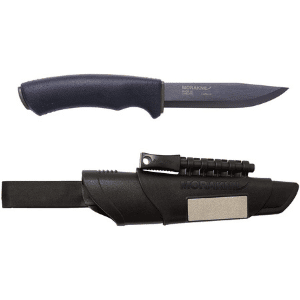 Durability
Durability is the most important factor for bushcraft backpacking. If your knife breaks while you are in the woods, your abilities will be very impaired.
Size and Weight
Size and weight are then secondary considerations, as you do not need to have a large knife while in the woods. Extra weight will also just weigh down your backpack.
Blade Features
The best bushcraft backpacking knife has a fixed blade. This allows for a reduced risk of knife breaking.
They also have more of a flat cutting edge that will curve up to the tip of the knife. The tip of the knife will be more toward the center point of the width of the blade.
Now that you know some basic features to consider, let's dive into my 3 best bushcraft knives based on budget.
The Best Bushcraft Knife Options
Below is a summary of the three best bushcraft knife options that I have used, then I dive into each option a little bit more.
Click the View Product to see current pricing and options.
Click the Read More to jump to our review of the product.
*Special Note – This article contains affiliate links, which means we may receive a commission to support my writing if you click a link and purchase anything at no extra cost to you. Thank you in advance for your support of my passion. Cheers!
Best Bushcraft Knife Reviews
Overall Best Bushcraft Knife
Best Bushcraft Knife for the Money
Best Bushcraft Knife Under $100
Best Backpacking Knife Reviews
The Benchman Bushcraft 162 is the overall best-fixed blade bushcraft knife that you can buy.
I love Benchman knives as they are made in America out of high grade high-grade CPM-S30V steel. This material was engineered for high edge retention over prolonged, rough use. This steel also has good corrosion resistance.
The handle is made of resin-soaked fiberglass that gives this bushcraft knife design the ultimate moisture resistance. This allows the knife to operate at the same performance during humid conditions or even in heavy rain.
Overall, the Benchman Bushcraft knife is the best bushcraft knife for the most extreme bushcraft camping.
Pros:
American made
Anti-corrosive designed steel
Premium leather sheath included
FREE sharpening for life
Limited lifetime warranty
Cons:
This is a premium knife for avid bushcrafter, so the price may be high for the occasional bushcrafter.
---
We rate the Fieldcraft knife by TOPS BOB as the best knife for the money as it made with a classic four-inch fixed blade design using age tested material at a competitive price.
The blade is made out of high carbon 1095 steel, which has been proven for decades to be solid steel for blades. The blade has a tool grind that resembles the grind of an axe, allowing for both cutting and chopping. Although it claims to be a Scandinavian grind, it is more like a concave or compound grind that is extremely sharp out of the box.
The high carbon steel blade is wrapped in a micarta handle. Micarta has been around for over a century has several benefits compared to wood. The micarta handle will never need to be waxed, will not warp, and is arguably more durable than any other material that could be used for a knife handle.
Pros:
American made
Time-tested materials
Kydex sheath included
Fire steel included
Limited lifetime warranty
---
Morakniv knives have been made in Sweden since 1891. All of this experience was taken into account when developing a good budget bushcraft knife.
Their carbon steel bushcraft knife with a Scandi grind offering a quality budget bushcraft knife option. The Scandi grind increases the bite of the knife without getting stuck and preventing it from slipping.
The blade is made of 1/8″ high carbon steel hardened to HRC 56-58 and ground with a Scandi grind. A black coating was added to protect against corrosion when bushcraft hiking.
The knife comes with a sheath that also has a spot for the included fire starter – an added bonus for us bushcrafters.
Pros:
Made in Sweden
Very knowledgeable, well-known company
Durable blade with anti-corrosion coating
Fire-starter included
Sheath included
Limited lifetime warranty
Cons:
Like the TOPS BOB bushcraft knife above, the sheath that is included is cheap and should buy an upgrade like this leather sheath.