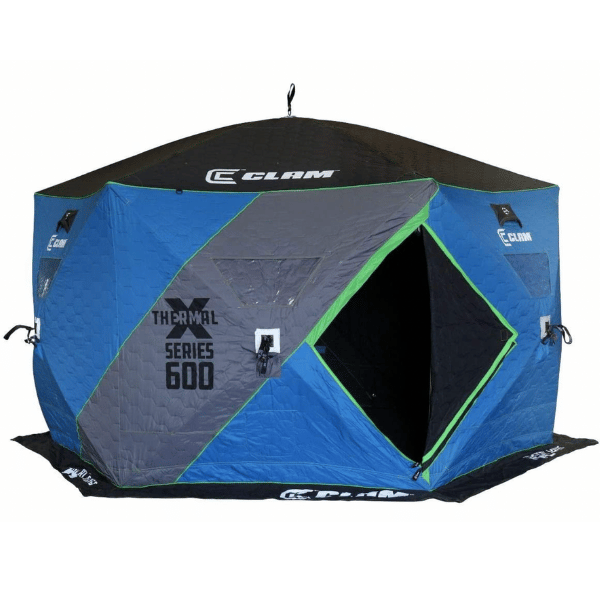 While ice fishing shelters can be hard to set up and flip over ice fishing shelters are the easiest to set up, pop-up ice fishing shelters are a great alternative to other ice fishing shelters.
In this article, I go through the 7 best pop-up ice fishing shelter options based on my personal research when I set out to buy a more roomy, pop-up ice shanty for when a few friends and I all go out ice fishing together.
Best Pop Up Ice Fishing Shelters
The best pop-up ice fishing shelter remains easy to pop up within minutes without a hassle no matter what the size. However, this is not the only benefit.
Pop-up ice fishing shelters provide the maximum amount of space when compared to even the best flip-over ice fishing shelters as they do not have a sled. Every pop-up ice fishing shelter pops open like a tent and leaves the entire floor area open to the ice. This allows you to be able to drill several holes.
Depending on the size of the pop-up shelter, you may also be able to support several people in one shelter with multiple ice fishing holes for each person.
Below is a summary of the seven best pop-up ice fishing shelter options, then I dive into each option a little bit more.
Click the View Product to see current pricing and options.
Click the Read More to jump to our review of the product.
*Special Note – This article contains affiliate links, which means we may receive a commission to support my writing if you click a link and purchase anything at no extra cost to you. Thank you in advance for your support of my passion. Cheers!
Best Overall Pop Up Ice Fishing Shelter
Best Cheap Pop Up Ice Fishing Shelter
Best 3 to 4 Person Pop-Up Ice Shelter
Best 4 to 6 Person Pop-Up Ice Fishing Shelter
Best 5 to 7 Person Pop-Up Ice Shelter
Best 2 Person Beginner Pop-Up Shelter
Best 4 Person Beginner Pop-Up Shelter for Ice Fishing
Best Pop-Up Shelters for Ice Fishing Reviews
When it comes to the overall best-rated pop-up shelter I have selected the Eskimo FatFish that ensures you can house up to 3 or even 4 people depending on the gear you take along.
The FatFish is made from 300-denier Oxford fabric, which ensures durability while remaining lightweight to carry when folded up.
The pop-up design means you don't have to spend a lot of time when it comes to setting up the unit. Once it has been set up, the unit includes stakes that can be used to tighten the tent to the ice and ensure it does not blow away.
Multiple internal storage pockets will help when it comes to storing your personal belongings.
---
Shappell is often an underrated brand, but they have some of the most versatile options on the market today. The Shappell WH6500 wide house 6500 ice shelter is the best cheap pop-up ice fishing shelter and it has a similar design to some of the high-end pop-up shelter options.
The lightweight design means you don't have to worry about additional space when you have to carry the tent. Much like the other pop-up tents, you won't need to set up the unit and all the internal structural components are made from durable metal.
The Shappell WH6500 is ideal for one person but may work well for 2-people with a light amount of gear.
---
Eskimo is one of the best brands on the market today for ice fishing gear. They offer a ton of different features in their pop-up style ice fishing shelters that you don't commonly find in different brands.
The Eskimo Outbreak 450I insulated pop-up hub-style ice fishing shelter is the best 3 to 4 person pop-up ice fishing shelter that offers you a large floor space to maximize your space within the shelter.
In terms of durability, the tent is made from 600-denier Oxford fabric, which ensures the unit will remain durable and wind-resistant.
---
When looking for a high-end ice fishing shelter, external construction is one of the most important aspects to consider. The CLAM X400 pop-up winter ice fishing shelter is one of the best 4 to 6 person pop-up shelters for ice fishing that comfortably offers you storage space and weatherproof features.
The unit is made from 900-denier fabric, making it one of the most durable options currently on the market today. It also features a stylish design and windows that make ice fishing possible without the need for any light during the day.
Together with a good ice fishing shelter heater, you will stay extremely warm even in the coldest weather.
---
If you often fish in a larger group, you might need a 5 to 7 person ice fishing shelter to ensure you have enough space to keep everyone warm. The CLAM X600 thermal ice fishing shelter tent is the perfect option.
Like the Clam X400 above, the X600 has also been constructed from 900-denier materials for durability. This is the top-of-the-line fabric that is sure to hold in heat for your group.
Since it is a pop-up tent, you don't need to spend a lot of time in the cold to set up the tent. Due to the easy setup, individuals can be fishing in just a couple of minutes.
However, the downsides of the tent are the weight and folding it up, due to how big the unit is. You might need to get your friends to help when placing it back into the bag.
---
The Eskimo brand will offer you value for your money. When searching for the best 2 person ice fishing shelter, you should consider the Eskimo QuickFish pop-up portable ice fishing shelter.
The ice fishing shelter is durable and lightweight, with windows that increase visibility out of the tent to your tip-ups. Where it does lack is the thickness of the material used, which is not insulated enough when in extremely cold weather unless you have a really powerful heater.
There is ample internal capacity for two people to fish inside the tent. Multiple self-tapping anchors will ensure that you can secure the tent to the floor and use it in bad weather conditions.
If you don't want to spend time setting up your tent, the Eskimo QuickFish pop-up shelter is a great beginner option for you and a friend to hit the ice together in.
---
Beginners might not want to go out in the cold weather on their own. If you want your friends and family to join, you will need the best 4 person beginner ice fishing shelter. With additional storage space, I find the Goplus pop-up fishing tent to be the best option.
It has the same features as you would find in many of the other top pop-up tent options. The 300-denier design means the unit is durable and will remain weatherproof.