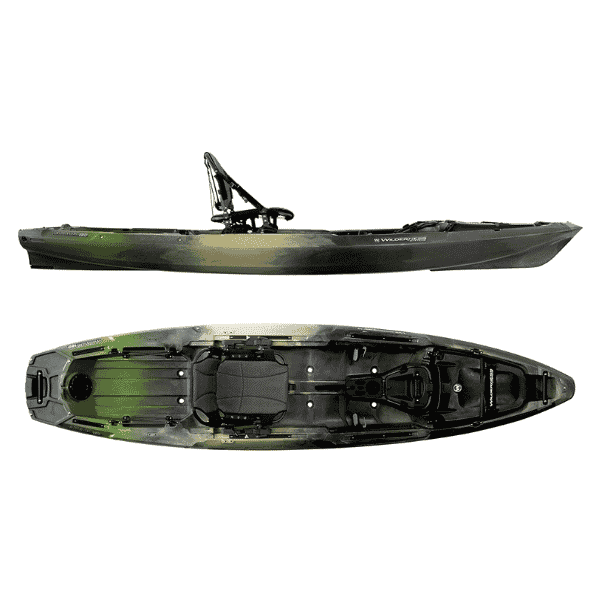 To buy the best fly fishing kayak the strategy to take is to consider the waters that it will be used in, then consider the size, maneuverability, stability, and of course cost.
In this article, we go through the best fly fishing kayaks.
Selecting The Best Fly Fishing Kayak
Selecting the best kayak for fly fishing depends on a few factors including:
Body of water
Size
Stability
Weight
Amount of gear to hold
Cost
We will dive into a few different of the more important decision criteria before we dive into the best fly fishing kayak options.
*Special Note – This article contains affiliate links, which means we may receive a commission to support my writing if you click a link and purchase anything at no extra cost to you. Thank you in advance for your support of my passion. Cheers!
Is It Worth Buying a Kayak for Fishing?
Yes, a kayak for fishing is worth it. Fishing kayaks are a budget-friendly way to travel into areas that may not be accessible by foot. Kayaks for fishing are made to hold fishing gear securely, are customizable, and are easy to launch. There are some downsides to mention including the need to balance and slow mobility.
What is the Most Stable Kayak for Fishing?
Lightweight and longer keel kayaks are the most stable kayaks for fishing. Fly fishing kayaks that are wider and cover more surface area on the water provide more stability.
What Kind of Kayak is Best for Fishing?
Rubber fly fishing boots started to gain popularity around 2008 when felt bottom boots started making headlines for being banned in several states for cross-contaminating bodies of water.
Although advancements in rubber technology and grip designs have improved, some fly fishing rubber bottom boots do slip on extremely slippery rocks underwater.
Below is a summary of the seven best kayak options for fly fishing, then I dive into each option a little bit more.
Click the View Product to see current pricing and options.
Click the Read More to jump to our review of the product.
Overall Fly Fishing Kayak
Best Inflatable Fly Fishing Kayak
Best Fly Fishing Kayak Kit
Best 10 ft Fly Fishing Kayak
Best Small Fly Fishing Kayak
Best Cheap Fly Fishing Kayak
Best Two Person Fly Fishing Kayak
Best Fly Fishing Kayak Reviews
The overall best fly fishing kayak is the Wilderness Systems ATAK 120 with a wide stance, long length over 12 feet, and plenty of room for storage and mounting positions.
The ATAK 120 is a sit-on-top design that does put your arms a few feet higher off the water, which gives better clearance for casting. A sit-on-top of the kayak might make you think that it is not stable, but the wide and long design does allow it to be much more stable than others out there.
To tie on flies, there is a rod holder to make sure the rod stays out of the way without having it fall into the water. The kayak also has the most sturdy mounting points and a very comfortable seat.
---
Having an inflatable fly fishing kayak means you have a lightweight kayak that can be easily transported. The Star Pike is the best inflatable fishing kayak that has a solid stern and weight capacity while allowing you to sit on top of the unit. As you sit on top, you will have more freedom to comfortably move around when needed.
As for the rest of the kayak, it is basic and will enable the user to do their job when on the water. Unfortunately, the inflatable kayaks might lack some durability. It is recommended that you have some form of a puncture kit to ensure you can make some repairs on the water when needed and to give you peace of mind.
---
Simply buying a kayak does not always cut it and it might be better for you to have some of the accessories as well. The BKC RA220 is the best fly fishing kayak kit and it has all the accessories you will need when fishing.
The length of 11.6-feet makes it great for piercing through the water while staying agile and adding to stability. The unit has a weight capacity of 550-pounds, which means you can pretty much bring all the equipment you need.
---
Pelican is one of the best brands that you could use when looking for a kayak and the Pelican sit-on-top fishing kayak is the best 10 ft fly fishing kayak on the market today. The 10-foot length is more than enough for a single person and the minimum length you want for fly fishing to remain very stable. Additionally, the seat has an ergonomic feeling that will mold to the shape of your body.
The 325-pound weight limit is a lot for a single person kayak and it means that almost everyone will be able to use the kayak when they see the need. It is a useful option for advanced kayakers and beginners. We would recommend it for all the different accessories and it is definitely the best 10 ft fly fishing kayak on the market.
---
Lifetime is another one of those brands that will give you value for your money and they have built a reputation on affordable kayaks. We have selected the Lifetime Hydros Angler kayak as the best small fly fishing kayak on our list. However, the unit is made from durable polypropylene to ensure you have durability.
While it does not state the weight capacity, it should be around 220-pounds, which also means that the unit is perfect for the average adult. It is one of our favorites and all the fishing accessories will ensure that you get value for your money. The chine and rudder are some of the most durable and the brand is reputable with a 5-year limited warranty included.
---
You don't always need to spend hundreds of dollars to buy a fly fishing kayak. The Pelican Sentinel 100X has made it onto our list as the best cheap fly fishing kayak. The kayak is made from rotomolded plastic, which means it does not have any cracks or edges that could potentially damage the unit.
However, it features a 9.6-feet length and while it is not the longest kayak, it is wide. The width means that it is more stable on the water. Since you can sit on top of the kayak, the user can move around freely and fish. We like the storage compartments that ensure the unit is functional for storing all your personal belongings.
---
Intex makes another appearance on the list and the brand has built a reputation for inflatable kayaks. The Intex Excursion Pro is one of the top inflatable kayaks and will ensure that you have a durable PVC and polyester design. We rate it as the best two-person fly fishing kayak due to its weight capacity of 400-pounds.
The sit–on–top design allows you and your partner can move freely on the kayaks. However, we recommend staying on either side to ensure the kayak does not tip over when you are moving around. The unit does not feature any special accessories, but it does all the basics to keep you safe on the water.