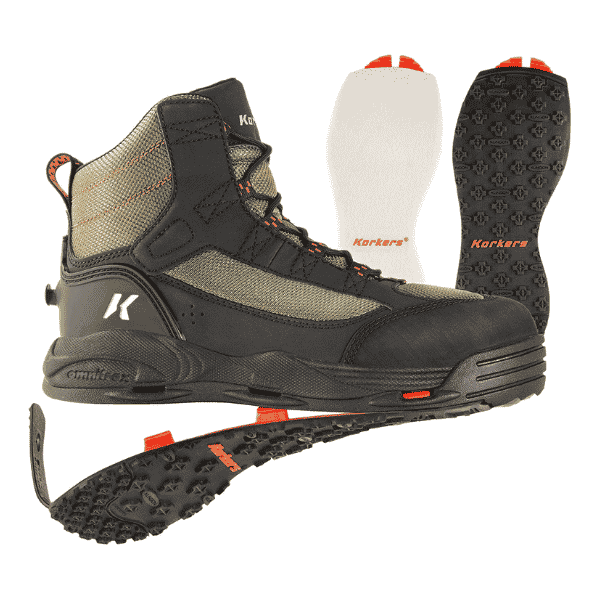 The best fly fishing boots depend on the depth of water, underwater terrain, and conditions of fly fishing is done.
In this article, we go through the best fly fishing boots. We will go through waterproof, felt bottom fly fishing boots, cleated fly fishing boots, and the best lightweight fly fishing boots.
Selecting The Best Fly Fishing Boots
There are a few decisions that need to be made before selecting the best fly fishing boots. These decisions mostly pertain to the terrain of the river, stream, or other body of water you tend to fly fish in.
The key features to look at when selecting fly fishing boots are:
Sole type for grip
Weight
Waterproof-ability
Ability to use with waders
Cost
Let's dive into the most important decision to make which is the type of fly fishing boots to buy based on the type of sole. This is the most important decision to get the best grip on the rocks underwater.
*Special Note – This article contains affiliate links, which means we may receive a commission to support my writing if you click a link and purchase anything at no extra cost to you. Thank you in advance for your support of my passion. Cheers!
What Boots Should I Wear for Fly Fishing?
There are three general types of fly fishing boots: felt sole bottom, rubber sole, and cleated fly fishing boots. The type of fly fishing boot worn depends on the need to gain grip on different underwater terrains.
Below we go into the three different options in more detail.
Felt Sole Fly Fishing Boots
Felt bottom fly fishing boots were the first type of fly fishing boots to gain popularity. Felt has been found to grip slippery rocks covered in algae and moss on the bottom of rivers and streams.
One of the big reasons that felt fly fishing boots lost popularity around 2008 was due to states starting to ban their use of them. Felt bottom boots have been banned in five states and one national park because the felt has the ability to absorb and spread contamination from one body of water to another.
Rubber Sole Fly Fishing Boots
Rubber fly fishing boots started to gain popularity around 2008 when felt bottom boots started making headlines for being banned in several states for cross-contaminating bodies of water.
Although advancements in rubber technology and grip designs have improved, some fly fishing rubber bottom boots do slip on extremely slippery rocks underwater.
Cleated Fly Fishing Boots
Cleated bottom fly fishing boots were the next advancement to fly fishing boots to help prevent basic rubber fly fishing boots from slipping. The cleats help bite through the algae and moss on top of slippery rocks to grip the rock beneath.
Cleated fly fishing boots can be bought with pre-mounted cleats or removable cleats that can be installed when needed. Cleats can also be added to a pair of rubber sole fly fishing boots by purchasing a cleat kit such as the Frog Togg Hard Case Boot Studs.
Below is a summary of the seven best fly fishing boot options, then I dive into each option a little bit more.
Click the View Product to see current pricing and options.
Click the Read More to jump to our review of the product.
Overall Best Fly Fishing Boots
Best Waterproof Fly Fishing Boots
Best Ultralight Fly Fishing Boots
Best Cleated + Felt Fly Fishing Boots for Waders
Best Rubber Fly Fishing Boots
Best Felt Fly Fishing Boots
Best Cheap Fly Fishing Boots
Best Fly Fishing Boots Reviews
The Orvis Pro Wading Boots are the overall best fly fishing boots you will find on the market today. It features synthetic leather construction and a solid rubber outer sole they partnered with Michelin tire company to create.
The outer sole is constructed from lug rubber and you will find that it has unique traction properties. The rubber developed for these fly fishing boots is specifically developed made for having traction in wet weather conditions or when walking through water on racks that are covered in algae, moss, or other slimes.
The boots are waterproof, so they will wick away most of the water. The water will simply fall off the shoes keeping you dry on the inside. They are made specifically for wet conditions.
---
When buying fly-fishing boots, you need to consider the best waterproof fly fishing boots and the Simms Men's Freestone Waterproof Wading Boots are some of the best you could find. The boots are made from synthetic leather-like many of the others and it features a solid design that will make them durable.
However, magic happens on the inside of the boots and the EVA midsole will mold to the shape of your feet to ensure you have even more comfort. In terms of drainage, the shoes have holes in the sides that will allow water to be out of the boot if that is needed. We would recommend it for its durability and overall value.
---
Another Orvis fly fishing shoe makes the list as the best ultralight fly fishing boots. The Orvis Ultralight fly fishing boots are made from microfiber and synthetic materials that allow the boots to be protective and lightweight while being breathable in hot conditions.
The Vibram EVA inner sole will mold to the shape of your feet to increase comfort the more you wear them. Comfort coupled with an ultralightweight design is hard to come by, which is why I had to mention this particular shoe on this list for those looking to have an option that isn't cumbersome for long fishing days.
---
As we mentioned earlier, one of the most important parts of finding fly-fishing boots is the design for traction. When you are looking for the best boots, having a felt sole with removable cleated rubber fly fishing boots that can be used with waders may be the best option. The Korkers Greenback boots are the pair of boots that come with these different options.
These boots have an interchangeable sole useful in various situations. You can use these boots in dry, wet, or extremely wet and slippery conditions. The ability to adjust the traction of the shoe by switching out the sole is probably the most impressive aspect that these boots will have to offer.
Since these do have a felt sole, you will need to make sure they are allowed to be used in your state or national park.
---
To ensure that you have maximum grip on slippery rocks that are versatile to use in different bodies of water, you'll want the best cleated fly fishing boots. The Foxelli fly fishing boots are the best cleated fly fishing boot option.
Designed from plaided nylon, the Foxelli cleated fly fishing boots will be a more flexible option on your feet compared to some of the other synthetic boots. The EVA midsole will ensure that the boot will mold to the shape of your feet. Both features add to the comfort of these boots for longer fishing days.
These boots are only water-resistant. However, it will wick away most of the moisture in just a couple of minutes. This means they will dry out much faster when you walk in the water that may splash up or rise up onto the boots. Only being water-resistant does mean that they aren't the best for deep water wading.
---
Featuring a grey 12MM felt sole, we have selected the Sims Tributary felt sole boots as the best felt fly fishing boots.
The Sims Tributary boots stood out as they come stud compatible. Having the option to add studs to the boots right from the factory is the best option as they are built to support them without damaging the boots. Add on that they have a felt sole, you can gain maximum grip with both technologies when in extremely slippery conditions.
These boots are waterproof and will air dry on their own after getting out of the water. This means they can be used for maximum grip when walking on the edge of the river or when wading in deeper water.
---
Last but certainly not least is the 8 Fans anti-slip lightweight boots that are the best cheap fly fishing boot option. This one is if you are on a budget and the others are out of your price range.
The 8 Fans fly fishing boots are made of nylon and synthetic leather. Microfibers are used to ensure the wind can comfortably pass through the boots and maintain breathability. These materials make them a fairly lightweight pair of boots.
If you buy the right size they will fit like a glove. However, the PU interior sole is not the most comfortable. If they are too tight, exchange them for the next size up as they can rub and begin to hurt after some time.
I would recommend changing out the inner sole to EVA if you want to make this affordable alternative a bit more comfortable, especially if you are looking to use these on longer fishing days.