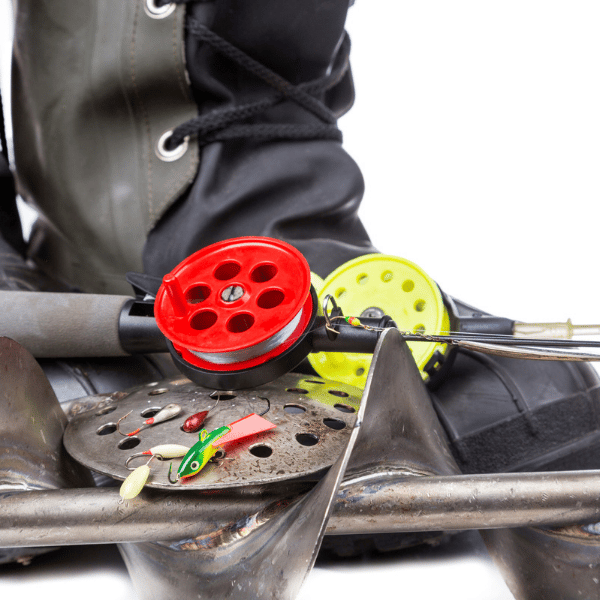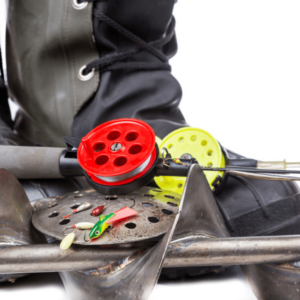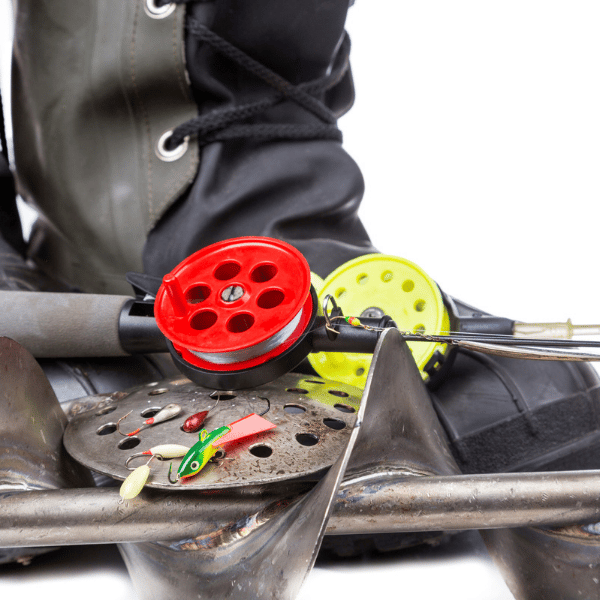 Ice fishing is the perfect activity for anyone to partake in, as long as you can handle the cold. It requires no experience and very little money. If you're a beginner to ice fishing, you will need to prepare some essential gear items in order to make your first trip possible.
Here's the essential gear for a beginner ice fisher:
That's a basic list, but there's a bit more to it—as well as a few other things you should know before hitting the ice for the first time. Read on and we'll discuss all of the gear above in further detail so you know exactly what you are looking for.
What Gear Do You Need to Go Ice Fishing?
When it comes to ice fishing, the gear is extremely important. The best part about it is that it is quite inexpensive compared to other types of fishing.
That being said, here's the basic gear you are going to need.
Ice Auger for Drilling Ice Fishing Holes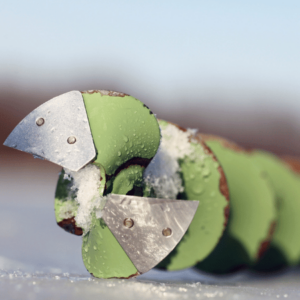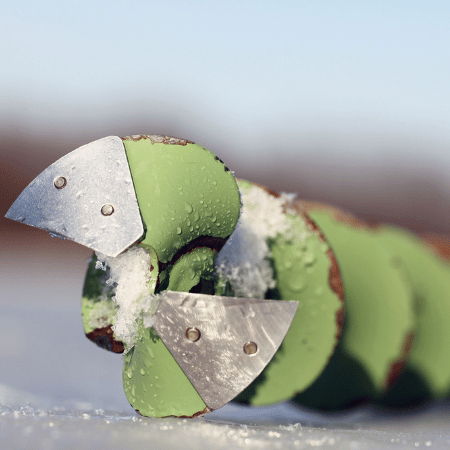 An auger will be one of the most important items on your gear list. An auger is basically like a big drill used to bore into the ground, which in this case will be the ice. They are specifically designed for this task, so it's going to be much more efficient than a pick or shovel.
You can purchase augers that are hand-powered (manual), gas or propane powered, or electric.
An auger also comes in 3 different standard sizes that you can choose to purchase. These sizes are 6, 8, and 10 inches in diameter. You will want to know the regulations of your fishing location before choosing specific size.
Many experienced ice fishers agree that even though a fuel-powered auger is the absolute easiest way to drill fishing holes, hand-powered augers are not that difficult to work with and will save you a good chunk of money. A hand-powered auger will still be easier to use than a pickaxe.
Here is a list of augers you can check out for your ice fishing adventure.
Whichever auger you decide to go with, make sure you know how to operate it before you get out there. Also, you will want to make sure you know how to sharpen ice auger blades to maintain your investment.
Ice Fishing Rod, Reel, and Tackle Box
Believe it or not, there's actually a difference between standard fishing tackle and ice fishing gear. This is simply because ice fishing rods and reels are designed to make most aspects of ice fishing easier and more comfortable.
Listed below are a few characteristics of ice fishing rods and reels.
The rods are short. The reason for this is because you do not have to cast your line out a far distance away from you. The only thing you have to do is drop your line into the fishing hole.
The rods are more sensitive to movement. Fish move slower when the weather is colder. This will make it hard for to realize when you have a bite because the fish will not act as aggressively as they would in warmer weather.
The reels are very light. The lightweight of the ice fishing reels works best with the weight and size of ice fishing rods and will allow the line to run out more smoothly.
It is recommended, especially for a beginner ice fisher, to purchase a rod and reel combination because it is easier to pull your fish out the water.
Here is a list of great and inexpensive rod and reel combos.
As you can see, ice fishing rods and reels are actually significantly different to standard rods and reels. While they are necessary for your ice fishing trip, you will also want to make sure that you bring along a tacklebox to your lures and other accessories. This will allow you to keep your things organized.
Proper Ice Fishing Line
Just like with rods and reels, there are fishing lines made specifically for ice fishing. This is because certain fishing lines act differently in cold weather and also because there is a lot of ice around that could tear right through your lines with no problem.
Here is a list of some of the best ice fishing lines.
Without getting the correct fishing line, you are not likely to go far with your ice fishing. Be sure to choose one that will work best with the location you are fishing at and the type of fish you are hunting.
Ice Fishing Shelter or Ice Fishing Sled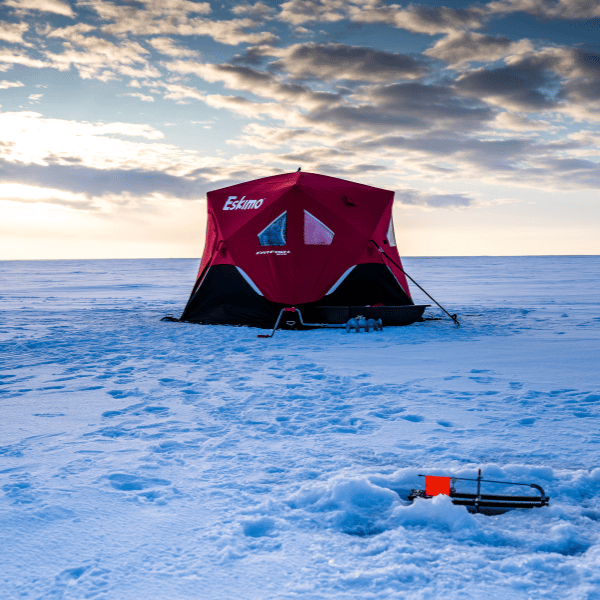 Some may argue that an ice fishing shelter or ice fishing sled is not an essential item for an ice fishing trip, but many would disagree. How else do you plan to carry all of your gear from your vehicle to your fishing hole? Ice fishing shelters are extremely handy for spending more than just a few hours out on the ice.
Here are some ice fishing sleds that will make your life easier:
There is no need to spend a fortune on one of these. You just need to make sure that you get one that is big enough for your equipment and gear, and if you plan on walking downhill or over jagged terrain, then you will need a cover so that you will not lose anything on the way.
If you are looking for more than just a sled, like an ice fishing shelter, then check out our ice fishing shelter buying guides below.
Skimmer or Ice Scoop
A skimmer, also known as an ice scoop, is made to keep ice from floating around in your fishing hole. After all, you will want to be able to see in there as much as possible.
While a regular slotted spoon, like the one you use in your kitchen, will do, you can also purchase skimmers. Here is a list of some just in case you want to keep your utensils in the kitchen.
Do not forget to bring one of these along on your ice fishing trip.
Ice Fishing Clothing
Ice fishing requires you to be in a location where the ice is at least 4 inches deep. This means that it will be very cold.
It is important to dress for warmth and bring extra warm clothes in case of an emergency. It also not a bad idea to keep a life jacket on your person in case the ice breaks and you fall into the water.
Ice Fishing for Beginners
Now that you know exactly what to bring, you're well on your way towards a successful first ice fishing trip! Of course, there is much more to learn. Below are some more resources for learning how to ice fish.