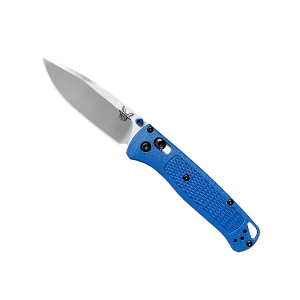 Choosing the best backpacking knife comes down to the type of blade you need for what type of activity you will be doing while backpacking.
We focused on three different activities:
Everyday Carry (EDC)
Bushcraft
Ultralight
We will go over the best option to buy for each situation.
Selecting the Best Backpacking Knife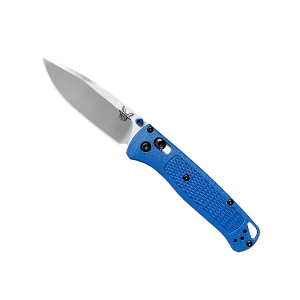 As previously mentioned, we are focusing on the best of the best backpacking knives for three specific categories including everyday carry (EDC), bushcraft, and light/ultralight.
Here are a few things we considered for each category to select the best backpacking knives.
EDC Backpacking Knife
An everyday carry (EDC) backpacking knife should be a versatile tool that can be used for anything from cutting small branches to slicing meat and cheese for dinner. If you are going for an all-purpose knife, it needs to be reliable since it will become the most valuable go-to tool for many situations.
What makes a good EDC knife for backpacking?
A good EDC knife for backpacking should be both lightweight and foldable for easy storage in a case on your belt, a pocket, or securely in the backpack. The construction should be strong enough to use for carving wood or to be used for spearing fish in survival situations.
Bushcraft Backpacking Knife
Bushcraft is rugged backpacking and camping using wilderness survival skills. A bushcraft knife is one of the most important tools for cutting rope and thick sticks to make shelter, create other tools, or cutting branches and leaves to cover your shelter.
What makes a good bushcraft knife?
A good bushcraft backpacking knife has a flat cutting edge that curves all the way up to the tip of the knife. The tip is located toward the middle of the width of the blade/handle. The best bushcraft knives have a fixed handle for increased rigidity during cutting, spearing, and other survival activities.
Light & Ultralight Backpacking Knife
When doing light or ultralight backpacking, a reliable knife is still a must-have tool. In general, it is best to have a knife on you when doing any type of backpacking. Just because you are doing light or ultralight backpacking and can usually only carry between 10-15 lbs does not mean you can give up one of the most important tools.
What makes a good light or ultralight backpacking knife?
The best light or ultralight backpacking knife is small in size, foldable to pack away in a small backpack, and weighs the least amount to limit the burden of your specific target maximum weight. Since you will have limited gear, the knife should be durable, sharp, and versatile enough to handle anything from cutting small branches to making a shelter or prepping the day's catch for dinner.
The Best Backpacking Knife Options
Below is a summary of the three best backpacking knife options that I have used, then I dive into each option a little bit more.
Click the View Product to see current pricing and options.
Click the Read More to jump to our review of the product.
*Special Note – This article contains affiliate links, which means we may receive a commission to support my writing if you click a link and purchase anything at no extra cost to you. Thank you in advance for your support of my passion. Cheers!
Best Backpacking Knife Reviews
Overall Best All-Purpose Backpacking
Best Bushcrafter Backpacking Knife
Best Light / Ultralight Backpacking Knife
Best Backpacking Knife Reviews
First off, the Benchman Bugout is an American-made knife. The company is based out of Oregon City, Oregon and they have been focused on making the finest knives in the world for over 30 years.
The Bugout EDC backpacking knife is the ideal option for someone who is looking for more of an all-purpose knife to take backpacking. We would recommend the full blade option for general purposes, but there is a half-serrated Bugout knife blade option.
The blades are made of CPM-S30V steel, which is high-grade steel that provides top-of-the-line edge retention and has anti-corrosion properties. Highly desirable characteristics in a knife that will be used often on wet items like branches, leaves, and food when backpacking.
The blade action requires manually opening as it is built with axis locking for both smooth opening and easy close. This mechanism also ensures it does not spring open unexpectedly. When closing, the blade secures into a handle that has molded texture to increase hand grip when in use.
For being a larger 3.24″ blade and having a 7.46″ overall length when open, it is actually a very lightweight knife.
Pros:
American Made
CPM-S30V Anti-Corrosion Steel
Lightweight
FREE Lifetime Sharpening (awesome bonus)
Limited Lifetime Warranty
Cons:
Pricepoint can be high, which makes a knife like the similar Kershaw Leek Knife a solid budget-friendly alternative.
---
The Benchman Bushcraft is made in Oregon City, Oregon, just like the previously mentioned Benchman Bugout. However, it is a fixed blade version with some added features that are specifically designed for bushcraft backpacking.
The Bushcraft's blade is made of the high-grade CPM-S30V steel, giving it the top of the line edge retention and anti-corrosion properties. Where this blade stands out even amongst it's other Benchmade peers is the overall durability focused construction.
The durability begins with being a fixed blade with the same piece of steel the blade is crafted from feeding right through your hand in the handle. This significantly increases the strength making it ideal for the heavy use in bushcraft backpacking.
The handle adds to the durability as it is made of resin-soaked fiberglass. This material is engineered to be completely resistant to moisture, which allows it to perform consistently for you in different climates.
The blade length is 4.40″ and the knife has an overall length of 9.15″.
Also Included: A leather sheath with a belt loop and D-ring for easy mounting, carry, and access.
Pros:
American made
CPM-S30V anti-corrosion steel
Leather sheath included
FREE lifetime sharpening (awesome bonus)
Limited lifetime warranty
Cons:
Again, with Benchmade knives, the price can be high. My budget option is the Condor Terrasaur.
Read the full article of 3 Best Bushcraft Knife Options.
---
With an established design since 1897, this classic Swiss Army Knife still holds the title as the best ultralight backpacking knife option today.
Coming in at just 0.7 oz and having the ability to attach to any of your backpack loops makes this a perfect small backpacking knife when you need to focus on keeping the weight low enough for other more important survival items.
This truly is a survival tool, having a somewhat small knife blade but as an ultralight backpacker having scissors, nail file, screwdriver, toothpick, and tweezers all at your disposal in a fraction of the weight of most other single knives is very beneficial.
This is the #1 best seller for a reason and at a low cost, this is the best ultralight backpacking knife option.
Pros:
Made in Switzerland
Swiss stainless steel
Very lightweight
Multi-function
Time tested (even in space!)
Cons:
The blade is small. If you are looking for a more heavy use ultralight knife, check out the 1 oz Gerber US1 knife!