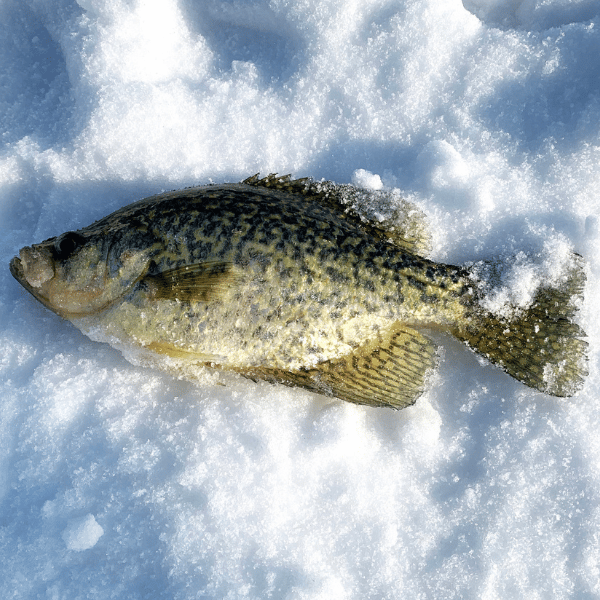 Ice fishing for crappie is one of the most exciting species to ice fish because they are one of the most active fish and can fight as hard as a walleye double the size, yet some of us struggle to learn how to catch crappie ice fishing more predictably.
In this article, we go through how to catch crappie ice fishing to help you get you catching more crappie.
Crappie Ice Fishing Equipment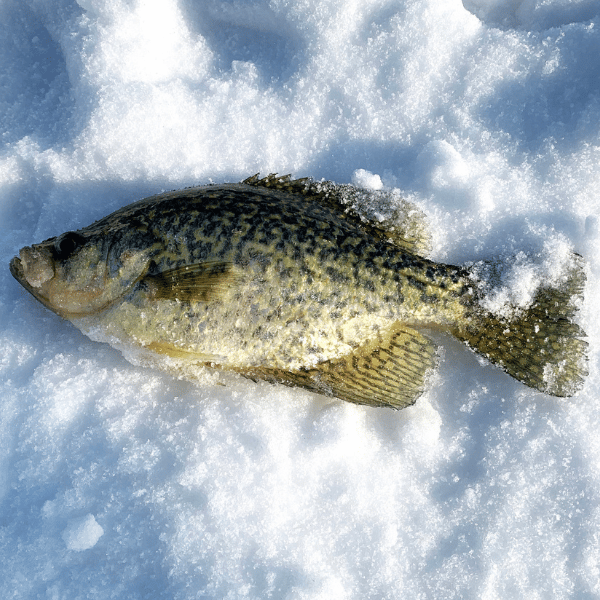 Before you can begin to fish under the ice, you must first have the right equipment for the job. A few items are needed to ice fish that you would not need during a spring or summer fishing trip. You should have them packed and ready to go before making your first trip on the ice:
Ice auger to cut holes through the ice
Ice shelter to use as a home base on the ice
Ice shelter heater to keep warm
Ice chisel to keep ice from forming in your hole
Portable sonar to help find fish with ease
Ice fishing headlamp if fishing after dark
A jigging rod
Several types of jigs to choose from
Your choice of bait
Ice fishing bucket for a seat and to carry your gear
Crappie Ice Fishing Jigs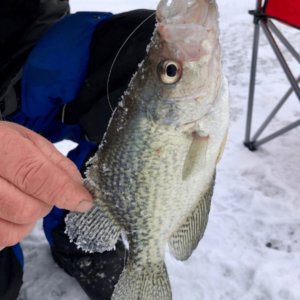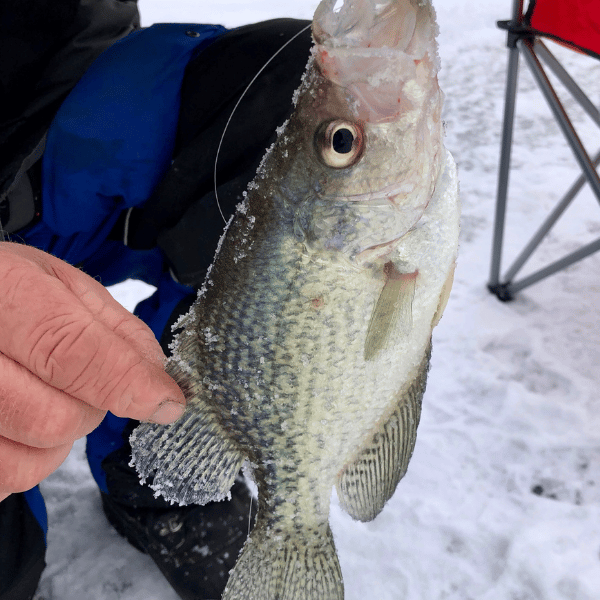 It is best to have a wide selection of different lures or jigs when ice fishing for crappie because they can be quite finicky. Having different options for size, color, weight, and profile allow you to switch things up if the fish aren't biting. A change in jig can make all the difference!
Some anglers suggest using white, yellow, and yellowish-green colored jigs for the best crappie fishing. However, there is no evidence that crappie prefers one color over another.
Best Crappie Bait
Choosing the right bait is also vital in catching crappie under the ice. While you can successfully catch crappie on a bare jig, you will do better with a jig that is tipped with live bait. Most ice fishers choose live minnows or grubs to catch crappie. The decision comes down to the portability of each type of bait. Grubs are more portable, while minnows require the use of a sled.
Check out more information on How to Crappie with Minnows.
Best Time to Catch Crappie Ice Fishing
As with any other type of fishing, sometimes are better to find fish under the ice than others. Most fishing is at its best during the late morning and early afternoon, and this will be the same for ice fishing crappie.
Along with these daytime hours, crappies are also active at night. This is due to their large eyes, which give them the ability to hunt in the dark. Use this to your advantage!
See our full guide on Crappie Ice Fishing At Night.
Best Location to Catch Crappie Ice Fishing
The decision on where to drill holes for ice fishing crappie depends on the size of the body of water you are fishing in. Crappies tend to stay in deep holes and throughout the main basin of small lakes. In larger lakes, Crappies settle in mid-depth flats or deep basin areas while keeping close to islands and points.
You will likely find crappie in deeper waters during early winter since that is where the water is at its warmest. As it gets colder, the oxygen decreases in deeper water first, which causes the fish to gather in shallower waters. Crappies also like to stick close to vegetation because there is a fair amount of oxygen and food.
Another tip is to watch where anglers that are more experienced in ice fishing set up. Learning the fish's habits is essential to have the most successful trip, so don't be afraid to go where everyone else is gravitating to and potentially ask how the fish are biting for them. They just might share some good insight on the conditions of the lake and where to catch crappie.
For more information, check out this guide on Where to Find Crappie Ice Fishing.