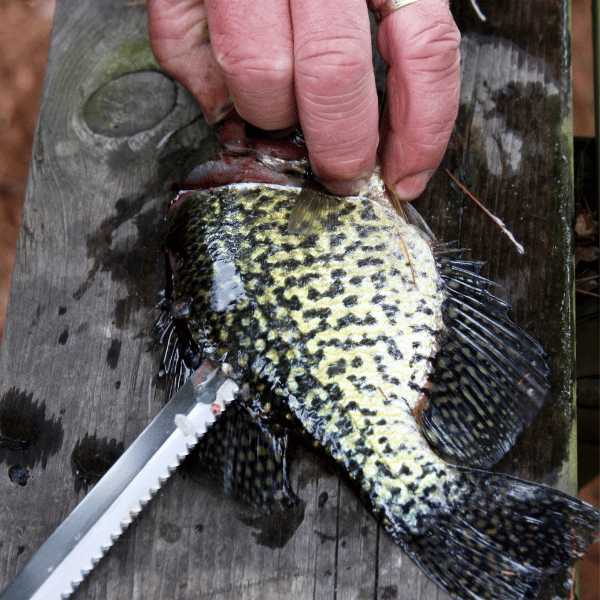 In this guide, we'll show you how to fillet crappie. You will learn how to do this using a fillet knife and an electric knife. We will also cover the popular question: which knife will do a better job, standard or electric fillet knife for crappie?
We'll also show you how to properly store crappie fillets so you can have them ready to go whenever you want to cook them on a pan. If you are someone who loves to fish and enjoys eating a lot of them (and they are delicious), keep reading.
Now, let's dive in to first go over the best size crappie to fillet and eat.
What Is A Good Eating Size Crappie?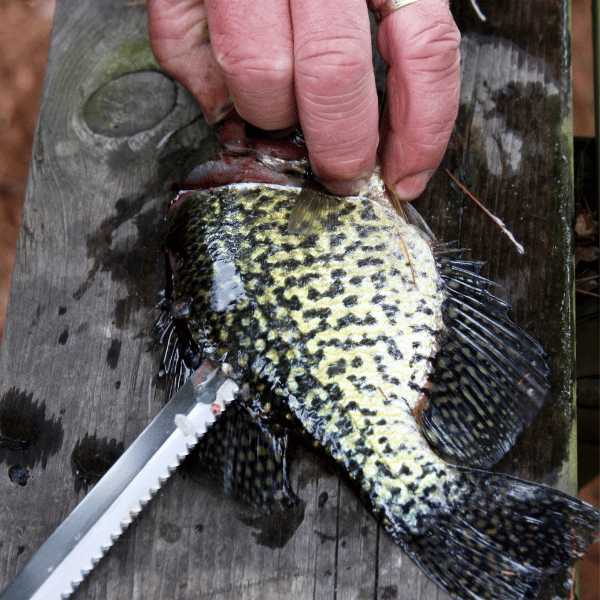 If you are talking about serving size, the best eating size will roughly range between one to one and a half pounds. Some would prefer two-pound crappies. But as the saying goes, the bigger the better. 
Not to mention, the larger crappies will be easier to fillet. Easy to cut means very tender meat. If that isn't getting your mouth watering, then we don't know what it will.
As for the length of crappies that you'll need to keep around for consumption, it all depends on the laws and regulations in your jurisdiction. If you are looking for whether or not there is a length limit in your state, you can check out this list here.
A majority of US states will have no limit, but it's good to double-check before your next outing.
Speaking of limits, in most states you can catch as many crappies as you like. And that might be what you need to have a crappie party (not crappy) with your friends, family, or anyone who can't get enough of eating some juicy fish.
How To Fillet Crappie With A Fillet Knife?
There are two great ways to fillet crappie. First, we'll show you how to get it done with a fillet knife. This is one of the most popular choices to fillet crappie.
That's because the meat will fall off and crumble apart. No toughness, no grittiness, no nothing. Once you take your first bite, it will taste so good you'll eat the rest of the tender meat in no time.
First, you're going to need the following tools:
Fillet knife
Cutting board
Fillet board or a flat hard surface made of glass or plastic (either material will be useful in reducing bacteria)
Now that you have everything you need, let's start filleting some crappie:
Take the knife and start by going under the pectoral fin and cut it towards the gill
Starting behind the head, cut down the backbone and through the dorsal fin. End your cut right near the tail
Pick up the fillet and go under it with your knife. Follow the backbone and cut right down to the rib cage
As soon as you get to the rib cage, there will be a piece of cartilage. Cut through that. Cut right down the rib cage, backbone, and towards the tail.
Turn over the fillet and cut the skin off. That's one fillet of crappie already done.
Flip the other side of the crappie and repeat the same process
If done properly, your crappie fillets should be boneless and skinless. At this point, you can either place them on the pan and fry them up or put them in a plastic bag and store them, (which will show you how in a moment).
How To Fillet Crappie With An Electric Knife
If you prefer an electric knife for filleting crappie, more power to you. Sure, it's the fastest way to fillet crappie. But you have to be very careful considering how fast the blade moves.
One wrong move and you may end up making some mistakes that could ruin an otherwise perfectly good fillet. However, if you know your way around an electric knife, there's a good chance you'll be able to fillet plenty of crappies in no time.
Before you know it, you may have enough to feed the entire family or maybe the neighbors. Aside from an electric knife, you'll be using the same cutting board and hard surfaces (plastic or glass). Now, let's get cutting:
Prep the fish like you normally do when filleting fish. Set up the cutting area and include a small bucket of water to clean the fish of any dirt or blood.
It's important to know the basics of cleaning and filleting a fish. Especially when you are using an electric knife.
If you don't have an electric knife, you should consider finding one that you may like. Some popular brands to check out including Hamilton Beach, Bubba, or American Angler Pro.
Place the fish on the cutting board in a horizontal position. Depending on your dominant hand, you'll want the crappie's head pointed in a specific direction. If you are right-handed, the head should be pointed to the left (and vice versas).
Using the sharp side of the electric knife, point it towards the head of the fish. Start cutting behind the pectoral fin behind the gills.
Remove the scales of the fish before cutting the rest of it.
Cut the fish horizontally while making sure that the backbone is still intact. The backbone will serve as a guide to help you cut the fish and easily debone it.
Cut around the rib cage and move as much meat as possible.
At this point, you should have filleted both sides of the fish and set the fillets off to the side.
If you have multiple crappies, then repeat the process.
The goal here is making sure that your fillets are skinless and boneless. While cutting, you'll want to make sure there are no pin bones present. And don't worry, they are easy to remove by hand if you find any.
You should also have a small bucket of cold water to keep the fillets nice and soaked. You want to keep them as nice and clean as possible before you cook them.
After filleting the crappie, you might be thinking about what to do with the rest of it. One of the best things you can do is make fish broth out of it. If you have some meat left on the bones, place them in a pot of water and boil it and voila!
How To Store Crappie Fillets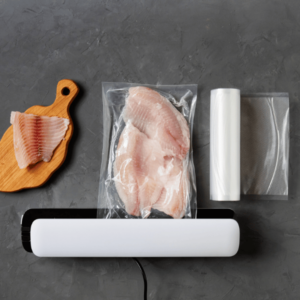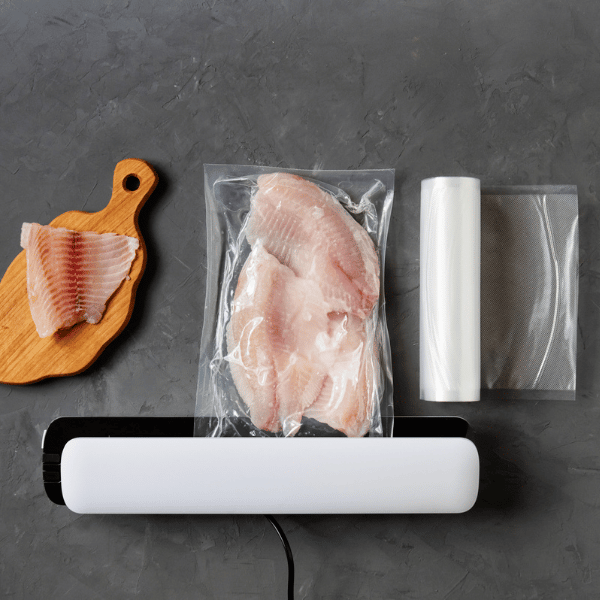 Storing crappie is more of the same as if it were any other fish. Get a regular plastic ziploc bag (1 gallon or more) and store the fillets. After placing them in the bag, seal the bag shut, and place them in the freezer.
If you plan to do a lot of ice fishing, it would be a good idea to get a vacuum sealer to seal and store them separately. To do this, basically, put a fillet and a small amount of purified water into the vacuum seal bag, load the machine, and seal it up.
The good news about storing fillets is that they will never freeze together. Each fillet will be iced over. The even better news is that the flavor of each crappie fillet will be sealed in.
Once you are ready to prepare them, you can remove as many as fillets as you like. Thaw them, cook them, and enjoy. If you plan on keeping your crappie fillets stored in a freezer for the long term (six months or more), wrap the plastic bags in freezer paper.
Sealing them in freezing paper will keep them frozen all while retaining the flavor. You can enjoy crappies anytime you have them so long as they are stored in your freezer. They have a lengthy shelf life, you won't have to worry about them spoiling for a short time.
How to Fillet Crappie FAQ
How to thaw frozen crappie?
Thawing frozen crappie will be similar to thawing regular fish. Depending on the size of the fillets, they should normally take 5 to 15 minutes. Fill the bag of fillets with cold water (NEVER hot water) and let it sit in the sink.
How long can you keep crappie in the freezer?
You can keep crappie in the freezer in a bag for six months. If you keep them longer than that, be sure to wrap them with freezer paper. Just remember, frozen fish never goes bad so you can enjoy them any time you like.