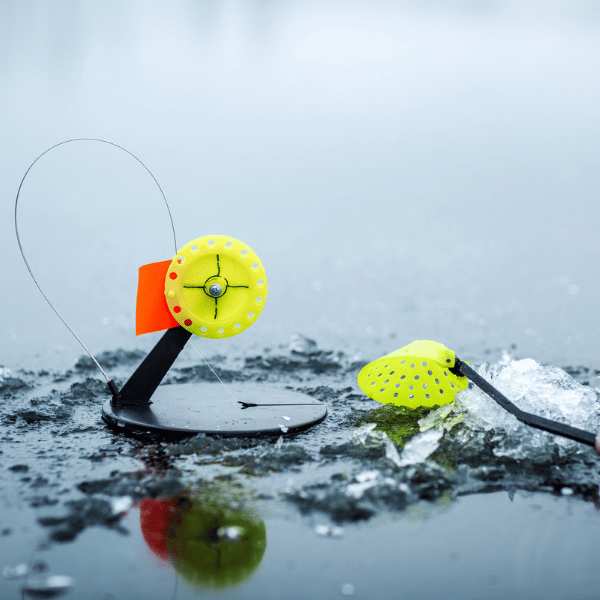 The best way to ice fish for walleye with a tip-up is to select the best hook color and size for the weather conditions with a good minnow. Then, set it to a depth of 15 to 35 feet, depending on the time of the season, and wait for the flag to rise.
In this article, we will cover all of these details so you can catch more walleye with tip-ups ice fishing this season.
Tip Up Walleye Ice Fishing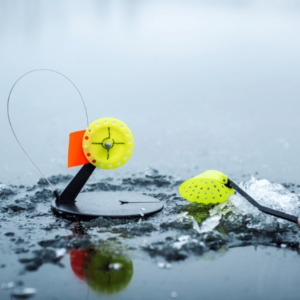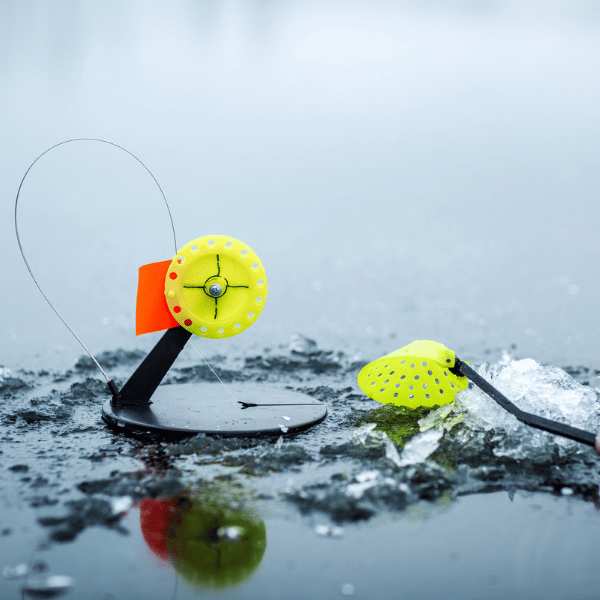 A tip-up is a great tool to add to your arsenal while ice fishing. It may not be as rewarding as feeling a bite on a line, but it can be just as satisfying to see the flag up. Paired with a buddy that vocally confirms, tip-ups will definitely give you the rush to send warmth to those cold extremities.
Many anglers see tip-ups as tools to catch pike. This is not true, though; a well-placed tip-up can be a lethal appearance for walleyes. They can also be used for other fish like bass, trout, and panfish.
Tip-ups are amazing because they greatly expand your range and efficiency. After all, you can set several tip-ups in excellent locations. Any spot you can set a bobber rig in a hole will probably be a great position to try fishing with a tip-up. Continue reading to find the best ways to catch the biggest walleye using tip-ups.
Are Tip Ups Good for Walleye Ice Fishing?
Tip-ups resemble your wingman supplying an extra arm or arms to fish additional holes. If you don't mind a backup squadron of lines simultaneously fishing for you, tip-ups are reasonably cheap, simple to fish, and lethally effective for catching fish through the ice. The tip-up often winds up, producing both the most significant fish and most action.
Tip-up designs that entirely cover the hole in the ice are a significant enhancement over the traditional styles that simply use a wood or plastic arm to support a spool below the ice. This modern design of tip-up likewise has the advantage of being easy to set and transfer. Several can be stacked in a 5-gallon bucket without fear of tangling.
Blocking light from entering the water makes for a more natural and the pointer up likewise assists to keep the hole from freezing shut rapidly. With traditional style tip-ups, it's required and vital to frequently cut ice away from the hole so if a fish bites, it can be landed.
The real concern is, how can you afford not to fish using tip-ups, given the benefit of fishing unattended lines for you?
Walleye Tip-up Ice Fishing Rigs
If you have never used a tip-up before, it is highly recommended to look at the instruction booklet before going out onto the ice. Nowadays, the tip has evolved from a fairly simple device to a complicated machine. It has been reinvented and improved many times over the years and just so anglers could enjoy their hobbies during the dark of winter.
Below is a list of some of the highest-rated tip-ups on the market—all of these would-be excellent choices to snag a walleye.
This tip up gets its name because of its lightweight plastic base, which is recognized as one of the best. Broad on the outside and narrow on the insides, this odd design has reeled in many anglers. They are great because they can be easily transported and stored as well as featuring outstanding durability.
This model's spool is not the best of the group, not to fret, though, if you like this model. The spool is able to be removed and cleaned, which is recommended to keep it working flawlessly. It can hold 50 yards of 20-pound line.
On the other hand, the trip bar offered is great for breezy days. It has two settings that make adjusting easy when your hands are cold and wet.
This tip up is built with a 17.5-inch base and is one of the first ones out the gates to feature plastic instead of wood. This makes the HT Polar a great lightweight tip up. It can attribute its success to its spool capacity and smoothness. They over two spools: one at 250 feet and another at 500 feet. You will most likely never have the need for that capacity, but it comes with it.
Other features include a nicely designed bait clip and a two-position trip bar, which makes adjusting a breeze. A great option to pick up as it can handle any fish from perch to pike, without any disappointment.
A great wood alternative with a larger base, 23 inches of pine, compared to the previous. In addition, it contains a stainless steel cylinder with aluminum tube bearings and a flag that reaches 17.5 inches off the ground. A tall flag is a nice feature on any tip-up, as it is the only way to tell if a fish is hooked or not.
The spool that Beaver Dam included is soldered in, so removal is not necessary except for lubrication. It is able to support 150 feet of line, which any seasoned ice angler knows is plenty. The spool is also touted to be one of the smoothest on the market.
Best Walleye Tip-up Hook Size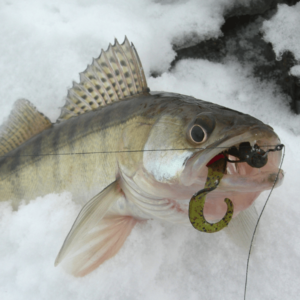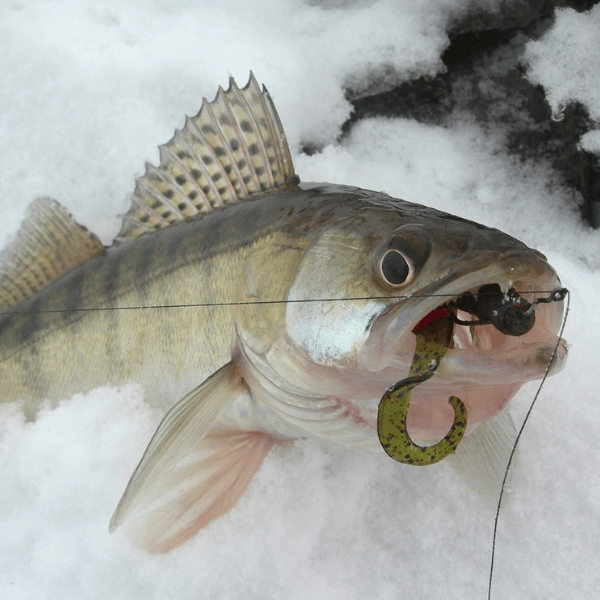 Using a tip-up means walleye can swim up and inspect your bait. They may not find a large shiny treble hook appetizing, no matter what is attached. This is why veteran ice anglers will tell you to downsize your hook size if you are not getting many bites.
The general hook size is six to 10 and a treble or a single circle hook. One tip I've seen is to cut a barb off of a treble to make it a double hook. You can get as small as a sixteen when fishing for walleye using smaller shiners and minnows and it is advised to go up to a size eight with larger bait like sucker minnows. Along with the hook, many anglers add two small split shots above the hook. This is meant to keep the minnow at the bottom.
A small treble hook can be hard to remove for many people for a recently caught fish, especially when your hands are near frozen. In some cases, walleye will swallow the bait, and using a treble may cause damage to the fish. If left in the fish, in a catch and release situation, the fish may not be able to eat until it becomes dislodged.
Due to these reasons, that is why a double or single hook may be a better option for you.
Best Tip up Walleye Line Type
In the past, fishermen had only two options when it came to monofilament lines; those that are stiffer and harder and those that are slim and adaptable. The development of co-polymer fishing lines makes it feasible to create thin, versatile, and challenging products.
Much better tip-up fishing lines than in the past are now offered. Clear and practically difficult to see in the water, the fluorocarbon fishing line comes in a variety of diameters and weights to suit any tip-up angling circumstance.
Much tougher than monofilament, fluorocarbon is an excellent option for fish that are line shy or have sharp teeth. Fluorocarbon lines are the top of the line to lure any fish.
Even for bigger fish, fluorocarbon lines function as a top choice versus sharp teeth. Large pike has actually survived tip-ups equipped with braided line and steel but has not done so with fluorocarbon.
Walleye Tip -Up Depth Setting
There is a lot more to fishing for walleye, but setting depth is an important part to get right. And to get it right, it depends on what type of lake you are fishing on. Before you drop your line in, it is essential to find features that walleye like to swim around.
As an angler, you should look for weed edges and mudflats at a medium depth. Rocky drop-offs and gravel bars are also potential locations to find walleye.
Now that you have found a good spot, you will need to set your depth depending on your lake.
On stained lakes, focus your tip-ups in the 6-foot to 12-foot range. Fishing during low light periods is frequently more productive. The time before dark is usually better than the time before the day starts. Once the dark hits the biting usually fades to no existent.
On clear lakes, the ideal depths are between the 10-foot to 20-foot range. You might have to fish in the dark to get the best walleye.
Do not let these guides be concrete rules, though. Fish movement will vary, and depths as shallow as 2 feet and deeper than 20 feet can often be good spots to fish.
To ensure that you get the most out of your time, the following is a good guide to getting set up.
Drill your holes early along your target area.
Start on the deep edge with jigging lures
Set your next line as tip up in the mid-depth range.
When your flags go up, land your fish.
Now you can reset the tip up or use an active line to fish that area