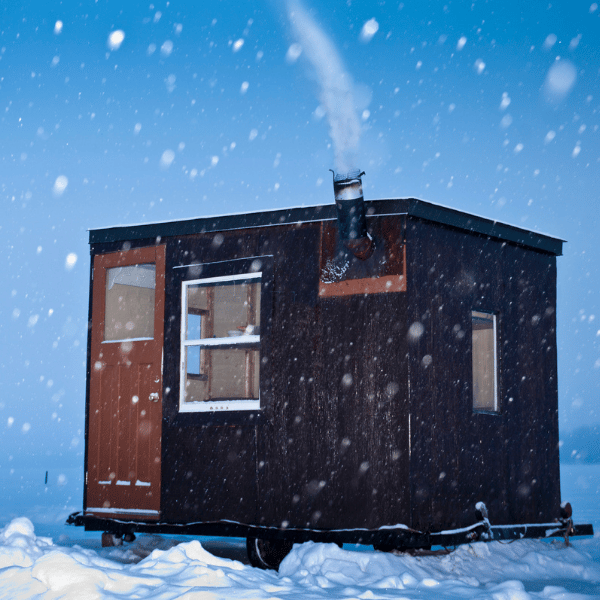 The Midwest of the United States and several lakes in Canada have the best walleye ice fishing. This is mostly due to the concentration of walleye, the average thickness of ice the lakes in this area has, and the length of the ice fishing seasons.
In this article, we will cover all of the best places for ice fishing trips to plan for this season if you are looking to get out of the norm this season and head out on a road trip.
Best Walleye Ice Fishing Trip Destinations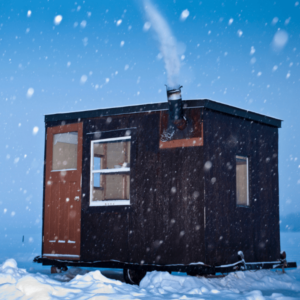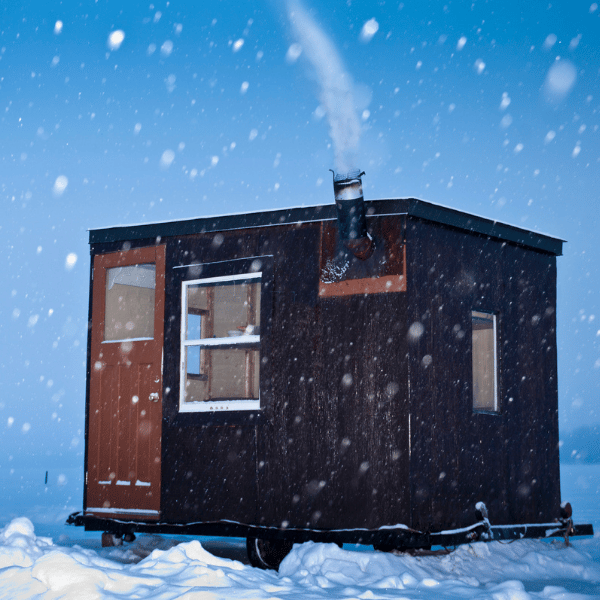 Walleye are a prime example of fish that stay active all year-round. Just because they are hidden under ice doesn't mean you won't have success fishing for them. However, it's important to note that walleye aren't the most social fish.
As such, you need to know where to look for them. If you're excited about some walleye ice fishing this season, join us as we share the 10 best places for walleye ice fishing trips. But be aware, these places book up fast.
So make sure that you plan ahead and schedule your trip well in advance to secure your spot on the ice. Being proactive and knowing the best locations will increase your chances of having a successful walleye ice fishing trip.
Lake of the Woods, MN
Located between Minnesota and Canada's Manitoba and Ontario, is the awe-inspiring Lake of the Woods. Second, only to the Great Lakes, Lake of the Woods is the largest of all freshwater lakes located in the United States.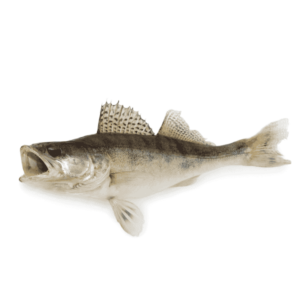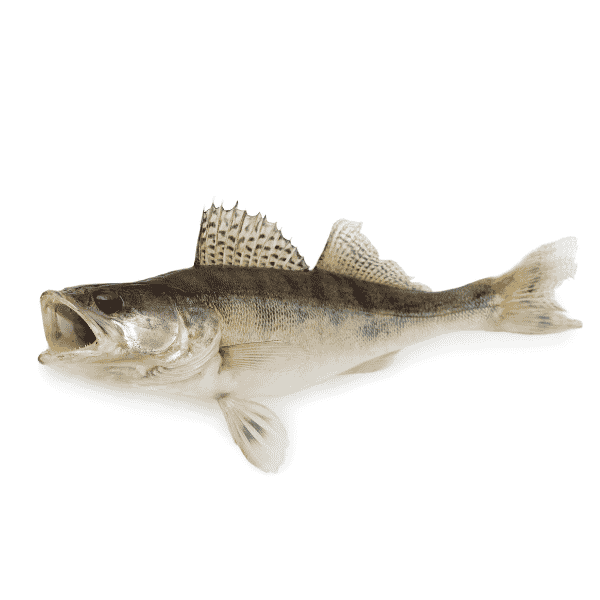 What's more, you will find far more shoreline here than that of Lake Superior. This all culminates into a highly-productive fishery for walleye ice fishing. Once winter rolls around, Lake of the Woods is the most popular ice fishing destination in the country.
Walleye are the number-one fish caught out of Lake of the Woods. So abundant are walleye that fishers travel from near and far to try their hands at walleye ice fishing. Furthermore, the walleye in Lake of the Woods are hearty eaters, so it's easy to get them to bite.
Looking for more reasons to make this your walleye ice fishing spot? The average size of walleyes is around 15 to 18 inches. But at Lake of the Woods, it's not uncommon for ice fishers to nab a walleye measuring 25 inches or more!
Lake Winnipeg – Manitoba, Canada
For many fishers, Manitoba is the ultimate destination for walleye ice fishing. Located in the heart of Canada, Lake Winnipeg is renowned for its abundant population of fish that are not only large in number but in size, too.
It's not uncommon to catch 10-plus-pound walleyes on any given weekend, with many trophy walleyes said to be lurking in the icy waters of Lake Winnipeg. These massive fish have been caught here weighing upwards of 14 pounds and measuring 32 inches in length!
If that doesn't get you excited to head to Lake Winnipeg for some walleye ice fishing, nothing will. Located just 45 minutes from downtown Winnipeg, Manitoba's Lake Winnipeg is easy to access for anyone looking to score walleye in large quantities.
Lake Michigan – Door County, WI
Largely considered to be one of the very best walleye ice fishing destinations in the United States, Door County is home to some truly astonishing fish. Many trophy walleye have come out of these waters, leaving anglers from all over-anxious to try their hand at walleye ice fishing.
Once the waters of Door County start to freeze over, it's often a race to see who gets their shanty set up first. The excitement is tangible at Door County during the walleye ice fishing season, and you feel a sense of true joy when you're a part of it.
If you're new to walleye ice fishing, there are plenty of tours available for beginners. With over 300 miles of shoreline, you have seemingly endless options for ice fishing. If you're ready to get your feet wet, Door County is a great place to start.
Lake Michigan – Green Bay, WI
Green Bay is a legendary walleye ice fishing location, and for good reason. Since 1973, more than 74 million walleye have been stocked into this beautiful body of water.
Jigging is the popular choice at Green Bay and it's been working well for amateurs and pros alike. As far as the best time for walleye ice fishing, the evening is the preferred choice of seasoned ice fishers.
Walleye are particularly hesitant around Green Bay, but don't let that stop you from trying your hand here. With such a staggering number of walleye in Green Bay, your chances of landing that huge catch are remarkably high.
Ice fishers who are interested in finding a picturesque destination for their ice fishing adventures should give Green Bay some serious consideration. This is one of the most appealing locales for walleye ice fishing, with numerous activities to fill your day between walleye ice fishing.
Lake Winnebago, WI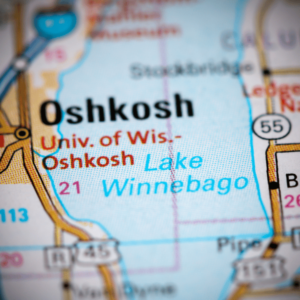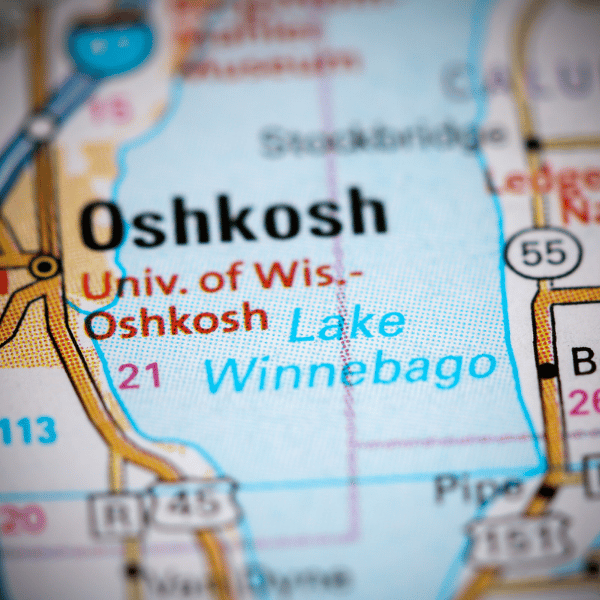 The walleye of Lake Winnebago is known to measure as big as 23 inches in length – sometimes longer. The population of these fish is quite robust, too, giving you access to a walleye ice fishing spot like no other.
In fact, anglers from all across the country flock to Lake Winnebago to take part in walleye ice fishing. If you do decide to visit this fishery, it is recommended that you navigate close to the shore and coordinate with local fishing guides.
Throughout the years, water clarity has been reduced. This alone reasons enough for walleye to get active looking for food. But combined with an increase in wave activity, you've got an exceptionally large number of walleye that can be found regularly throughout Lake Winnebago.
Little Bay de Noc – Gladstone, MI
With an estimated population of nearly half a million walleye, Little Bay de Noc is well-known as a living fish factory. A lot has changed at this lake over the years, but one thing has remained constant, and that is the allure of walleye. 
Ice fishers today have discovered the northwest corner of the lake to be the best spot for walleye ice fishing. Walleye are skittish fish by nature and can be rather difficult to draw in, so you may want to shoot for the morning for the best results. This seems to be the most productive time of the day for walleye ice fishing.
Thankfully, Little Bay de Noc's waters are murky and dark. This serves to embolden the walleye – fish that are fearful of eating in a lot of daylight. As such, you can usually find them feeding in large numbers, making walleye ice fishing much easier.
Devils Lake, ND
Any fisherman who has visited Devils Lake will tell you that it is one of the best locations in the United States for walleye ice fishing. Many of the top professional anglers have even stated as much.
If you're looking to catch fattened walleye, Devils Lake is the perfect fishery for amateur and seasoned fishers alike. In fact, Devils Lake's Perch Patrol guide service owner, Zippy Dahl, claims that walleye are so hungry here that any tactic will work in catching them.
Anytime in the afternoon looks to be the best time to visit Devils Lake for walleye. The sunshine gets these fish active, making them abundant for the taking. If you're interested in visiting, however, you should book your walleye ice fishing trip as soon as possible, as spots fill up quickly at Devils Lake.
Mille Lacs Lake, MN
According to the Minnesota Department of Natural Resources, Mille Lacs Lake is believed to be home to more than 725,000 walleye. These aren't just any walleye, though. That number is for walleye 14 inches in length or longer.
So abundant are walleye in Mille Lacs Lake that walleye ice fishing catch rates have been incredibly high as of late. In 2019, anglers were allowed to keep one walleye, but as of 2020, they are all catch-and-release.
You may want to keep that in mind if you're looking for a walleye ice fishing spot to keep walleye. But if you're in it solely for the sport, Mille Lacs Lake won't disappoint.
Lake St Clair, MI
This massive lake lies between Michigan and Ontario, Canada. As part of the Great Lakes system, there are a lot of various types of fish that are fed through the lake's two channels. As such, Lake St. Clair makes an excellent destination for walleye ice fishing.
Fishers at Lake St. Clair employ lead-head jigs and minnows to catch their prey early in the season. But that later changes to plugs, spoons, and spinners. Lake St. Clair is widely-known among serious fishers to be an excellent locale for walleye ice fishing, so be sure to pay it a visit if you are keen on catching walleye.
Lake Gogebic, MI
This 14-mile long mammoth of a lake is part of the Ottawa National Forest. And with 1 million acres of land surrounding it, Lake Gogebic is a breathtaking destination that will serve you well in your hunt for walleye ice fishing.
Anglers from all over are drawn to this body of water, largely due to its remote location and beautiful scenery. In recent years, walleyes have been caught regularly measuring over 15 inches in length.
Be warned, though. The walleyes at Lake Gogebic aren't the easiest to catch if you're new to the waters and it can take some time to get acclimated to their behavior. Once you do, however, you should find this lake to be an excellent fishery for walleye ice fishing.