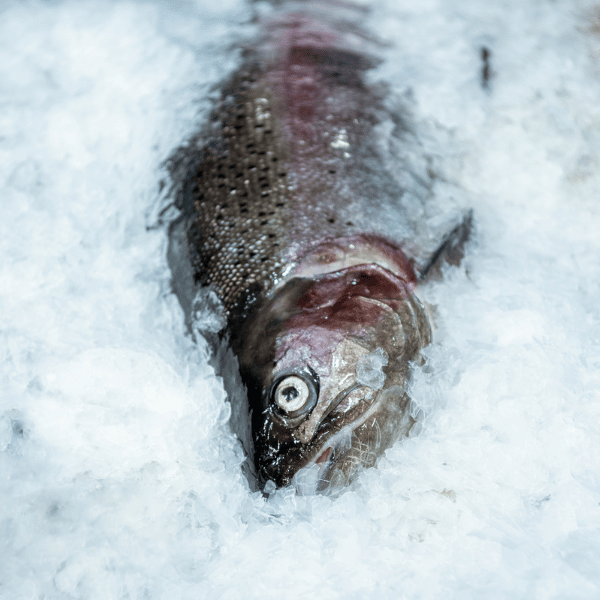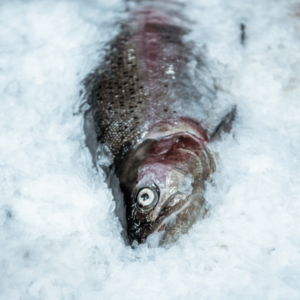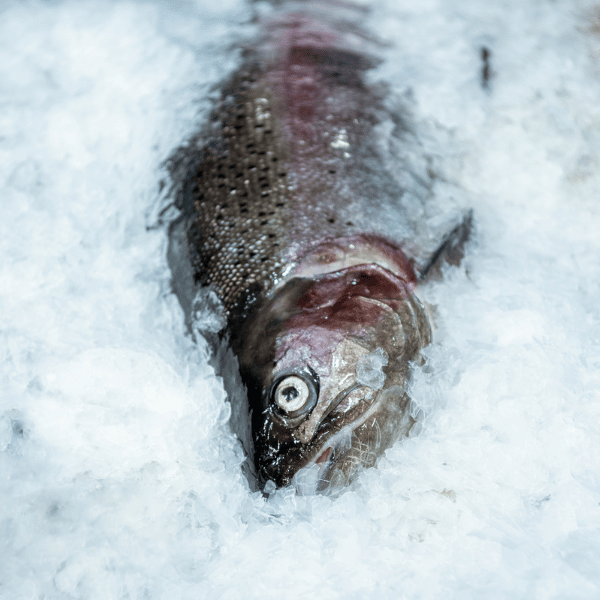 Rainbow trout can be one of the most rewarding fish to catch and learning how to catch rainbow trout ice fishing might impress other people out on the lake catching common crappie or walleye.
In this guide, we'll go through how to catch rainbow trout ice fishing in winter weather with the best rainbow trout fishing jigs that will work to your advantage. This guide will also help you find the best location for catching rainbow trout ice fishing. Finally, you'll learn how to jig with rainbow trout and how to use tip-ups. 
Let's get right into it…
Best Rainbow Trout Ice Fishing Jig
It's true that jigs are always the go-to option for ice anglers (whether they are beginners or advanced). But what exactly would be the best rainbow trout ice fishing jig. We'll be taking a look at some of our favorites that we think you'll enjoy as much as we do.
Here are the following ice fishing jigs to consider:
Acme Kastmaster:
This is probably one of the best jigs on the market today. Ice anglers who are going after the rainbow trout know that if you choose the right bait or jig, you'll increase the probability of getting more strikes. The Kastmaster is versatile and durable. Small, moving fast, and bright in color it gets the job done both in freshwater and seawater.
Swedish Pimple:
If you are looking for something that is much brighter in color, look no further than the Swedish Pimple. This jig will show up on your radar more than enough times. It doesn't matter what kind of fish you are going after, you can never go wrong with a jig that's been around for more than 50 years (and made by two Swedish brothers who know a thing or two about ice fishing).
Jigging Shad Rap:
If you haven't picked up on it yet, you'll notice that these jigs have lighter shades of color. Plus, they are usually metallic (which gives it that shine). The jigging shad rap moves with such grace and precision that it will mesmerize a fish before they take a bite. You'd be hard-pressed to find a jig that will be useful to catch rainbow trout or even any kind of trout for that matter.
Locating Rainbow Trout Ice Fishing
Where is the best place to catch rainbow trout? Everyone says "location, location, location". And that old adage still rings true even today.
In this section, we'll show you some of the best places where you can stake out and drill a hole so you can sit, wait, and hit paydirt. With that said, here's a tip on where you can find rainbow trout while ice fishing:
Rainbow trout usually can be found in shoals and large shallow flats. If you are within an area where the bottom is more muddy than rocky, you'll probably find them there.
You should also keep in mind of where you can find some weed beds. That's where you'll find most rainbow trout foraging for food. During the warmer months, you'll want to remember some of those spots by marking them on a map.
If you are on a lake or a river, there's a good chance that rainbow trout will be present. Typically, you'll want to be in areas on the water where depths range from five to ten feet.
Another place to look is dropoff or transition points (where the water goes from shallow to very deep. For example, there may be weed beds that are about 7 feet deep before it reaches a sharp drop off where the waters will double in depth. Sudden depth changes will always be a good place to get some hits if you're having bad luck.
If you are drilling extra holes and know where the drop off points are, make sure they are 30 to 50 feet away from the ledge. During the day, you can fish in these holes (especially in areas where the weed beds are located. Don't drill holes during the day since you will likely scare off the fish.
If you are fishing at night, you'll want to drill holes in shallow areas. Overnight and the pre-dawn hours are the best time where you can fish for rainbow trout in shallow waters (5 to 7 feet of water).
How To Jig For Rainbow Trout Ice Fishing
While jigging is popular among ice anglers, you too can learn how to jig for rainbow trout specifically.
All you need is to attach your jig or lure to your fishing rod (if you use one) and drop it in. Or you can use a rig and let your bait sit there and move around while drawing attention to rainbow trout in the area.
Here are some other tips that you want to consider while jigging for rainbow trout:
Keep in mind that the lures that you use when you are fishing during the summer months will work even when it's the dead of winter. But tiny jigs will get the job done since trout will prefer smaller bait like minnows.
Make sure that the lures or jigs are on the bottom or just about the weed bed. Remember, rainbow trout will usually hang around weed beds (especially at drop offs). If you know where they are, choose your lines accordingly. If you use a rig, then you'll want to attach a line that is long enough to where the bait will sit at a specific depth of water.
Always drill holes that are within a 15 foot radius of your normal spot. If you have a place where you are getting strike after strike, consider drilling more holes nearby. At some point, one hole could get tapped out and you'll need to move from one to another.
Consider using spoon lures. Granted, they are larger in size but it's still a good choice for bait whenever you want to switch it up. Also, these can work just fine if you are looking to go into deeper waters (like five feet or more).
How To Ice Fish For Rainbow Trout With Tip Ups
Tip-ups will usually work whenever you want to catch some larger and even heavier fish. Yes, there are trouts that get larger or heavier than normal. If you seem to notice a consistent pattern of that, perhaps you should try using tip-ups.
We recommend using a rig if you are using tip-ups. To set it up, here's what you need to do:
Tie a swivel at the end of the line
Use a 3 to 6 pound test leader and tie it to the swivel
Tie a small hook (usually a size 10 or 12 will do)
Attach a split shot. This will be useful whenever you want to use minnow as bait. The split shot will hold it down but allow it to move around. Remember, trout prefer moving bait. If a minnow is dead or motionless then you may have rough luck and will need to change it up a bit.
Please note that a 3 to 6-pound test leader is sufficient since most trout are usually leader shy. Also, you'll be dealing with some long rainbow trouts that will be 12 to 18 inches long. The better the water clarity, the longer the fish.
Rainbow trout aren't that difficult to catch in the wintertime. With patience and knowing exactly where to go, you'll be able to catch them during the day or at night.
As long as you find the right bait, jigs, and a prime location where they hang out you can never go wrong with ice fishing for rainbow trout on your favorite lake, pond, or river.
How to Catch Rainbow Trout FAQ
Do rainbow trout bite in cold weather?
Believe it or not, the metabolism of a trout will slow down when the weather gets colder. The rainbow trout will still be hungry and bite, but you should consider using smaller hooks and baits since they will work to your advantage in ice fishing when their appetite is suppressed.
Do rainbow trout bite at night ice fishing?
Whether it's summer or winter, rainbow trout will bite ice fishing at night. One thing to note is choosing the right kind of bait. Consider using the idea of natural baitfish like minnows and use subversive lights like plankton lights to draw them in.